International Exchange
[Report] Medical Innovation Press Tour in Yokohama (Mar. 2013)
FPCJ conducted a press tour featuring Japan's medical innovation, prior to the April opening of the new building ofYokohama City University's Advanced Medical Research Center, which focuses on research on cancer, lifestyle-related diseases, and regenerative medicine (Click here for more details on the tour). The tour had 10 participants fromChina, France, Germany, Indonesia, Netherland, Qatar, South Korea, Spain, and the United States.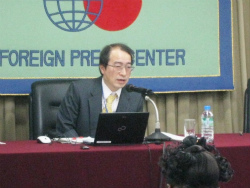 1. Briefing by Office for Healthcare Policy
The tour began with a briefing by Cabinet Councilor Hideaki Nakagaki on"Medical Innovation as a National Strategy." Mr. Nakagaki serves as a Deputy Director of the Office for Healthcare Policy, which was newly established under the Cabinet Secretariat. (Click here for the video report). 
Mr. Nakagaki told reporters that "health and longevity" is one of the key pillars in the growth strategy of the Abe administration. He said that as an "organization that can actually take action," the Office will exercise its leadership in 1) promoting development and practical use of "made-in-Japan" medical drugs and equipment; 2) deploying Japan's medical services overseas; and 3) overcoming the challenge of a super-aging society. In the Q&A session, reporters asked questions such as "if new rules are established in the process of the government-led medical innovation, would they be applied to foreign enterprises in Japan? " and "what kind of new initiatives will be taken to promote practical use of new drugs? " 
2. Briefing by Yokohama City: Keihin Coastal Area Life Innovation Comprehensive Special Zone for International Competitiveness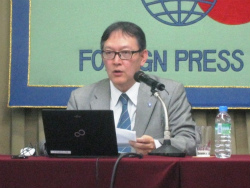 Mr. Hiroshi Hanauchi, an official of the Economic Affairs Bureau of Yokohama City, gave an outline of the special zone set up in the Keihin Coastal Area, which includes Yokohama City. In the special zone, researchers can tackle pioneering research and development thanks to relaxed regulations and tax breaks. Mr. Hanauchi presented 16 projects being implemented in Yokohama City, includingpromotion of tailor-made (personalized) preventive medicine; development of diagnosis technology for early detection of cancer; organ regeneration using human iPS cells; and development of innovative medical equipment.
3. The Advanced Medical Research Center (AMRC) of Yokohama City University
The tour of AMRC started with a briefing by its Director, Dr. Hisashi Hirano, on the outline and history of its establishment, and an introduction of the new research building which will be opened in April 2013. The tour participants then carried out filming and interviews at leading-edge regenerative medicine laboratories: Proteome Analyses Division, which conducts analyses on protein, Cellome Analyses Division, which conducts analyses at the cellular level.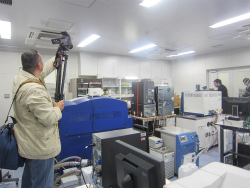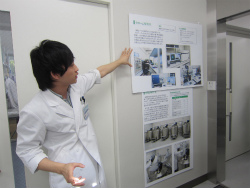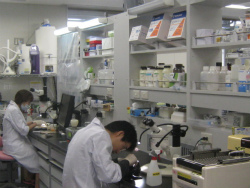 Picture (left): Journalist shooting latest spectrometers at Proteome Analyses Division
Picture (middle): Researcher explaining about Cellome Analyses Division 
Picture (right): Researchers at Cellome Analyses Division
At the introduction of the Medical Equipment Research and Development Projects, conducted in university-enterprise cooperation, the tour participants experienced using a Laparoscopic Surgery Simulator (Lap-Pass) and Home Ultrasonograph. Some questions about the function and the cost of the equipment were raised by journalists.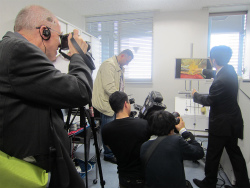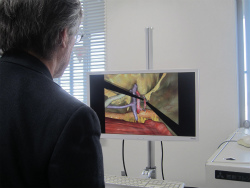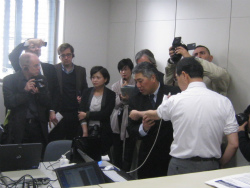 Picture (left): Demonstration of Lap-Pass
Picture (middle): Journalist controlling Lap-Pass 
Picture (right): Demonstration of Home Ultrasonograph