International Exchange
[Notice] Chiba Press Tour "Arborists advance to the world market with traditional techniques" (Oct. 2013)
– Japan's trees fascinate the rich in the world –
– Japan's No. 1 tree town revived by exports to countries in East Asia and Europe –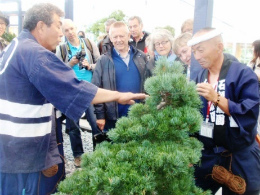 Japan's exports of plants and bonsai miniature potted plants have been increasing in recent years; in 2012 the amount came to the largest-ever 8,170 million yen, up 22.1% from the previous year.
The exports mainly went to East Asia including China, H.K. and Taiwan, and also to Europe. In Japan, Chiba Prefecture boasts the No. 1 export amount, which, in 2012, was 3,380 million yen, up 20% from the previous year, accounting for 41% of Japan's total amount.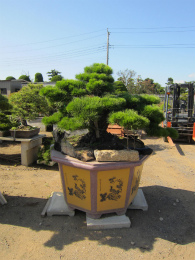 Chiba Prefecture is well known as the production center of "sculptured trees," which are produced by highly-skilled arborists, who design tree shapes and leaf arrangements. It is these uniquely Japanese traditional techniques that are desired overseas. The trunk and branches are notched so subtlety that the tree doesn't lose its life force, and the direction of each branch is controlled to make a desired twist. Redundant branches and leaves are removed to come up with beautiful shaping, sometimes delicate and sometimes dynamic. "Sculptured trees," using living trees, is an art form akin to sculpture.
In the Chinese market, in particular, "sculptured" Maki (podocarp) is very popular against the backdrop of China's economic growth. Maki, called "Luohansong" in China, is believed to bring happiness. Rich people highly value the tree because its twisted branches look like a dragon. Chinese importers are rushing to Chiba Prefecture. In Europe also, demand for Japanese plants is expanding, centering on wealthy people who have Japanese gardens. In Italy and the Netherlands, small- and medium-size trees such as tsuge (boxwood) and kyara (taxus cuspidata var. nana) are popular as "Macro Bonsai."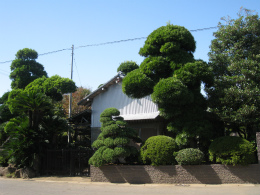 After the collapse of the bubble economy, demand for garden trees rapidly shrank. In addition, the more houses were built in the Western style, the fewer had Japanese gardens; the popularity of "sculptured trees" dropped. For a while, the whole garden tree industry in Chiba Prefecture was in the doldrums and many gardeners quit production. Recently however, overseas demand started to pick up, the local plant industry gradually revived, and among the younger generation appeared successors who wanted to take over the traditional techniques. Sculptured trees cannot be made in a short time; a sculptured tree takes at least a decade to be completed. The average age of the trees sold and bought on the market is 30-50 years, and some are 100 years old. Tree sculpturing is a cross-generation culture.
It is true that exports revitalized the arboriculture industry, but it was not so easy. Exports of living trees have to clear the quarantine requirements of each importing country. The government of Chiba Prefecture and the arboriculture industry have worked together to come up with the knowhow to prevent damage from insects and to care for the roots of trees so that the trees can withstand the long transportation to countries abroad.
**********************************************************************************************************************
The tour will visit Sosa City which boasts Japan's No. 1 exports of trees. Then we will cover the techniques of a super-arborist who is greatly in demand in the world, and producers involved in exports. We will also meet with young arborists who will carry on the traditional techniques. The tour will observe insect pest elimination measures for exports.
**********************************************************************************************************************
*The tour is hosted byChiba prefecture with FPCJ's cooperation in planning and operation.
【 Presentations 】
1. Explanation by the Agriculture, Forestry and Fisheries Department, Chiba Pref.



– Increased exports revitalized the local industry. Insect pest elimination measures to pass quarantine for exports –
The government of Chiba Prefecture has studied measures to clear the quarantine of different countries to support export expansion. In Europe (EU countries), the inspection of imported trees is very strict since nematode worms, which prevent plants from growing, could affect the local agriculture. There have been times when a whole cargo of exported trees, together with the container ship, was destroyed, or when all were returned to Japan after nematode worms were found. In some cases, the damage, including the transportation cost, was as much as 10 million yen. The Agriculture and Forestry Research Center, therefore, has utilized measures to effectively remove nematode worms by dipping the tree in special agricultural chemicals. As China and many other countries are banning imports of trees with soil, the center has established a method to wash away the soil stuck on the roots and use peat moss, a widely used gardening material, as a substitute for soil. The prefecture has spread such knowhow to the tree exporters so that their trees will be safe and their local brands can be strengthened.
✓The Agriculture, Forestry and Fisheries Department of Chiba Prefecture will give an outline of the plant industry of the prefecture, development of exports, and sales activities overseas. He will also explain the insect pest elimination measures, a demonstration of which will be seen at "Kyoushuen" later on in the day. He will also mention the characteristics of the trees of Sosa City, which is well known as the "Town of Ueki."
2. Ishibashi Noen (Ishibashi Farm)/ Mr. Makoto Ishibashi (age: 55), Licensed tree trainer of Chiba Prefecture
– The art attracts people all over the world –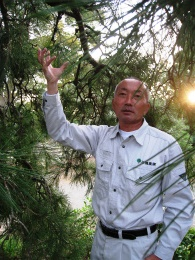 Mr. Makoto Ishibashi, 55, is the 5th generation of his family which opened a farm in the Edo era (1603-1867) in Sosa City. His business is international, raising plants for China and Europe. He was invited even to Europe to take care of a Japanese style garden there because of his incomparable techniques. He is often asked by the local gardeners to share his skills. Now, he is the vice president of the import and export committee of the Chiba Ueki Producers Association. He joined the "Floriado 2012" in the Netherlands, an international exhibition of flowers and gardening, and demonstrated the Japanese traditional techniques of pruning at the Japanese pavilion. He also performed at a trading fair held in Ukraine. Wherever he demonstrates, he is surrounded by the locals and catches people's eyes. Mr. Ishibashi says, "I am happy to be admired for my techniques by people all over the world."
Understanding various trees' nature is fundamental and it also requires experience and insight as an arborist in order to shape the tree's trunk and branches without killing the natural beauty of the tree. Sometimes it takes more than ten years till the work is completed. The difficulty comes from the fact that you can never draw a concrete picture of which kind of shape the tree will become in the future. Sometimes farms sell a tree brought up through several generations. Mr. Ishibashi, a highly skilled professional, describes the depth of the profession as follows. "You never can master all of the techniques even if you continue practicing as an arborist till the age of 80." He continues, "There are some cases that the tree is not so highly valued, through the arborist's lack of skill, but the thing is, trees' growth can never be completely controlled by human beings."
As a master, Mr. Ishibashi is also passing on his knowledge and techniques to young arborists.
✓The participants will visit Ishibashi's field especially for trees to be shipped abroad and he will demonstrate pine tree pruning.
3. Udono Zoen (Udono gardening company) / Mr. Tadayoshi Udono, a Licensed tree trainer of Chiba Prefecture
-An arborist who communicates with trees-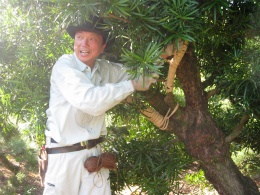 Arborists who have the traditional techniques are the treasures of the locality. In order to preserve and pass on the techniques to the next generation, Chiba Prefecture certifies those expertized arborists as "Licensed tree trainer of Chiba Prefecture" and there are 48 of them today. Mr. Udono is famous for a technique called "Nomiire." "Nomiire" is bending a branch by wounding it with a chisel. This technique is difficult to master since the tree may die from the wound, and a deep knowledge of the nature of each tree or the intuition achieved from personal experience is required. Mr. Udono says, "People who don't like this work cannot be involved in it. What I like of this job is that I can be creative. When I find a virgin tree, the tree tells me which shape he wants to become and I find myself broadening my imagination. I talk with trees every day". He ships trees and he says, "The Chinese market and the European market have their own preference of trees." He tries to make the most of each plant's original beauty and even discover new beauty in the tree and enhance its value.
✓Mr. Udono demonstrates the "nomiire" and he will talk about bringing up plants to be shipped.
4. Young generations who take over the techniques
– Reputations in foreign countries give hope to successors –
Mr. Yoshio Sato (age: 37), 6th generation of Kanshoen Ryokka Corp.
Mr. Yoichiro Sato (age: 38), 4th generation of Manjuen
Mr. Toshiki Ishibashi (age: 19), 6th generation of Ishibashi Noen (Ishibashi Farm)
The Japanese aging and low birthrate society suffers from a chronic lack of successors in the primary industry. Sosa City is faced with this problem just like other cities. However, the active exports of trees are revitalizing the industry and the number of successors is gradually increasing. The young are cheered and motivated by the recent success in the business. Mr. Sato Yoichiro, 38 years old, joined his family's farm called Manjuen at the age of 19 in 1994. He says, "I decided to inherit my family business since my parents were expecting me to do so but at that time, the economic bubble had burst and the economy soon got stagnant. Some arborists I knew had abandoned the business and I seriously considered about my future when I was around 25 years old. The situation changed when we found the growing demand from China about eight years ago. In the domestic market, "sculptured trees" created by arborists are not that popular but when you turn your eyes abroad, there are many people who are waiting for our products. Thanks to this demand from abroad, I now enjoy my job very much." Mr. Yoshio Sato, 37 years old, 6th generation of Kanshoen Ryokka Corporation, is now working as the "stem" of the company in place of his father, who is the president of the company. Mr. Sato is now working globally, visiting Singapore and China to take care of trees. For the next move, they consider East Asian countries and Ukraine as potential markets.
✓From the two young arborists, the participants will learn what they feel as successors of tradition and their expectations for the future markets from a global aspect. This session will be combined with no. 3 above.
5. Kyoshuen Co., LTD./ Mr. Koichi Ebato (age: 34), President
– Shipping the largest amount of living trees from Japan to the global market-
http://www.kyoshuen.com/eng/about.html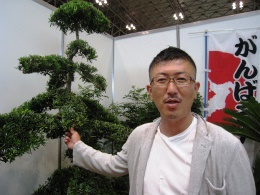 Kyoshuen is one of the pioneers that started the export business quite early in Sosa City. Mr. Koichi Ebato, who married into his wife's family, inherited the business as the 4th generation. He started shipping to China in 2004 and expanded exports to Taiwan, South Korea, Vietnam and Europe. Now, 90% of his business is done abroad. In 2012, he shipped about 1,000 containers, each of which contains five or six individual trees. His company only has eight employees but the number of trees he exports is No. 1 in Japan. A tree, if 30 years old, has a value from 300,000 to 500,000 Japanese yen. If it is of the finest quality, it will be priced at more than ten million Japanese yen. Mr. Ebato says, "You can find some native podocarps abroad but you can't find Japanese traditional techniques. Japanese people don't realize that the arborists' techniques are unique since they are often seen here but when you go abroad, you soon find that how special they are". When shipping, you need to be aware of many challenges with plants. First, they have to pass quarantine. Second, the weather in Japan, destination's temperature and humidity, and the timing of exportation should be taken into consideration. For example, sometimes it takes more than 35 days to reach a European country after the ship leaves Japan. The plants will be without water or sunlight during this long period so arborists have to pay attention so that the trees do not arrive dead or damaged. Mr. Ebato did a lot of trial and error. He leaned and speaks Chinese language for business since many of his customers are from China. He even hired Chinese staff last year.
✓This visit to Kyoshuen will enable participants to learn the situation and expectations of exporting trees abroad. Preparation for passing quarantine will be demonstrated as well.
6. 100 individual finest and most original examples of Macro bonsai of Chiba

-"Japan's no.1 podocarp"that has been in the family more than 500 years-
Chiba prefecture is designating "100 individual finest and most original examples of Macro bonsai". So far, 65 trees have already been designated. Kanshoen Ryokka Corporation has one of the most beautiful podocarps among the designated trees and it is said that the designated tree is too beautiful to have a price put on it. He takes pride in preserving the tree because he understands that the past generations had brought it up carefully and thanks to those efforts, the tree has been always with the family.
✓At the end of the day, the tour will see the tree guided by Mr. Yoshio Sato.
【 Tour itinerary and application details 】
1. Itinerary (Tentative): Oct. 29 (Tue), 2013
*The schedule is subject to change.
9:00-10:30 (1h30m)      Move from Tokyo to Sosa City (90m/ chartered bus)
10:30-11:30 (60m)       Briefing by Chiba Prefecture
11:40-12:25 (45m)       Lunch
12:35-13:50 (1h15m)    Mr. Makoto Ishibashi, Ishibashi Noen (Ishibashi Farm), Licensed tree trainer of Chiba Prefecture
                    Young generations:
                    - Mr. Yoshio Sato, 6th generation of Kanshoen Ryokka Corp.
                    - Mr. Yoichiro Sato, 4th generation of Manjuen
                    - Mr. Toshiki Ishibashi, 6th generation of Ishibashi Farm
14:00-14:30 (30m)      Mr. Tadayoshi Udono, Udono gardening company, a Licensed tree trainer of Chiba Prefecture
14:40-15:25 (45m)      Mr. Koichi Ebato, President, Kyoshuen Co., LTD
15:30-16:00 (30m)      "Japan's no.1 podocarp"
16:00-17:30 (1h30m)    Move from Sosa City to Tokyo (90m/ chartered bus)
2. Qualification: Bearer of Gaimusho Press Registration Card
3. Cost: 1,500 yen per person including transportation, meals and accommodation
* FPCJ will later inform the participants of methods for payment, cancellation fee etc.
4. Participants: Limited to 10 applicants.
(Only one reporter and one photographer from each company, but two participants from each TV team will be acceptable.)
5. FPCJ Contact: Ms.Yoshida (Tel: 03-3501-3405)
6. Remarks:
(1) There may be some restrictions on photographing and filming at the tour sites. Please follow the instructions of the officials on duty.
(2) Chiba prefecture and FPCJ will not be liable for any inconvenience, trouble or accident that might occur in the course of the tour.
*Tour participants will bear part of the cost, but the tour is not a profit-making operation.