International Exchange
[Notice] Press Tour "Yokohama spearheading Japan's efforts for empowering women and better childcare" (Nov. 2013)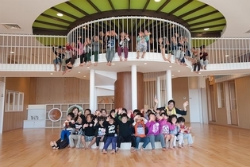 Compared with other developed nations, Japan is said to be a country where it is extremely difficult for women to play an active role in society. More than 60 percent of Japanese women quit their jobs when they have a baby. Only 10 percent of them are in managerial posts—the lowest level among developed countries. Meanwhile, an estimate shows that if Japan could utilize the potential labor force of the women now staying at home, the economic ripple effect would top 6 trillion yen, or 61 billion dollars (Dentsu Innovation Institute, July 2013). Also, published in October 2012, an IMF report titled "Can women save Japan?" says Japan's GDP per capita would rise 4 percent with increased participation of women in the workforce. Prime Minister Shinzo Abe said in a speech last April that "empowering women" forms the core of his growth strategy. He pledged his commitment to creating an environment that helps women manage both work and child-rearing.
In the speech, the prime minister cited Yokohama City as the role model for the central and other local governments. Under the leadership of Mayor Fumiko Hayashi, the city has focused on promoting women's participation in the workforce and boosting childcare support. In particular, the city had a great success in eliminating the "child-care waiting list (*)," which has made it difficult for mothers to return to work after childbirth. Although, among the nation's municiparities, Yokohama had once the largest number of children unable to enter day-care centers, the city managed to reduced that number to zero in only three years (as of April 1, 2013). Prime Minister Abe appreciated the city's achievement and has set a goal of eliminating the nation's waiting list, which currently contains about 23,000 children, by 2017 by applying what could be called the "Yokohama method" in other parts of Japan.
(*) In urban areas of Japan, the long list of daycare-waiting children is a big social problem. Women who wish to return to work after childbirth are forced into desparate competition for the limited slots in nursery centers.
In this press tour, you will cover Yokohama City's initiative for "empowering women," which is said to be a key to Japan's economic revival. Especially, the tour will focus on the Yokohama method, which led to the success in eliminating the childcare waiting list, featuring "Nursery Concierge" services, promotion of companies' participation in the childcare business, and better utilization of land to open more nursery centers.
*The tour is hosted by Yokohama City with FPCJ's cooperation in planning and operation. **********************************************************************************
 <Presentations >
1. Briefing by Ms. Fumiko Hayashi, Mayor of Yokohama City
Mayor Hayashi was selected as one of Forbes magazine's "The World's 100 Most Powerful Women" in 2005 and also one of Fortune magazine's "50 Most Powerful Women in Business: International" in 2008. At a time when Japan had fewer woman executives than now, Ms. Hayashi held such top management positions as President of BMW Tokyo, CEO of The Daiei, Inc., and Operating Officer of Nissan. Immediately after she became mayor of Yokohama City in 2009, she launched a "project to achieve the goal of zero-waiting-list," and allocated to it a bigger budget (from 7.2 billion yen to 15.7 billion yen). She then carried out various measures one after another such as the establishment of the "Nursery Concierge," promotion of companies' participation in the childcare business, and the opening of new nursery centers. As a result, the goal of reducing the 1552 children on the waiting list (the worst among the nation's municiparities)  to zero was achieved. At the "2013 APEC Women and the Economy Forum" held in September in Indonesia, she said, "In Japan there are few women even now who are in positions of making important decisions. That's why I decided to become a mayor myself, take up a mission as an active woman and to change Japan starting from Yokohama."
*On the tour, Mayor Hayashi will brief you on the "Yokohama Method," which has had a great impact on the policies of the Japanese government, and Yokohama's measures to assist women's social advancement combined with child-rearing.
2. Kana-chie, a local base for child-rearing in Kanagawa ward
 A local base for child-rearing is a facility set up by Yokohama City based on the idea of rearing children in local communities and not isolating child-rearing parents alone. Each of the 18 wards in Yokohama City has one such facility. Registration allows free use of the facility; pre-school children and their parents can play and communicate with each other, and the parents can exchange information and consult among themselves about child-rearing there. The facility also works as a link between parents who usually do child-rearing at home but occasionally need a baby-sitter and local people who can take care of children temporarily. As the trend of nuclear families is growing stronger and child-rearing mothers are becoming isolated, this move of Yokohama City to establish bases for child-rearing has been expanding to Tokyo.
*On the tour, the director of Kana-chie will guide you round the facility.
3. Interview with "Nursery Concierges"
– Presenting various childcare services that satisfy each household's needs-
A "Nursery Concierge" is a specified consultant for child-rearing services, established by Yokohama City faster than any other cities in Japan. The system was established in all the wards in the city in 2011 under the directions of Ms. Hayashi: "Visit and take a good look at each household of the 1552 children on the waiting list." Concierges studied the needs of each household and tried to introduce childcare services that satisfy its needs. For instance, some people work full time, while others are part-timers. This means that not all parents need full-time daycare. In accordance with parents' different working styles, Yokohama City presented various options for childcare services, from nursery centers that open full time to temporary baby-sittig services, and succeeded in eliminating the waiting list of children.
*On the tour, you will interview two Nursery Concierges at Kana-chie. 
4.Byobugaura Harukaze Nursery
– Effective use of limited land! Nursery under the Highway-
This is an unusual nursery under the highway. To reduce the number of children on the waiting list to zero, Yokohama City has been working at the same time on both software improvement and hardware improvement: software including the establishment of the "Nursery Concierge" system and hardware being an increase of nurseries in the city. One of the tactics that the city office adopted to increase the number of nurseries was to "create nurseries by renting city-owned land." First the city mobilized all officials in charge to make an all-out effort to find land areas in the city that seemed suited for nurseries, and invited companies to go into the nursery business. Byobugaura Harukaze Nursery was born through its process. It is a good example of the crystallization of Yokohama's efforts to improve nurseries by using limited land areas of the city as effectively as possible.
◎The tour will visit Harukaze Nursery, which was born at an unusual place under the highway,  by the city's own effort. The director will show you the nursery. 
5.P's Smile Nursery
– A nursery on the 6th floor of a station building, which is gentle to both parents and children–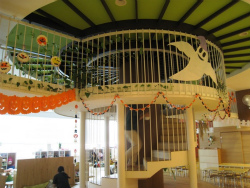 This nursery, situated on the 6th floor of the JR Tsurumi station building, was born from Yokohama City's "matching program for creating nursery centers." In this program Yokohama City is a link between land owners and   
companies that carry out the nursery business. P's Smile Nursery is a case connecting East Japan Railway Company (JR East), the land owner, and "Social Welfare Corporation Doronkokai." Since 1996 JR East has been carrying out a "Happy Child Project" that is intended to establish nurseries along its lines as a child-rearing assistance project. Doronkokai has also been putting emphasis on "childcare near the station," considering the convenience of working parents. Space in the nursery was designed by a team led by Professor Kaname Yanagisawa of Chiba University, which has designed the space of many schools and nurseries. You can find a lot of examples of ingenuity in the nursery as it was built on the concept of creating as many opportunities as possible for the children to experience within a very limited space in a station building. President Aika Yasunaga of Doronkokai decided to create a nursery school herself because she had felt a sense of crisis about the quality of nursery services and problems of the childcare industry when she put her own children into a nursery school. Besides Doronkokai, Ms. Yasunaga runs two childcare companies in and around Tokyo.
At P's Smile nursery, you will have a briefing on the outline of the nursery, the present situation of Japan's childcare industry, and the merits of running a childcare business in Yokohama. Working mothers using the nursery will also answer your questions.
< Tour itinerary and application details >
 1. Itinerary (Tentative): Wednesday, November 20, 2013
11:00-12:00  Briefing by Yokohama Mayor Fumiko Hayashi (@FPCJ Press Conference Room)
12:00-12:40 Lunch (@FPCJ Press Conference Room)
12:45     Leave Nippon Press Center Building
13:30-14:15 Kana-chie, a local base for child-rearing in Kanagawa ward
Interview with "Nursery Concierges"
14:45-15:30 Byobugaura Harukaze Day-care Center       
16:15-17:30 P's Smail Day-care Center
18:15     Arrive at Nippon Press Center Building
2. Qualification: Bearer of Gaimusho Press Registration Card
3. Cost: 1,500 yen per person including transportation
* FPCJ will later inform the participants of methods for payment, cancellation fee etc.
4. Participants: Limited to 10 applicants.
(Only one reporter and one photographer from each company, but two participants from each TV team will be acceptable.)
5. FPCJ Contact: Ms. Ishikawa and Ms. Onuma (Tel: 03-3501-3405)
6. Remarks:
(1) There may be some restrictions on photographing and filming at the tour sites. Please follow the instructions of the officials on duty.
(2) Yokohama City and FPCJ will not be liable for any inconvenience, trouble or accident that might occur during the tour.