International Exchange
[Report] Press Tour "Kamakura, the Home of Zen" (Mar. 2014)
A press tour was conducted to Kamakura, the home of Zen Buddhism, hosted by Fuji-Hakone-Izu International Tourism Association, Kanagawa Prefecture, with FPCJ's cooperation in planning and operation. This tour, which featured "the history of Kamakura and Zen" and "the culture derived from Zen," had 11 journalists from Canada, China, France, Taiwan and the United States (Click here for more details on the tour).
In the first half of the tour, the journalists visited the Shoin Study on the grounds of Jyochi-ji Temple, a Zen temple of the Buddhist Rinzai sect, to cover the culture derived from Zen, including tea ceremony, traditional Japanese confectionery (wagashi) and the vegetarian cuisine called "shojin ryori."
Cooking Expert Ryoko Irie, who briefed on shojin ryori during the tour, told the reporters that the Japanese culture is, in origin, from Kamakura. She said during the Kamakura Period (1185-1333), the famous Zen priest Eisai brought back tea seeds from China to Japan and incorporated the spirit of Zen into tea, which led to the establishment of the tea ceremony we know today. She also said the tea ceremony gave rise to a variety of Japanese cultures such as wagashi sweets (to be served with green tea), the art of flower arrangement (flowers arranged for a tea ceremony), calligraphy (a wall scroll shown in a tea room), and shojin ryori (meals prepared for a tea ceremony).
*Picture left: After finishing "shojin-ryori" lunch, Zen Monk Asahina Eon, the Jochi-ji temple master, showed reporters how to deal with the bowls they used, based on the teachings of Zen.
Also, Japanese sweets creator Yuko Misonoi demonstrated how to make "wagashi" sweets. The reporters scrambled to take photos of the colorful sweets shaped like a cherry blossom or a four-leaf clover with a ladybug on it.
Asked how to promote wagashi sweets for foreign people when some of them do not like azuki-bean paste, Ms. Misonoi, who has presented her sweets also in events abroad, said she tries to use local ingredients to make wagashi such as coffee-tasting azuki-bean jelly. After observing a demonstration of making whisked green tea, the reporters tasted wagashi sweets with a bowl of tea.
In the latter half of the press tour, the reporters had a briefing on the "history of Kamakura and Zen" by Ms. Kyoko Nakao, who works for Takara Kamakura, a non-profit organization to promote Kamakura culture. Ms. Nakao introduced the Japanese term "ichi-go ichi-e," which is often translated as "for this time only," "never again," or "one chance in a lifetime." She said the term came from Zen Buddhism and the teachings of Zen have been woven into the fabric of Japanese people's daily lives.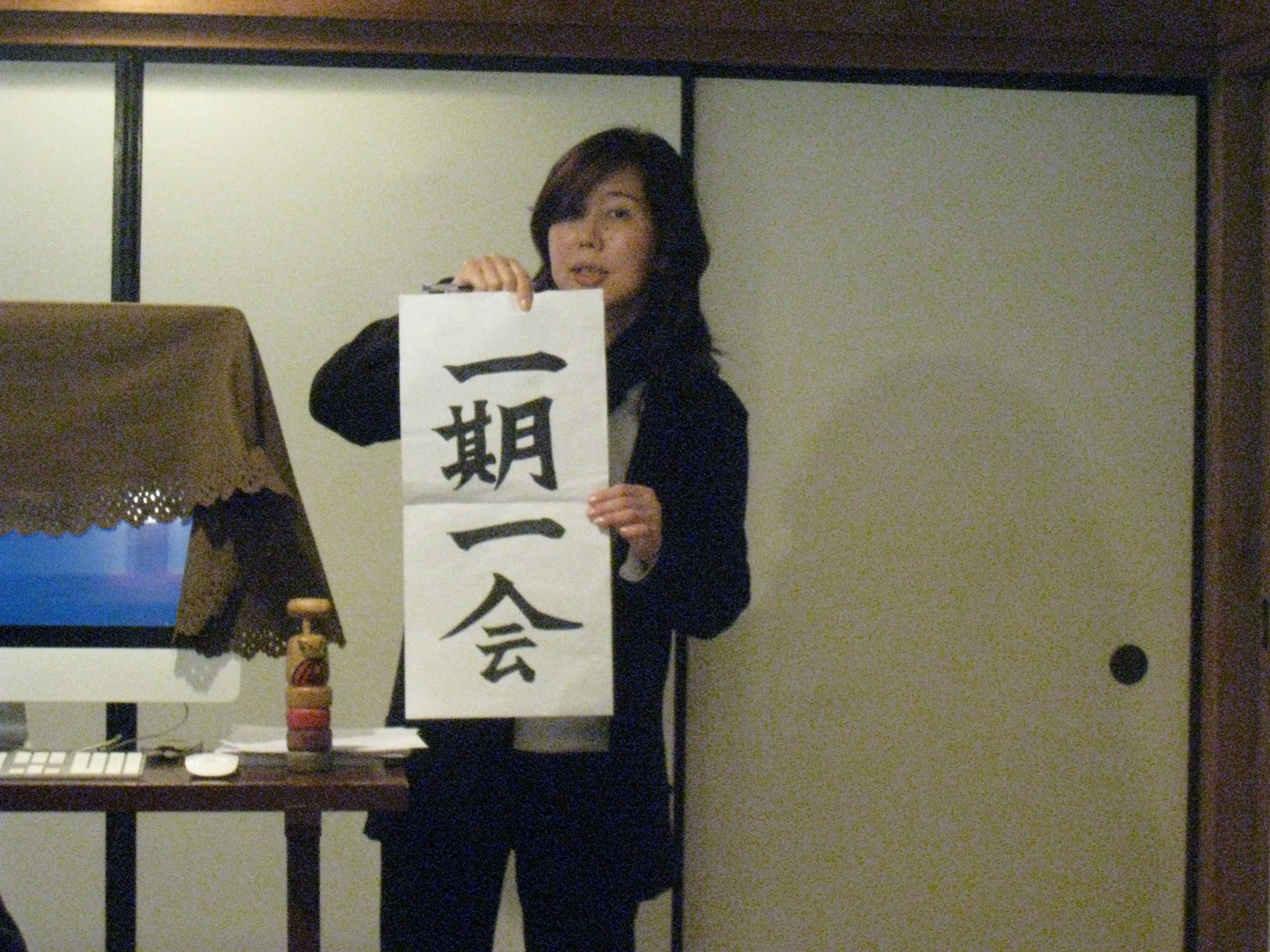 The reporters also interviewed Zen master Asahina and Roman Catholic priest Michitaka Yamaguchi. They talked about the Great East Japan Earthquake Memorial Service and Prayer for Reconstruction held on March 11, in which believers of Shinto, Buddhism and Christianity prayed together. The reporters asked such questions as "whether Asahina has contacts with monks in China and Southeast Asia," "how many years are needed to become a Zen master" and "whether Zen monks are allowed to eat meat."
At the end of the tour, the reporters experienced "zazen" meditation. While showing a little hesitation, several reporters volunteered to get a whack by Zen master Asahina with a flat wooden stick. This often happens during a Zen meditation to remedy sleepiness or lapses of concentration.