International Exchange
[Report] Ehime Press Tour: Local revitalization by creating extra value! The Ehime brand-the pride of Japan-(June 2014)
Regional branding is being carried out throughout Japan, and is considered key to revitalizing local economies. The FPCJ and Ehime Prefecture jointly held a press tour covering the Ehime brand, which has made inroads worldwide, and its route to success. This press tour had a total of ten participants from China, Taiwan, South Korea, Indonesia and Italy. (Click here for information on the tour.)
[Day 1]
1.Shimanami Kaido, the Cyclist Paradise
The goal of CycloTourisme Shimanami, an NPO, is to use cycling to promote interaction and revitalize islands facing a population decline. According to President Yuko Yamamoto "Since the Great Seto Bridge opened a lot of people have used it, but people in cars just glance at the islands as they drive by. Bicycles are the best way to truly enjoy Shimanami's natural beauty!" She also explained their initiatives to encourage interaction between locals and cyclists, such as the establishment of Cycle Oasis stops. Led by Mr. Kazunari Utsunomiya, a local guide, the journalists had the rare experience of cycling with a backdrop of islands and the sea. "I've covered stories all over Japan, but I've never seen scenery like this." The proprietor of the Chiwa guest house on Oshima commented that "We have guests coming from countries I would never have imagined before." The journalists also got to see messages left by overseas visitors and hear about the new products and services that had been developed due to the influx in tourists.
2. Overcoming Adversity through Brand Building: Imabari Towels
In an interview with Governor Seiji Kondo of the Shikoku Towel Industrial Association, he explained how the towel industry in Imabari entered a long slump starting in 1990, and recovered by building a brand that emphasized quality over quantity. The journalists asked many questions, such as "What makes Imabari towels unique?" and "How did competing companies agree on standards and a direction for the brand?" Speaking about promotion overseas, Mr. Kondo said "There are some regions that don't have the same market for gifts as Japan, which makes things difficult, but if necessary we can develop the market ourselves. Southeast Asia in particular could become an excellent market." His passion for and confidence in Imabari towels was clear. Next, the tour went to see an Imabari towel factory owned by Kontex. Journalists filmed and photographed the detailed work being carried out at the factory that showed a strong emphasis on quality.
3. The Imabari Towel Craftsmanship Course, Training New Imabari Towel Craftsmen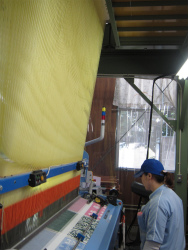 Next, the tour visited the Ehime Prefecture Imabari Vocational Training School. Journalists took video and pictures of students taking the Imabari Towel Craftsmanship course, and asked questions including "Why did you decide to study at this school?" and "What is the most difficult step when making a towel?" Vice-Principal Asayama also explained the Towel Meister appellation, given only to those who pass certification, which only five towel craftsmen in the prefecture can currently lay claim to. He also spoke of his dedication to education and his intent to further increase the quality of Imabari towels by passing on the techniques necessary for creating that quality to the next generation.
4. Hot Springs Art! Dogo Onsen Art Festival
At night, the journalists attended the Dogo Onsen Art 2014 festival, photographing hotel rooms designed by Ms. Yayoi Kusama and Mr. Nobuyoshi Araki and art pieces both inside and outside of the Dogo Onsen Honkan building. It was a chance to see a new facet of the hot spring town of Dogo. 
[Day 2]
5. The Most Expensive Farmed Sea Bream in the World, Taichiro-kun 
The tour visited Tokuhiro Suisan, a company that produces a high-quality farmed sea bream brand, in Uwajima where fish farming has been prevalent since around 1965. Company president Taichiro Tokuhiro took the journalists out on a boat to see the rafts were the fish were being farmed. He spent 13 years developing a special blend of feed in order to avoid the reduced flavor and unpleasant aroma common to farmed fish. As journalists photographed the sea bream swimming energetically in the swift current of their pens, Mr. Tokuhiro spoke with the tour about how feed development was helping fish farming progress. He also mentioned his plan to further improve his feed and try farming Japanese amberjack and salmon as well, and his desire to collaborate with overseas businesses.
6. Ehime Governor Tokihiro Nakamura, Stimulating the Region via Cycling
Governor Nakamura spoke of how cycling provides people with "health," "purpose," and "friendship," and explained his efforts to stimulate the region with "New Bicycle Culture." The governor filled his comments with humor, saying "In order to demonstrate that you can enjoy cycling at any age, we had the older generation, including mayors and prefectural administrators, help promote bicycles." The governor also happily responded to requests to pose for photographs with journalists. Questions focused on the Cycling Shimanami international event to be held in October, with journalists asking about the number of foreign participants, the sustainability of the event, and differences with international sports events held in other prefectures.