International Exchange
[Notice] Press Tour "Cutting-Edge Technology from Chiba" (Nov. 2014)
  -Rescue robots used at Fukushima Daichi Nuclear Power Plant-
         -3D printing to change the face of medicine! Creating lifelike organs –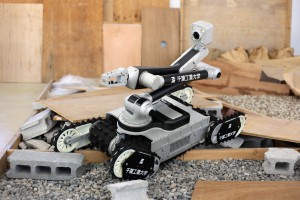 Research and development in cutting-edge technologies is underway in a variety of fields in Chiba Prefecture, where Chiba Institute of Technology (CIT) and Chiba University are located. After the accident at Fukushima Daichi Nuclear Power Plant, the Quince robot developed by fuRo, the Future Robotics Technology Center at CIT and other organizations, was the first Japanese robot deployed to Fukushima Daichi Reactor 2 in June 2011, where it took pictures of reactor building interiors and measured radiation levels. Since the accident, researchers at fuRo have been continually improving their robots, including enhancing durability, functionality, etc., to meet the needs at the site. (Picture above: the latest model Sakura No.2)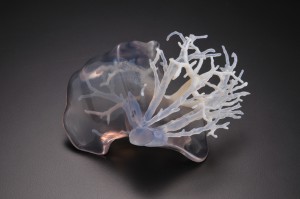 Fasotec Co., Ltd. has cooperated with Chiba University and several other medical institutions to develop models of organs and bones which have realistic textures, made using 3D printing. These have many potential applications in medicine, such as using models of a patient's organs to rehearse surgery realistically.
This press tour will cover cutting-edge technology being developed in Chiba, which could help in the areas of medicine and disaster response, proving useful not only to Japan but to the world as a whole. The tour also provides the opportunitiy to hear about the prefecture's efforts to support monozukuri (manufacturing) companies in Chiba, including its new measures that sarted this year to foster manufacturing industry in the medical and health fields.
*This press tour is sponsored by Chiba Prefecture, with planning and project support by the FPCJ.
*This press tour will require participants to bear part of the cost, but is not a profit-making venture.
****************************************************************************
<Tour Details>
1. Fasotec Bio-Texture Modeling
3D printing to change the face of medicine! Surgery rehearsals with lifelike organ models
http://biotexture.com/index.html
Fasotec Co., Ltd. (Mihama-ku, Chiba) provides a 3D biological model service to medical institutions, Bio-Texture Modeling. Using medical data such as CT and MRI scans, this revolutionary technology can accurately create a model of the patient's individual bones and organs. Since it is possible to replicate not only shape and appearance, but also textures such as hardness and softness, it feels like actually cutting into an organ or shaving down a bone. In addition to the original "Dry Model", the new "Wet Model" was announced this year. As the name indicates, these models replicate wetness as well, and holding a wet liver model feels like touching an actual liver.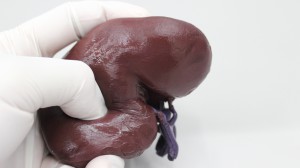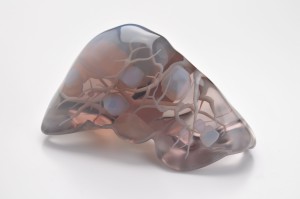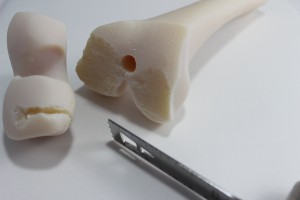 Fasotec used to deal primarily with industrial product manufacturers, using their knowledge of 3D computer-aided design (CAD), but five years ago they began to look into applying their technology to the medical industry. They purchased a 3D printer from Israel for medical uses, and in 2012 created a Medical Engineering Center within the company. The Bio-Texture technology of the company has been accepted by multiple hospitals, making it possible to use models of organs made using CT and MRI scans from patients to perform rehearsal surgery just like the real thing. The models can also be used for explanations to patients, training with medical equipment and training surgeons. The company is also the first in the world to provide a service called "Shape of an Angel" that prints a 3D model of the fetus in a pregnant woman.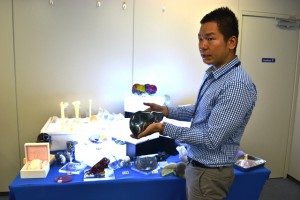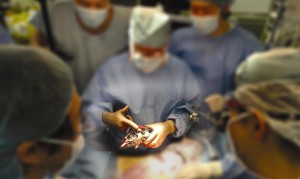 ◎The tour will hear from Mr. Tomohiro Kinoshita of the Fasotec Medical Engineering Center about Bio-Texture Modeling and its applications in medicine. In addition to observing and photographing various biological models, including the latest Wet Models, and the process of an organ model being made using a 3D printer, there will be an opportunity to take part in a practical simulation, using surgical implements to cut biological models.
*It will be possible to arrange coverage of a medical setting later, at the request of press. Surgery simulation using Fasotec organ models could be observed, and interviews held with doctors and patients (should they consent).
2. Chiba Institute of Technology Future Robotics Technology Center (fuRo)
Developers of a rescue robot used at Fukushima Daiichi Nuclear Power Plant
http://www.furo.org/index_e.html
http://www.furo.org/img/whatis/fuRo.pdf

The Future Robotics Technology Center (fuRo) was created in 2003 as a research lab for robotics research and development at Chiba Institute of Technology. Since then, fuRo members such as General Manager and robot creator Dr. Takayuki Furuta have developed a variety of unique robots, including advanced humanoid robots and vehicular robots capable of lateral movement.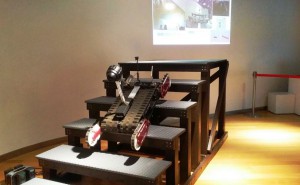 In June 2011, after the Great East Japan Earthquake, Quince, a rescue robot designed for nuclear disasters, which was jointly developed by fuRo and Tohoku University, was the first Japanese robot used at Fukushima Daiichi Nuclear Power Plant, to measure heat and radiation levels inside the reactor and to photograph pipes and plumbing. Development of rescue robots to search for and rescue survivors in areas people cannot enter has been continuing in Japan since the 1995 Kobe earthquake, and the Quince designed for nuclear disasters was an upgraded version of fuRo's existing Quince rescue robot, modified so it could be used in nuclear plants. In 2012, Rosemary was announced, with increased load capacity and operating time. In addition to switching to a plug-in charging system to reduce worker exposure to radiation from replacing batteries, it was also able to carry a gamma camera that images air radiation using color, and a high-position camera.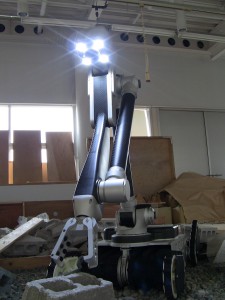 Their latest robot Sakura No. 2, announced in 2013, is of waterproof construction to simplify decontamination of the unit when it encounters radioactive materials. The optional robot arm can be outfitted with a wide-angle camera to collect information in out-of-reach locations and narrow spaces, or perform simple operations such as clearing debris or collecting samples. In order to deal with the lack of robot operators, an issue that became clear after the nuclear accident, fuRo has developed a rescue robot simulator for operator training. Tokyo Electric Power Company workers have been training on this simulator before operating the robot in the nuclear power plant.
◎The tour will hear from fuRo researchers about events since the nuclear accident, as related to the researching and upgrading of rescue robots designed for nuclear disasters through trial and error at fuRo. There will also be the opportunity to see Sakura No. 2 operated in a full-scale model of the nuclear power plant interior, and to use the rescue robot simulator used by Tokyo Electric Power Company workers for robot operation training.
*The robot you can cover during the tour is subject to change for certain reasons.
*The tour will see Sakura No. 2, but it is also possible to photograph Quince or Rosemary at the CIT Skytree Town Campus (Skytree Town 8F). It is possible to experience other cutting-edge technologies developed by fuRo at this campus, in addition to the rescue robots.
< Tour itinerary and application details >
1.       Itinerary (Tentative): Friday, November 28, 2014
09:00       Leave Nippon Press Center Building by charterd bus
09:00-09:45 Move by chartered bus
10:00-10:20  Briefing by an official of Chiba Prefecture @ Fasotec
10:20-12:15  Fasotec Co., Ltd.
12:15-13:30  Move by charterd bus and lunch
13:30-15:30  Chiba Institute of Technology Future Robotics Technology Center (fuRo)
15:45-16:30  Move by chartered bus
16:30       Arrive at Nippon Press Center Building
2. Qualification: Bearer of Gaimusho Press Registration Card
3. Cost: 2,000 yen per person including lunch
* FPCJ will later inform the participants of methods for payment, cancellation fee etc.
4. Participants: Limited to 10 applicants.
(Only one reporter and one photographer from each company, but two participants from each TV team will be acceptable.)
5. FPCJ Contact: Ms. Ishikawa and Ms. Obo (Tel: 03-3501-3405)
6. Remarks:
(1) There may be some restrictions on photographing and filming at the tour sites. Please follow the instructions of the officials on duty.
(2) Chiba Prefecture and FPCJ will not be liable for any inconvenience, trouble or accident that might occur during the tour.