International Exchange
[Report] Press Tour to Ogawa Town, Saitama Prefecture: Washi (Traditional Japanese Hand-made Paper) (June 2015)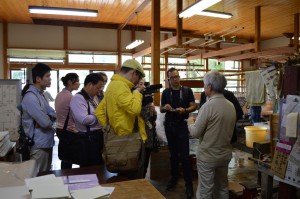 This tour visited Ogawa Town and Higashi-chichibu Village in Saitama Prefecture to cover the traditional folk craft passed down in that area, Ogawa-washi. In the morning, the tour learned about Ogawa-washi itself, and had the opportunity to see and photograph washi being made. Tour participants also spoke with a designer who makes clothes out of Ogawa-washi. The afternoon portion of the tour examined a different aspect of Ogawa-washi, which was mass produced during World War II to produce "balloon bombs." This tour was planned and sponsored by the FPCJ, and 11 journalists participated from China, Taiwan, Russia, Kazakhstan, France, Switzerland, and the USA.
Click here for tour details

Click here for real-time reports from during the tour
1. Ogawa-washi and Hosokawa-shi, in Desperate Need of Successors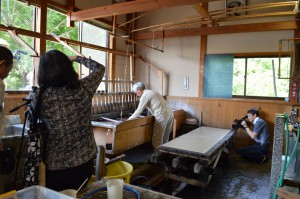 The group first heard an explanation about the materials and processes used to make washi, from Mr. Teizo Takano, chairman of the Hosokawa-shi Craftsmen's Association. Hosokawa-shi is one type of Ogawa-washi, and in November last year it was added to the UNESCO Intangible Cultural Heritage List. When Mr. Takano demonstrated his washi-making techniques, the journalists surrounded him and enthusiastically took pictures from a variety of angles. During the Q&A session, questions included if anything had changed since the Intangible Cultural Heritage listing by UNESCO, whether it was possible to make a living hand-making washi, how much potential the current trainees had, and whether there was a difference in the final product between male and female washi makers. Journalists also questioned the two women training with Mr. Takano, asking what made them decide to learn to make washi, if they felt a sense of duty to carry on the tradition of washi, and whether they thought they could operate independently after finishing training. 
Although some journalists commented that they would have liked to experience making washi themselves, there were also comments about how appreciating the opportunity to photograph a master at work.
2. A New Possibility for Washi: Kamiko
The Saitama Craft Center has a permanent display of kamiko, clothes made using washi, by designer Taki Okajima. While the tour looked at clothes tie-dyed in various patterns, Ms. Okajima explained why she decided to make kamiko, and how it was made. Then there was a Q&A and photography session. Questions included whether the clothes could be washed using water, if there were plans to sell them commercially, and how she funded their creation. One journalist commented on how impressed they were at Ms. Okajima's dedication to raising worldwide awareness about a traditional craft like washi.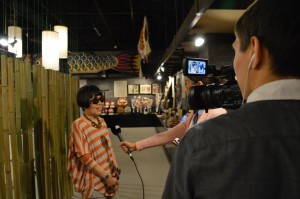 3. Ogawa-washi, Used in Unconventional Operations During the War: Balloon Bombs
Balloon bombs were gas balloons 10 meters in diameter made of paper and with bombs attached. The washi used to make these balloons was primarily made by Ogawa Town craftsmen. Ms. Fumiko Nitta, a local history expert and the chief librarian of the Ogawa Town Municipal Library, gave an overview of the balloon bomb military operation and how balloon bombs were made. In the Q&A session, most questions were directed to Mr. Kaihei Kasahara, who is turning 92 this year and made the extremely thin washi for balloon bombs. Questions included how he felt while making the washi, whether he knew he was making weapons, how his feelings towards washi changed before and after the war, and what he would like to tell his grandchildren. Afterwards, a journalist commented that "Even though Mr. Kasahara didn't speak much, meeting a living witness was still meaningful."