International Exchange
[Report] Yokohama Press Tour "Working towards a Multinational Society" (Oct. 2015)
The Yokohama press tour covered the efforts of an area working towards a multinational society and a nursing home which hires foreign workers who came to Japan based on Economic Partnership Agreements (EPA). The tour was hosted by Yokohama City, with the FPCJ's cooperation in planning and operation. Twelve journalists from nine countries and regions (the USA, Germany, Switzerland, France, Kazakhstan, China, Taiwan, South Korea, and Vietnam) participated in this press tour.
Click here for further details on the tour
Click here for a log of real-time updates from during the tour
1. Yokohama Municipal Iidakita Icho Elementary School
The tour began by visiting Iidakita Icho Elementary School, where more than half the students have some connection to foreign countries. The principal, Mr. Tanaka, explained the school's support programs for multinational students so they can study comfortably and improve their academic skills. Journalists had a chance to photograph and film a class with Japanese and foreign students studying together, and a special class in which a student was being taught one on one at a level matching their Japanese skill. During the break, journalists also had a rare opportunity to directly interview three students who have roots in China, hearing about their school life in Japan.
2. Volunteer Organization, Tabunka Machizukuri Kobo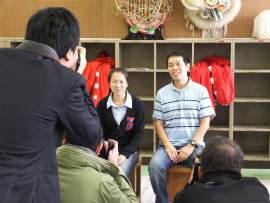 Next, the tour covered Tabunka Machizukuri Kobo, which provides general support for residents from foreign countries. Journalists heard from its director, Mr. Hayakawa, and a Vietnamese interpreter, Ms. Ha. For about 20 years, Mr. Hayakawa has been putting his efforts towards grassroots advocacy for foreign residents, and the interview with him caught the journalists' interest. During the interview, the journalists asked questions such as "What is your motivation for working to help foreigners?", "Do you think Japan can accept refugees in the future?", and "Japanese people tend to have an impression that the crime rate of foreigners is higher. Where does this impression come from?" After that, journalists photographed and filmed a Japanese class run by the organization.
3. Kanagawa Prefectural Government Icho Danchi, Residents' Association
The tour then visited Icho Danchi, where more than 20% of the residents are foreigners. Journalists heard from residents' association members about the history since the number of foreign residents began to increase. Joint Residents' Association Chief Mr. Yukio Yagi emphasized "living in multicultural harmony" is possible not only because of the association's efforts, but also thanks to persistent efforts by the government, school, academics, volunteers, Tabunka Machizukuri Kobo, and foreign and Japanese residents. After that, the journalists were guided by the association members in Icho Danchi to see signboards written in multiple languages, and a shopping avenue lined with multinational stores such as a Southeast Asian grocery store.
4. Special Nursing Home for Seniors, Yotsuba-en
The final stop on the tour was a special nursing home for seniors, Yotsuba-en. Facility head Mr. Yoshihiko Usui explained that the low birth rate and increasing longevity is making it difficult to secure enough care staff today, which is the reason the care home is accepting EPA trainees. The journalists asked questions about the national examination pass rate of EPA trainees and their status after passing the examination. Journalists visited the dining hall where the residents gather, and photographed and filmed foreign workers communicating with them. Journalists with a strong interest in EPAs and the foreign workers' lives in Japan continued interviewing them one by one.