International Exchange
[Notice] Mie Prefecture Higashi Kishu Press Tour (Feb. 2016)
-Sustainable forestry and the verdant forest of the Kumano Kodo Iseji route-
-Fishing industry creatively targeting specific needs-
>Higashi Kishu is an area located in the southwest of Mie Prefecture, home to abundant nature with both mountains and the sea. The eastern edge runs north to south along the coast of the Kumano Sea, with the World Heritage Site Kumano Kodo Iseji route running parallel to the coast. The mountainous western edge borders the prefectures of Nara and Wakayama. 94% of Higashi Kishu is forested, and the main industries in the region are fishing and forestry, but with depopulation and the aging of the remaining population, these industries are facing labor shortages. One forester has implemented a number of unique initiatives and is helping preserve beautiful forests while selling high quality hinoki cypress at a high price. In the fishery industry, there is an area that has implemented a long-term program providing experience fishing to hire young people who want to become fishers; a company that farms buri [yellowtail], processing them according to customer orders and quickly shipping them both domestically and internationally; and a company using the internet to sell fish from Mie that has been processed for use in baby food.
The Ise-Shima G7 Summit will be held in Mie Prefecture in May this year. As the second in a series of tours exploring the numerous attractions of Mie, the tour will visit Higashi Kishu, covering the Kumano Kodo Iseji route World Heritage Site and unique initiatives in the forestry and fishing industries.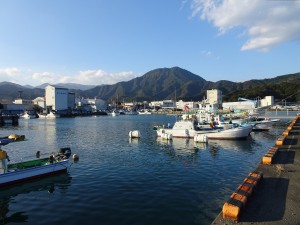 *This press tour is sponsored by Mie Citizens Council for the Ise-Shima Summit and planned and operated by the FPCJ.
*This press tour will require participants to bear part of the cost, but is not a profit-making venture.
1. Growing beautiful forests: a forester demonstrating sustainable forestry with efficient management
Hayami Forest, President Toru Hayami (62)
Two thirds of Japan (25 million hectares) is covered in forest, but despite these ample timber resources approximately 70% of the lumber used in Japan is imported. Compared to their peak values approximately 30 years ago, the cost of hinoki cypress and Japanese cedar lumber has dropped to around one-third the value, and the number of forestry workers is also declining. With 1,070 hectares of forest in Kihoku, located in the northern part of Higashi Kishu, Mr. Toru Hayami is the ninth head of Hayami Forest, which mainly produces hinoki cypress. During the previous generation, even timber from thinning sold for a high price, and it was possible to make money even with a large number of workers. The current business environment is completely different, and the only reason they are able to manage 2,770 hectares of forest (including forest in the neighboring town of Odai owned by Toyota) with only 14 workers is due to concentrated efforts by Mr. Hayami to reduce the labor necessary and increase productivity. He increased work efficiency with mechanization and extended the work roads for transporting timber to three times the standard. He minimized the work load by limiting the amount of undergrowth being cut and removal of branches, and the company began producing its own seedlings to ensure quality while reducing costs. Mr. Hayami's lumber is straight, does not have many knots (spots where branches connected to the trunk), and the growth rings are evenly spaced. Since he is able to provide a stable supply of high-quality lumber that is easy to use, sometimes the lumber sells for as much as three times that of other companies.
In addition to producing highly profitable lumber, Mr. Hayami follows a motto of trying to make a "beautiful forest" with a diversity of life in harmony with the local environment. In 2000, the forest that he manages was the first in Japan to receive Forestry Stewardship Council certification. FSC certification is by an international organization, and is provided to forests where management and logging is carried out with consideration for the environment and local community. It could be said that Mr. Hayami helped popularize sustainable forest management meeting international standards in Japan. Products and paper made using wood from FSC certified forests can use a unique logo. The goals of this system are eliminate illegal timber harvesting and link consumption with proper forest management. The timber and paper used at the 2012 London Olympics and Paralympics were all FSC certified, and the same will be true for Rio de Janeiro this year. Although FSC certification is still relatively unknown in Japan, the organization has already proposed that the 2020 Tokyo Olympics and Paralympics also use only FSC certified products.
Mr. Hayami will guide the tour around his forest, where a variety of plants grow, so the participants can see what efficient, environmentally-friendly forestry looks like.
2. World Heritage Site: Kumano Kodo Iseji route
"Sacred Sites and Pilgrimage Routes in the Kii Mountain Range" were added to the World Heritage List in 2004. In addition to mountains, shrines and temples that were places of worship and training in the Kii Peninsula, the pilgrimage route to the Kumano Sanzan (Kumano Hongu Taisha, Kumano Hayatama Taisha, and Kumano Nachi Taisha) called the Kumano Kodo is also included in the listing. The Kumano Kodo runs through Nara, Wakayama, and Mie, and in Mie there is the Iseji route that pilgrims walked to the Kumano Sanzan after worshipping at Ise Jingu. Pilgrimages to Ise Jingu became common in the Edo period, and there was an increase in pilgrims to Kumano along the Iseji route as well, which runs parallel to the coast for approximately 170 kilometers. With the advent of modern transportation, the Iseji route became less frequently used and fell into disrepair. However, local residents helped repair it to the extent that it was added to the World Heritage List.
(1) Mie Prefecture Kumano Kodo Center
The Kumano Kodo Center is a visitor center located near the midway point of the Kumano Kodo Iseji route. It is one of the largest wooden structures in Japan. Over 6,500 Owase hinoki cypress and Kumano cedars were used for the wood, all made in Mie and supervised by the aforementioned Mr. Toru Hayami of Hayami Forest. This center receives over one hundred thousand visitors annually, and provides them with opportunities to learn about the Kumano Kodo's history, as well as the local culture and nature. Along with the Nachi Sankei Mandara, a painting depicting pilgrimages routes to holy sites, the Kumano Tabi Mandara, an original of the center, will be used to introduce the local natural vistas, history, industry, lifestyle, festivals, and traditions.
(2) Matsumoto Pass
Guide: Kumano Kodo Kataribe Tomo no Kai (volunteer group), Mr. Daisuke Nakai
Matsumoto Pass is the last of a series of passes travelers go through on the way from Ise to Kumano Hayatama Shrine (in Wakayama). As an area with some of the heaviest rains in Japan, the stone steps that protect the road from the rain were placed 300 years ago. Matsumoto Pass is the only place along the Iseji route where it is possible to see the stones, which were laid one by one, from the side.
(3) Hana-no-Iwaya Shrine
Priest, Mr. Hitoshi Yamakawa
The Hana-no-Iwaya Shrine along the Iseji route has no buildings, and is a 45 meter tall rock where Izanami-no-mikoto is enshrined. According to the Nihon Shoki (written in 720), when Izanami-no-mikoto, one of the deities who created Japan, died giving birth to the fire god Kagutsuchi-no-mikoto she was enshrined at Hana-no-Iwaya. The Kii Mountain Range is said to be where nature worship developed in Japan, and that nature worship is exemplified by this shrine.
The tour will visit the Kumano Kodo Center to hear about the Kumano Kodo Iseji route World Heritage Site and the role of this center. Next, Kumano Kodo Kataribe Tomo no Kai volunteer Mr. Nakai will guide the tour along the stone steps of Matsumoto Pass. At Hana-no-Iwaya Shrine, the priest Mr. Yamakawa will explain about the shrine.
3. Fishing industry creatively targeting specific needs
(1) Training motivated fishers: A four-week fisher training program run by a fishing village
Vision Haida Committee Chairman, Mr. Yoshikazu Iwamoto
In the village of Haida, in Owase City, a type of set net fishing carried out with about 20 people is common. Haida's population was almost 700 in the 1950s, but now it is approximately 160. The ratio of people 65 years old and over is about 65%. In this village, where the head of the fisheries cooperative is also the head of the residents' association, the fisherman Mr. Yoshikazu Iwamoto has held these roles for the past 10 years. The residents of the village have all worked together to help maintain their key industry of net fishing. In 2009, the Vision Haida Committee was founded with Mr. Iwamoto at its center, and in cooperation with Mie University and the government, they began working on disseminating information online and creating job opportunities for women in order to stimulate the village economy.
One initiative is a four-week long fishing experience/training program, Haida Fishing School. This program has been held four times since 2012, with a total of eight participants. Three of those participants have moved to Haida and become fishers, while another two have done the same in a neighboring village. The same kind of program was already held for short periods of a few days in nearby areas, but this longer program was created with the belief that if someone is going to become a fisher, they should also experience what it is like living in a fishing village. During the program, participants learn basics such as how to use nets and ropes and how to clean fish, and also get to experience applications of these skills such as bringing in the nets. In order to find young fishers who will actually live in Haida long-term, Mr. Iwamoto and the others explain the difficulty of being a fisher again during an interview at the end of the program, and so have succeeded in hiring young people who sincerely want to become fishers.
The tour will visit the Owase Fisheries Cooperative Haida Office and hear from Mr. Iwamoto, chairman of the Vision Haida Committee, about the Haida Fishing School. There will also be the opportunity to speak with a former participant about how he feels about having become a fisher with this program.
(2) A single company that farms fish, processes them, and exports its products: A seafood processing company increasing profits by meeting customer needs
Owasebussan Co., Ltd. CEO, Mr. Hiroyuki Ono
With 200 employees, Owasebussan farms buri and also processes, sells, and ships it, all at the one company. Sales for the 2015 fiscal year are expected to be over 13 billion yen, their highest yet. The company started out as the seafood sales section of a supermarket, but in order to better respond to customer needs in procuring fish, they began farming their own fish. In FY 2014, they produced over 2,100 tons of buri, approximately 90% of the total in Mie. Owasebussan is located near the northern limit for farming buri, and since it is closer than its rivals in Kyushu and Shikoku to major consumers such as Tokyo, Nagoya, and Osaka and is able to ship products to customers more quickly, they can process and ship the specific cuts requested by customers, at the time and in the quantities they require. This reduces the workload and the amount of waste produced for customers such as supermarkets. By taking over a process that was previously done by supermarkets, they are meeting a need of the retail industry which is struggling with a labor shortage.
For the past 10 years, Owasebussan has been working with a trading company to export frozen buri to areas such as the USA, but in July of 2015 they directly shipped fresh buri to Taiwan for the first time. Since they were looking into expanding their sales routes overseas early on, the company received international certification that their facilities follow food safety and hygiene standards such as SQF and HACCP. Each year, they send employees to a company in Norway that exports salmon, in order to learn more about exporting and efficient processing and farming. Although exports are not yet profitable, they plan to submit their processing plant for certification this year under European standards necessary for exporting to Europe, to prepare to enter the European market.
Although buri is not currently in danger of facing shortages, Owasebussan is cooperating with Kinki University's completed-cycle culture project (breeding farmed buri and hatching their eggs) that started within the last few years to support maintaining ecosystems and sustainable fish farming. The fish are first raised for some time at a land-based hatchery before being transferred to enclosures in the sea, and the company is attempting to implement this process on a commercial basis.
The tour will visit Owasebussan's processing plant and fish enclosure, observing the food processing line, the feeding of the young buri that are part of the complete aquaculture project, and catching of farmed buri, as well as hearing about future business plans.
(3) Using Mie fish for baby food: Young locals entering new business sectors
dgreen Co., Ltd. President, Joe Higashi
dgreen is a web design company located in Kihoku, in the north of Higashi Kishu. Four out of the five employees, mostly in their thirties, are from Kihoku. In 2014, the company started a new online business selling fish processed for use in baby food under the brand name mogcook. The impetus for starting this business was a new father from Kihoku living in Tokyo who said he wanted to feed his child fish from his hometown. Although they were entering the e-commerce sector for the first time, they had dealings with local fish sellers and seafood processing companies from their main business of web design, and were able to start the business with help from these other locals. Their sales mostly consist of monthly deliveries, with the fish cooked and the bones removed so it is simple to make baby food. A delivery will include several types of fish that are in season, frozen. They have no flavoring and are divided into single-meal sizes, with recipes supervised by a local dietician. Once a month, an experienced local buyer procures fresh fish caught in Mie, which are then processed.
This is not the first time that baby food or boneless fish has been available for delivery, but mogcook is the first to sell seasonal fish in single-meal servings for use in baby food. Most of their customers are located around Tokyo or within Mie, with a total of approximately 200 customers per month including both single orders and between 150 and 160 subscribers. In their first year, monthly sales were approximately 700,000 yen. Their goal is to increase the number of subscribers to 1,000. Customers appreciate that the initial preparation of the fish is already done and it is simple to make it into baby food, and also that there are various different kinds of fish. Company president Mr. Higashi said that in the future, he would like to provide not just baby food, but fish products for children of all ages, and to make a website selling Mie foods of all kinds. By increasing sales and the number of customers, the number of employees of the company would increase, thus stimulating the local economy and promoting the culture of eating fish.
Mr. Higashi of dgreen will speak about mogcook. As a representative of a user, there will also be an interview with a mother living in Kihoku.
4. Interview with Mie Prefecture Governor
Mie Prefecture Governor Eikei Suzuki
Governor Suzuki was first elected in 2011, and is in his second term. Currently 41 years old, he is the youngest governor in Japan, and became the topic of news in 2012 when he went on paternity leave.
Mie Prefecture launched the Mie Citizens Council for the Ise-Shima Summit, a joint organization consisting of local governments and the private sector, so that the prefecture as a whole can promote the appeal of Mie to the world and prepare for the G7 summit in May this year. Four elements form the basis for its initiatives: supporting hosting the summit, omotenashi (hospitality), connecting to the future, and distributing information on Mie. The council is acting quickly in order to implement necessary initiatives.
The Mie Prefecture Governor will discuss topics such as G7 Summit at Ise-Shima.
[Tour Itinerary]
1. Dates: Wednesday, February 17 to Thursday, February 18, 2016
[Day 1]
 7:27-   9:01 Shinkansen Nozomi 205: Shinagawa→Nagoya
 9:30- 10:19 Kintetsu Limited Express: Nagoya→Tsu
10:40-12:10 Travel by bus (and eat lunch)
12:10-14:10 Hayami Forest
14:50-15:50 Kumano Kodo Center
16:20-17:20 Matsumoto Pass
17:30-17:45 Hana-no-Iwaya Shrine
18:00-20:00 Dinner Reception
20:30 Arrival at hotel
(Stay overnight in Kumano)
[Day 2]
7:20 Leave hotel
  8:20-  9:20 Haida Fishing School
10:00-12:00 Owasebussan Co., Ltd.
12:30-13:15 Lunch
13:30-14:30 mogcook
16:00-16:45 Interview with Mie Governor (at Mie Prefectural Office)
17:47-18:37 Kintetsu Limited Express: Tsu→Nagoya
18:54-20:33 Shinkansen Nozomi 44: Nagoya→Tokyo
*The above schedule is tentative, and may be changed.
2. Qualification: Bearer of Gaimusho Press Registration Card
3. Cost: 13,000 yen per person including accommodation, transportation and meal.
* FPCJ will later inform the participants of methods for payment, cancellation fee, etc.
4. Participants: Limited to 10 applicants.
(Only one reporter and one photographer from each company, but two participants from each TV team will be acceptable.)
*If the number of applicants exceeds 10, an upper limit may be set on the number of participants from each country.
5. FPCJ Contact: Ms. Yokota (Tel: 03-3501-3405)
6. Remarks:
(1) There may be some restrictions on photographing and filming at the tour sites. Please follow the instructions of the officials on duty.
(2) FPCJ and Mie Citizens Council for the Ise-Shima Summit will not be liable for any inconvenience, trouble or accidents that might occur during the tour.