International Exchange
[Report] Mie Press Tour (Dec. 2015)
The Mie press tour is the first in a series of tours to different regions in Mie, where the G7 Summit will be held this year. The tour was hosted by the Mie Citizens Council for the Ise-Shima Summit, with the FPCJ's cooperation in planning and operation. The tour covered how ninja culture is passed on today, and agricultural business owners' efforts to deal with social issues. Eleven journalists from five countries and regions (China, Germany, Korea, Russia, the USA) participated in this press tour.
-Click here for further details on the tour
-Click here for a log of real-time updates from during the tour.
<Day 1>
1.   Mokumoku Tezukuri Farm  
The tour began by visiting Mokumoku Tezukuri Farm, a popular place for food that provides visitors with agriculture experiences. Journalists ate lunch at Papa-Beer Restaurant where vegetables, sausage, and bread made at the farm can be enjoyed, but some journalists quickly finished their lunch and started interviewing visitors. Afterwards, the journalists met Mokumoku Tezukuri Farm president Mr. Naoyuki Matsuo in front of a log house which was the first building of the farm, and heard about how he added value to pork by providing a sausage-making experience for visitors, which enabled him to expand the business. A journalist asked the question, "Do you think the free trade movement represented by the TPP presents an opportunity for you, or will it have a negative impact on your farm?" Mr. Matsuo answered, "We have clients who understand our business and products, so I am not worried."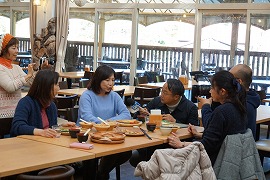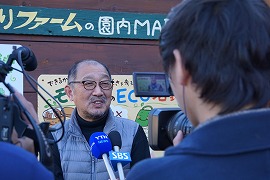 2. Iga-ryu Ninja Museum
To cover ninja, a symbol of Japanese history known worldwide, the tour visited the Iga-ryu Ninja Museum. Professor Yuji Yamada and Professor Emeritus Makoto Hisamatsu from Mie University, who run a course that academically studies ninja, explained about the world of ninja and their food. Professor Yamada told the journalists that a good ninja needed information collection skills more than they needed physical strength for battle. From Professor Emeritus Hisamatsu, the journalists learned about ninja's portable rations, hyorogan, and tasted some. Journalists asked questions about the difference between Iga and Koga ninja, the possibility of ninjas having influenced the skills used by foreign bodyguards such as the US Secret Service, and the reason for more tourists coming from Southeast Asia than from China and Korea. Journalists also visited a ninja house and saw a powerful performance using the house's gimmicks and demonstrations by Mr. Yasushi Kiyomoto, a disciple of the last ninja.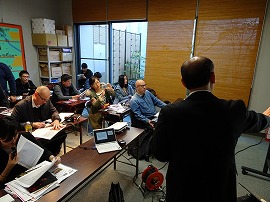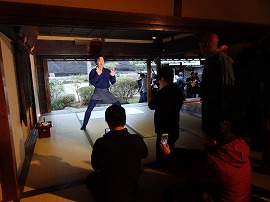 3. Dinner Reception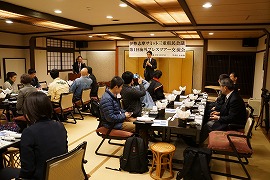 At the end of the first day of the tour, the journalists ate dinner together with city officials, summit organizers, and representatives from the locations visited on the tour. The dinner took place at Sansuien, a Japanese inn in Nabari, and the meal was prepared using local ingredients, including some from stops on the tour. The journalists were able to hear a preview of the locations they would be visiting the next day, and the mayor and summit organizers described some highlights of the region.
<Day 2>
4. Agree Farm
The tour visited Agree Farm, which actively supports efforts to combine agriculture and welfare by employing people with disabilities as agricultural workers, simultaneously increasing employment opportunities for people with disabilities and helping alleviate the shortage of agricultural workers. Company president Ms. Saori Inoue spoke about how she started the business based on her experience as a housewife in order to make vegetables that people could feel safe eating, and about the various initiatives in place at Agree Farm to treat disabilities as simple individuality. The journalists then went to a greenhouse, where they filmed and photographed the employees with disabilities at work, followed by interviews. Ms. Inoue responded to questions about the benefits of people with disabilities being involved in agriculture, and future plans for the business.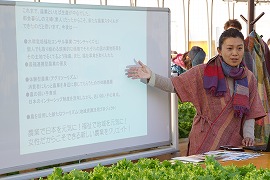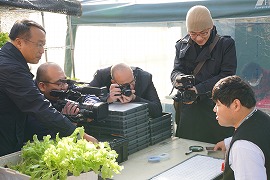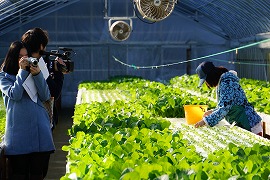 5. Kinoko no Sato Nishikio Production Center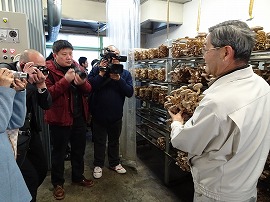 Nabari's Nishikio district has an aging population, and the Kinoko no Sato Nishikio Production Center was established with the goal of creating employment and providing purpose to local residents. Explaining why he started growing mushrooms, Chairman Mr. Osamu Tomiyama said "When I was looking for something that could be done in this area, I realized mushrooms could be easily grown here." In addition to cultivating mushrooms in the repurposed cafeteria of a closed-down elementary school, locals also grow mushrooms at home, which the center then purchases from them in a unique style of production. One of the locals who cultivates mushrooms at home commented that "It helps me create connections with people, and growing the mushrooms is fulfilling." The journalists then toured the growing facility, and interviewed Mr. Tomiyama about cultivation methods for different mushroom types and future business plans.
6.  Ureshino agri Inc.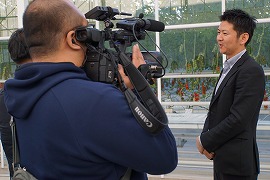 Ureshino agri cultivates cherry tomatoes in a greenhouse using a cutting-edge system. Ureshino agri is a joint venture between Tsuji Seiyu, Asai Nursery, and Mitsui & Co., Ltd. The venture runs an agriculture business using a combination of excess steam energy from Tsuji Seiyu's wood biomass plant to grow cherry tomatoes in a greenhouse, together with Asai Nursery's tomato production knowhow and Mitsui & Co.'s knowhow on international exports. Company director Mr. Yuichiro Asai explained "We are using a Dutch system which has very high production rates, but in the Japanese market cherry tomatoes will not sell well unless they also taste good." To this end, the company developed their own variety of "candy" cherry tomatoes. The journalists were surprised at how sweet and delicious they were upon tasting them.
7. Interview with the Governor of Mie Prefecture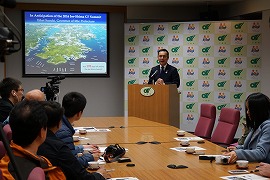 The final stop on the tour was an interview with Mr. Eikei Suzuki, the governor of Mie Prefecture. The journalists asked some questions based on the other tour stops until that point, such as "We covered agriculture businesses involved in sixth industry initiatives and employing people with disabilities. Are these prefectural projects?" and "What effects will the TPP have on the prefecture as a whole?" The governor's response regarding the employment of people with disabilities was that it was a project he has been working on since entering office, and he mentioned how the rate of employment of people with disabilities for Mie has increased from lowest among the prefectures to 20th. Other questions dealt with promoting tourism in Ise and summit preparations, including terrorism countermeasures and how foreign media will be handled.