International Exchange
[Report] Mie Prefecture Higashi Kishu Press Tour (Feb. 2016)
This was the second tour to Mie Prefecture sponsored by the Mie Citizens Council for the Ise-Shima Summit, with the FPCJ's cooperation in planning and operation. This tour focused on Higashi Kishu, an area located in the southwest of Mie Prefecture that is home to abundant nature, and covered unique forestry and fisheries initiatives and the World Heritage Site of the Kumano Kodo Iseji Route. Four journalists participated in this press tour, from France, Kazakhstan, and the USA.
Click here for further details on the tour
Click here for a log of real-time updates from during the tour.
<Day 1>
1. Hayami Forest
Mr. Toru Hayami runs a forestry business in Kihoku, located in northern Higashi Kishu, and he explained his company's efforts to produce high-quality timber while seeking to improve labor efficiency. Mr. Hayami also showed the journalists hinoki cypress being grown in the hopes it will be used the next time Horyu-ji Temple is repaired, and timber being cut in preparation for shipping. Journalists asked whether he thought the Japanese forestry industry would collapse without subsidies from the national and local governments, whether demand for biomass fuel was increasing, and whether declining crude oil prices affected the manufacturing and sales of wood pellets. Mr. Hayami said that it was critical to make further efforts to decrease costs and build a strong enough foundation to compete with international businesses, and that new initiatives such as establishing funds to maintain forests and developing the timber market in urban areas are necessary to helping the stagnant Japanese forestry industry move forward.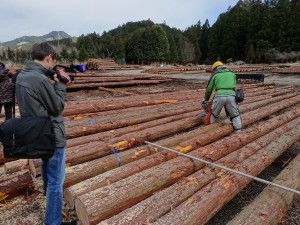 2. Kumano Kodo Center
Mr. Hiroshi Hashimoto, coordinator of the Kumano Kodo Center, gave a detailed explanation of the Sacred Sites and Pilgrimage Routes in the Kii Mountain Range World Heritage site, which includes the Kumano Kodo Iseji route which people who had finished their pilgrimage to Ise Jingu took to worship at the Kumano Sanzan (Kumano Hongu Taisha, Kumano Hayatama Taisha, and Kumano Nachi Taisha). While viewing two mandala paintings displayed at the center that represent Kumano Sanzan pilgrimages, the journalists were told about how pilgrimages to Kumano were unique in that they were open to anyone who wanted to go there, regardless of age, gender, or class. Journalists asked questions including "When were pilgrimages to Kumano most popular," and "How many people went on pilgrimages in a year?" They were also surprised at the pleasant scent within the center, which is built primarily from hinoki cypress grown in Higashi Kishu.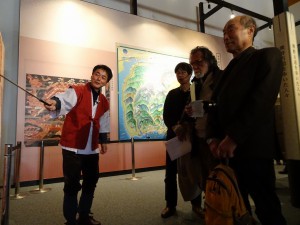 3. Matsumoto Pass
Matsumoto Pass is the last of a series of passes travelers go through on the way from Ise Jingu to Kumano Hayatama Shrine (in Wakayama). Mr. Daisuke Nakai, from the Kumano Kodo Kataribe Tomo no Kai volunteer group, guided the tour along the path. He explained how the stone path in Matsumoto Pass was made in the Edo period by stoneworkers who had come looking for work, showing how the Kumano Kodo Iseji route that includes Matsumoto Pass was not just a pilgrimage route, but one that people used in their daily lives. Journalists asked questions about how long it would take to walk from Ise to Matsumoto Pass, and whether people still walked the pilgrimage today.
4. Hana-no-Iwaya Shrine
Said to be the oldest shrine in Japan, and included as part of the World Heritage listing, the tour's final stop on the first day was Hana-no-Iwaya Shrine. The shrine was introduced by priest Mr. Hitoshi Yamakawa, and journalists asked about whether pilgrims on the Iseji route visited Hana-no-Iwaya Shrine as well, and the actual length of the shrine's shimenawa (holy rope), said to be the longest in Japan.
5. Dinner Event
Representatives of the different stops on the tour, mayors of local governments in Higashi Kishu, and officials involved in the Ise-Shima Summit joined the journalists for a dinner made using local Higashi Kishu ingredients. The local governments also had booths set up providing information about their unique features.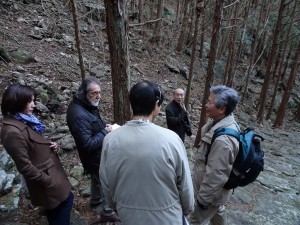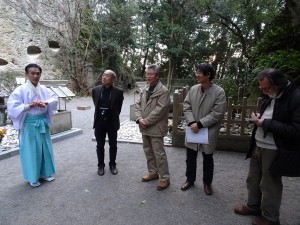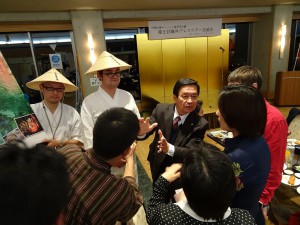 <Day 2>
6. Haida Fishing School
The village of Haida, which has a population of only 156, holds a four-week long fishing experience and training program called the Haida Fishing School, organized by the Vision Haida Committee. The journalists started by interviewing graduates of this program who had just returned from the morning's fishing, asking "What was your former job, and why did you want to become a fisher," and "Did finishing the Haida Fishing School increase your interest in becoming a fisher?" Mr. Yoshikazu Iwamoto, chairman of the Vision Haida Committee, and Mr. Genki Ishida, a member of the Chiiki Okoshi Kyoryokutai (Local Development Cooperation Team) involved in managing the Vision Haida Committee, explained what led to establishing the school, and what activities it included. Journalists asked about whether there were any initiatives to combine the fishing industry with tourism, and why the fishing school only accepted a limited number of participants.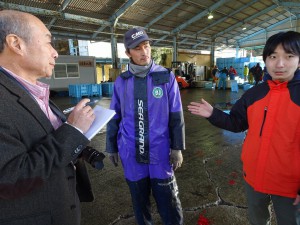 7. Owasebussan Co., Ltd.
The tour visited Owasebussan, a seafood processing company which farms buri [yellowtail] and also processes, sells, and ships it, and which is growing its overseas export business. While company president Mr. Hiroyuki Ono was explaining the business, a journalist asked whether they were focusing on farming buri because the catch of wild buri had been decreasing. Mr. Ono replied that wild buri numbers had been increasing over the past 7 or 8 years, although the catch this year was low due to the warm winter. Other questions included how the business would expand in the future and how it found enough workers. While viewing the plant where buri is processed to match customer orders for specific cuts, the journalists asked about using machines to automate processes and about hygiene management. The tour then went on a boat and saw how the fish were fed, and ikejime (spiking) of fish taken from the farms.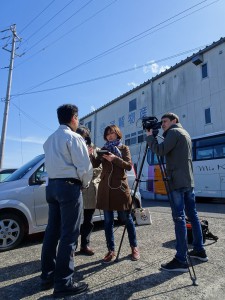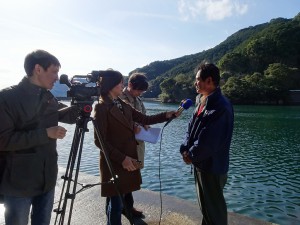 8. dgreen Co., Ltd.
Under the brand name mogcook, dgreen Co., Ltd. sells fish, processed to be used in baby food, over the internet. Mr. Kei Tachibana, an employee of dgreen, explained the business, with a focus on mogcook's uniqueness. The journalists asked questions about sales, what issues existed, plans for overseas expansion, and if there were subsidies from the national or local governments. When interviewing a mother who uses mogcook, journalists asked why she was using mogcook, and whether there were other products she wished companies would offer different options as children age.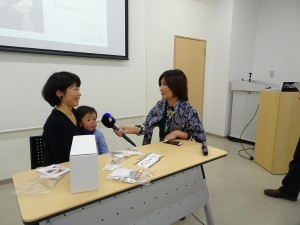 9. Interview with Mie Prefecture Governor
After a presentation by Governor Eikei Suzuki, the journalists asked questions including "Mie Prefecture has many manufacturing plants for automobiles and other goods; what is your opinion on accepting foreign immigrants as workers," "How are you preparing for the Formula 1 Japanese Grand Prix that will be held at the Suzuka Circuit in October," "How big of an economic impact do you expect the Ise-Shima Summit to have," and "What industry is Mie Prefecture focusing on in particular?" The governor responded to these questions, explaining that Mie Prefecture is third in Japan for the number of foreigners per 100,000 people, and that they already have a solid foundation for accepting immigrants; the prefectural government is working with local governments around Suzuka in order to promote motorsports and expects the F1 Japanese Grand Prix to be an even bigger success than last year; and the prefecture is focusing on the healthcare industry in particular, working in cooperation with hospitals within the prefecture.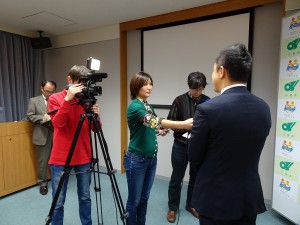 —
■Reporting Based on This Tour
*Last updated: April 14, 2016
24KZ (Kazakhstan/ TV)
Япония остро нуждается в рыбаках и специалистах по переработке морепродуктов