International Exchange
[Notice] Kyushu (Kumamoto and Kagoshima) Press Tour: Recovery From the Earthquakes (Kumamoto) / Living Together With the Blessings of a Volcano (Kagoshima) (Sept. 2016)
Kumamoto:  Working Towards Recovery From the Earthquakes 
Kagoshima:  Living Together With the Blessings of a Volcano
―― Kumamoto: Working Towards Recovery From the Earthquakes
Kumamoto City, Minamiaso Village, Aso City
Kumamoto prefecture was hit by a magnitude 6.2 earthquake on April 14 and a magnitude 7.0 earthquake on April 16. According to the prefecture's official announcement, 88 people died due to the earthquakes including related deaths, and 160,000 homes were damaged
 On August 3, Kumamoto Prefecture announced their plans for recovery from the Kumamoto earthquakes and vision for the future. Steps towards recovery have begun throughout the prefecture.
 In Minamiaso village, one of the areas where damage was particularly bad, people are slowly moving into temporary housing. Business has resumed at a leisure facility that provided housing for evacuees and at a local café that had been forced to close.
 Kumamoto Castle, located in the center of Kumamoto City, suffered major damage during the earthquake, including the collapse of turrets, but the city has announced their plan to rebuild the castle to the state it was in before the earthquake over the next 20 years, as a symbol of recovery. 
―― Kagoshima: Living Together With the Blessings of a Volcano
Ibusuki CIty
 Ibusuki is found at the southernmost end of Kagoshima prefecture. The majority of the area of the city is within Ata Caldera, which was formed from volcanic activity approximately 100,000 years ago. Ibusuki is a famous tourist destination in Kyushu, with unique sand baths warmed by hot springs steam that exist nowhere else in the world.
 The people here live along with the volcano, and take advantage of its blessings in the form of hot springs, volcanic ash soil, and spring water. These have applications from everything from tourism, to farming, eel aquaculture, and making shochu liquar.
——————————————————————————————————————–
This press tour will include the following topics:
◆Kumamoto Prefecture
・Kumamoto City: Interview with Governor Kabashima; prefectural mascot Kumamon; state of damage to Kumamoto Castle.
・Minamiaso: Temporary housing; leisure facility that provided accommodation to evacuees and has since reopened for business (Aso Farm Land); local café that has reopened for business (Tippel).
・Aso: Potter who uses volcanic soil to make pottery
◆Kagoshima Prefecture (Ibusuki)
・Hot spring steam sand baths; outdoor bath; eel farm; sweet potato farmer; shochu distillery
——————————————————————————————————————–
[Tour Details]
————————————————————–
Ⅰ. Kumamoto Prefecture
Working Towards Recovery From the Earthquakes
————————————————————–
<Kumamoto City>
1. Ikuo Kabashima, Governor of Kumamoto Prefecture 
Current state of recovery from the earthquake
http://www.pref.kumamoto.jp/chiji/
http://www.pref.kumamoto.jp/chiji/kiji_3999.html
https://www.pref.kumamoto.jp/kiji_16643.html  
 Kumamoto prefecture was hit by a magnitude 6.2 earthquake on April 14 and a magnitude 7.0 earthquake on April 16. According to the prefecture's official announcement, 88 people died due to the earthquakes including related deaths (50 people died of causes directly related to the earthquake). 160,000 homes were damaged, including 8,500 which were completely destroyed, and there are still 1,480 people living in evacuation shelters (as of August 15).
 On August 3, the prefecture announced its plan for recovery and reconstruction. Kumamoto Governor Ikuo Kabashima had the following message at the time:
  "It is now painfully clear how precious and irreplaceable the everyday life that we took for granted was, and how difficult it will be to restore that lifestyle.
  Our ancestors faced numerous disasters in the past. But each time, they worked together to overcome those disasters, and left us a valuable inheritance. Those of us living today have the responsibility to restore the brilliance to our home of Kumamoto, and develop it even further before passing it on to the next generation. Now is the time that each of us must work together and put all our efforts towards the recovery of Kumamoto.
  For the reconstruction and recovery from the Kumamoto earthquakes, it is vital that we work using the three principles of reconstruction and recovery that I have been promoting: minimizing the pain of those people affected by the disaster; not simply restoring things to their original condition, but working towards creative recovery; and linking reconstruction and recovery to further development of Kumamoto."
◆The tour will meet the governor of Kumamoto and hear about the state of recovery and future plans.
2. Kumamoto Prefecture's Mascot, Kumamon: A Symbol of Support
Kumamoto's internationally beloved "sales manager." Back in action at evacuation shelters.
・Kumamon (Kumamoto Prefecture Sales Manager and Happiness Manager)
http://www.manyou-kumamoto.jp/kumamoto-castle/en/
http://www.city.kumamoto.jp/hpkiji/pub/detail.aspx?c_id=5&id=12552 
 Kumamon has been Kumamoto prefecture's official mascot character since 2010. In 2011, Kumamon won first place in the Yuru Chara Grand Prix, a contest involving mascots from across Japan. Kumamon's popularity is clear from the fact that he currently has over 500,000 followers on Twitter.
  Kumamoto Prefecture allows businesses and organizations to use the Kumamon trademark free of charge, helping the character achieve popularity. According to Kumamoto Prefecture's estimates, annual sales of Kumamon goods and products for 2015 were 100.778 billion yen. This is an increase of 56.6% compared to the previous year, with over 2.1 billion yen in sales overseas.
  Kumamon, who has been appointed by the governor as Kumamoto Prefecture's Sales Manager (and Happiness Manager), has also been active overseas. In addition to participating in the Japan Expo in France, he has promoted Kumamoto in places such as China, Singapore, and Taiwan, and become popular around the world.
After the earthquakes, images of support using Kumamon spread around the internet, such as pictures from China of pandas comforting a wounded Kumamon. Kumamon has become a symbol of Kumamoto Prefecture, even for prayers and messages of support for the recovery.
 Kumamoto Prefecture also created a logo of Kumamon holding a flag as a symbol for recovery. The logo was made with the concept of Kumamon acting to rally the residents of the prefecture to work together on recovery. The prefecture exclusively allows businesses in Kumamoto prefecture to use this logo for their products until the end of March next year, in order to support the difficult conditions facing many businesses in the prefecture.
◆ Kumamon will be present for a photo shoot.
©2010 Kumamoto Prefecture Kumamon
3. Making Kumamoto Castle Into a Symbol of Recovery
The state of damage to one of Japan's most famous castles, and steps towards rebuilding
・Kumamoto Castle
http://www.manyou-kumamoto.jp/kumamoto-castle/en/
http://www.city.kumamoto.jp/hpkiji/pub/detail.aspx?c_id=5&id=12552 
 Kumamoto Castle is one of the most well-known castles in Japan. Built at the beginning of the 17th century, the castle grounds have a circumference of 5.3 kilometers. The main castle tower was burned down in 1877, and rebuilt in 1960 with private donations, but 13 original structures including turrets, gates, and walls remain and are designated as Important Cultural Properties. The impressive beauty of Kumamoto Castle has long been a beloved symbol of the town, but in the April earthquakes two of the turrets designated as Important Cultural Properties were demolished, in addition to significant damage overall including stone walls collapsing, roof tiles falling, and damage to the castle tower. Currently, due to dangers such as stone walls collapsing, most of the castle is off limits.
 Restoring and rebuilding the castle will require surmounting technical and financial obstacles, but many messages of encouragement and support have been sent both from within Japan and from abroad, and Kumamoto City has begun collecting donations.
 In late July, Kumamoto Mayor Kazufumi Onishi announced the goal of rebuilding the castle tower by 2019 as a symbol of recovery, and to have the entire castle restored to its condition before the earthquake within 20 years. It is estimated that the total cost for reconstruction will be over 60 billion yen.
◆In addition to filming and photographing the current condition of Kumamoto Castle from its outskirts, locals will be interviewed about their feelings on the reconstruction.
<Minamiaso Village>
4. Minamiaso Village
Current state of disaster-affected area (Temporary housing, etc.)
http://www.aso-geopark.jp/en/charm/index.html
http://www.vill.minamiaso.lg.jp/site/userguide/foreigh.html 
 Located in the south of Aso Caldera, the village of Minamiaso (population: 11,600) is blessed with bountiful nature in the form of mountains and water resources. A caldera is a crater made by volcanic activity. The unique and impressive scenery and hot springs created by the caldera draw around six million visitors to Minamiaso annually.
 The Aso Caldera is 18 kilometers across east to west, and 25 kilometers north to south, making it one of the largest caldera in the world. It was formed due to massive eruptions that occurred between 270,000 and 90,000 years ago. Pyroclastic sediment from these eruptions remaining today covers a total area of 175 square kilometers. There is still a volcanic vent of Nakadake mountain in the center of the caldera that is active to this day, with 50,000 people within the caldera living together with the volcano.
In the earthquakes this year, Minamiaso suffered significant casualties with 17 people losing their lives (including in rela
ted deaths). Over 2,300 homes were damaged, with 611 people living in evacuation shelters (as of August 15). Major transportation infrastructure was also heavily damaged with the collapse of the Aso Ohashi bridge that connects to National Route 57 and the cave-in of the Tawarayama Tunnel on Kumamoto Route 28.
 Nonetheless, some stores and hotels within the village have already reopened for business. Provision is also progressing on temporary housing in six locations for those people whose homes have been damaged.
◆The tour will see conditions in Minamiaso, and visit a temporary housing complex.
(*Whether or not there will be interviews with residents is still undetermined. )
5.Expanded Polystyrene Accommodations Which Weathered the Earthquake Used for Evacuation Housing
A leisure facility that accepted evacuees before reopening for business
・Aso Farm Land, Inc.
General Sales Manager, Koji Masuda
Planning and Marketing Department Director, Chizu Moriyama
http://www.asofarmland.co.jp/lang/en/index.html
http://www.dome-house.jp/characters05.html 
 Aso Farm Land first opened in Minamiaso 21 years ago, as a leisure facility based around the theme of health. Covering an area of approximately one million square meters (21 times the size of the Tokyo Dome), the facility includes hot springs, spas, restaurants, and accommodations. In 2015, Aso Farm Land had four million visitors throughout the year, with 300,000 staying overnight. Around 30% of those visitors were from overseas, including Hong Kong, South Korea, and Taiwan.
 The earthquakes in April caused damage to the plumbing, as well as to restaurants and other buildings, but all 450 of their Dome House accommodations made of expanded polystyrene were undamaged. The company developed these polystyrene houses approximately 20 years ago, using special expanded polystyrene with a minimal amount of air trapped in the polystyrene in order to increase its durability, and using a dome shape without beams or posts. Combining lightness, durability, and flexibility, they are known for their impressive earthquake resistance. They have cleared Japan's building codes, and obtained a patent.
 After the earthquake, the damaged plumbing at Aso Farm Land was rapidly repaired, and in response to a request from the village office approximately 700 evacuees have been housed in the Dome Houses since the end of May. After moving, evacuees that had spent a week without privacy in evacuation shelters such as gymnasiums commented "Having a separate space for our family means we don't have to worry about other people," and "Even if our baby cries at night, no one else is disturbed so it is not as stressful."
 On August 1, Aso Farm Land partially reopened for business, including 50 of the Dome Houses. Mr. Masuda, the Sales Manager, personally also spent 10 days living out of his car after the earthquakes while preparing to provide accommodations for evacuees. "I learned a lot from these earthquakes and by accepting the evacuees. Humans have to deal with nature as part of their life. Humans can also repair that which is broken. I would like to spread the word about the importance of disaster prevention and the earthquake resistance of the Dome Houses to as many people as possible."
◆ The tour will visit Aso Farm Land to photograph and film the Dome Houses. Mr. Masuda and Ms. Moriyama will explain the characteristics of the Dome Houses, their experiences in housing the evacuees, and future plans.
6.Family-Run Café Reopened After the Earthquakes
Coexisting with the volcano. Working towards reopening their pension.
・Café Tippel
Mr. Hisao (father) and Ms. Yoko (daughter) Koyama
http://cafe-tippel.com/weblog/ 
 Café Tippel is located in an area of Minamiaso with many pensions. Mr. Hisao Ogawa, his wife, and their daughter Yoko run the café. The German-style baumkuchen made at the café is very popular, and they also sell nutcracker dolls and other ornaments from Germany. Beside the café is a pension run by the Ogawa's son and his wife.
 In the April earthquakes, the wall of the pension collapsed, the entranceway was damaged, and plumbing and gas pipes were damaged as well. The water stopped for over 40 days, and electricity for over a week, leaving them without basic utilities. Since the pension needed repairs, they had no choice but to close down, but although the earthquake did knock almost all the products and dishes in the café to the floor, breaking them, after the water was restored the café reopened for business in mid-June. Mr. Ogawa calmly related the story: "It was a trial, but I plan to keep living here. The eruption of Mt. Aso two years ago also hurt the tourism industry. Nonetheless, it is thanks to the landscape around the volcanic vent and the caldera that customers visit, and delicious water is available. We have no choice but to coexist with it." Although the number of tourists has decreased since the earthquakes, he mentioned the number of customers is slowly increasing again, partly due to volunteers visiting the village.
 Mr. Ogawa's son hopes that the pension will have finished repairs and be reopened by the next spring.
◆ The tour will visit Café Tippel, and hear from the Ogawa family about the earthquakes, conditions at the café after reopening, and their future plans.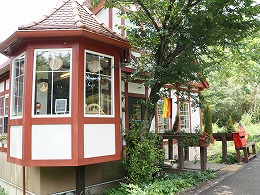 <Aso City>
7.Making Pottery with Volcanic Soil
Living on land with an active volcano and taking advantage of its bounty
・Asobougama, Futoshi Yamashita (43)
https://thewonder500.com/product/yoganyu-no-utsuwa-lava-glazed-bowl/?lang=en 
 Aso City is located north of Minamiaso, on the northern side of Mt. Aso. Mr. Futoshi Yamashita has his workshop here, where he makes pottery using the volcanic soil from the Aso Caldera.
 Mr. Yamashita gathers all the soil he uses for his pottery himself from the caldera. He also uses volcanic rock for glazing. Lava from eruptions tens of thousands of years ago which cooled down and solidified is returned to a magma-like state in his 1200 degree Celsius kiln. The pottery he creates through this process emanates the power of the volcano itself.
 Mr. Yamashita had been wanting to create something unique based on the local environment when he encountered the soil of Mt. Aso and was fascinated by the volcanic soil containing iron. "Volcanic soil is the Earth's bounty. I am living on this planet called Earth. It's like I am taking the energy that comes from within the Earth into my hands. I feel that it is my purpose to make pottery here."
 Many of his pieces were ruined in the April earthquakes, and the central pillar of his workshop was damaged, but Mr. Yamashita said that "Of course natural disasters will happen. That is the kind of place humans get to live in…. Volcanoes are a blessing, but they are also terrifying. The people of Aso were likely aware of this, and so always felt humble towards nature."
 Mr. Yamashita's pottery has been selected as part of The Wonder 500, a Ministry of Economy, Trade and Industry Cool Japan project designed to discover local products and promote them around the world.
◆The tour will visit Asobougama to interview Mr. Yamashita, see his completed pieces, and watch him make pottery.
————————————————————–
Ⅱ.Kagoshima Prefecture (Ibusuki City)
Living Together With the Blessings of a Volcano
————————————————————–
<Ibusuki City>
1.The Only Natural Hot Spring Steam Sand Bath in the World
Medically proven to have a detoxification effect
http://sa-raku.sakura.ne.jp/en/efficacy.html
 Ibusuki is found at the southernmost end of Kagoshima prefecture. The majority of the area of the city is within Ata Caldera, which was formed from volcanic activity approximately 100,000 years ago. It would be remiss to discuss Ibusuki without mentioning the hot spring steam sand baths, which exist nowhere else in the world.
 With hot springs found throughout the city, there is even hot spring water bubbling up at the sandy beaches by the ocean. The popular steam sand baths use the heat of these hot springs, with people immersing themselves in sand heated to around 55 degrees Celsius to relax their body to its core and refresh themselves. These steam sand baths, unique in the world, have led to Ibusuki becoming one of Kyushu's premier tourist destinations.
 The sand baths were said to have health benefits for the past 300 years, but recently it has also been medically proven. Research by Kagoshima University has proven numerous effects such as an increase in cardiac output and in core body temperature. According to this research, the sand baths are 3 to 4 times more effective than normal hot springs, causing an increase blood circulation, the elimination of waste products, reduction of inflammatory and pain-causing substances in the body, and providing oxygen.
◆The participants will be able to experience the hot spring steam sand baths, and film and photograph the experience. The tour will also observe the old salt farms on the beach where the hot spring water sprays out forcefully.
2.The Bounty of Hot Springs Entrances Tourists
120,000 tons of water bubbles up daily. Used for industrial purposes as well.
・Healthy Land Outdoor Bath Tamatebako Onsen
http://www.seika-spc.co.jp/healthy/?page_id=337
http://www.ibusuki.or.jp.e.xy.hp.transer.com/
・Former Site of Yamagawa Saltworks
http://www.ibusuki.or.jp.e.xy.hp.transer.com/tourism/view/fushime/
 The greatest attraction of Ibusuki is the hot springs that bubble up throughout the town. With over 1,000 springs, approximately 120,000 tons of water flows out every day. It is believed that the heat source for these springs is magma deep underground.
 Drawn by the hot springs, in a year a total of approximately 3.94 million tourists visit this city with a population of only 42,000 (figures from 2014). Recently, the number of visitors from China, South Korea, Taiwan and other Asian countries has been increasing.
 From the outdoor bath Tamatebako Onsen in Ibusuki, bathers can see a beautiful view of the ocean and the active volcano Kaimondake. Its popularity grew by word of mouth, and for the past three years it has won first place in the national rankings for Japan by TripAdvisor.
 The hot springs not only contribute to tourism, they are also used by industry. From the 1940s to 1960s, the heat from hot springs was used along the coast to manufacture salt. At the old salt farms, it is still possible to see the large quantities of steam being expelled from underground that was used at the time as a source of heat.
◆The tour will be able to film and photograph the ocean and Kaimondake volcano from the Tamatebako Onsen outdoor bath before business hours. The tour will also visit the old salt farms where hot springs heat was used to manufacture salt and see the steam being constantly emitted.
3.Farming Eels with Hot Spring Water
Maintaining water temperature and cutting costs. Techniques of a hot springs town.
・Imamura Aquaculture Co., Ltd., President Hironobu Imamura
https://www.pref.kagoshima.jp/af05/sangyo-rodo/rinsui/suisangyo/suisanbutu/suisanitiban.html 
 With its warm weather and plentiful water, Kagoshima prefecture has the perfect conditions for farming eel. They produce the most in Japan (6,838 tons), and have a 39% share of the national market (figures from 2014).
 In Ibusuki, water from its ample hot springs is used to farm eels. To raise eels, a water temperature of 30 degrees Celsius year-round is ideal.
 Mr. Imamura (53), who has been farming eels for 30 years, uses hot springs water to farm eels just as his father did. He produces 250,000 eels (50 tons) a year, and according to him "I use hot springs water from October until the end of the rainy season the next year, every year. If I used oil to heat the water to 30 degrees Celsius, it would cost about 100 yen per kilogram of eel." By using the hot springs available on site, the fuel cost is reduced to zero.
 The eel farm has a small shrine to a water god that was set up when Mr. Imamura's father still ran the farm, in order to watch over the flowing water.
◆The tour will visit Imamura Aquaculture to hear from Mr. Imamura and see the eels being farmed.
4.Growing Sweet Potatoes with Volcanic Ash Soil
Taking advantage of excellent drainage to be the No. 1 producer in Japan
https://www.pref.kagoshima.jp/ag01/sangyo-rodo/nogyo/nosanbutu/satumaimo/ziten/02_3.html 
https://www.pref.kagoshima.jp/kids/sangyou/shokusangyou.html 
https://www.kagoshima-shoku.com/2266 
 Kagoshima was once known as Satsuma. In the 1700s, sweet potatoes (satsuma-imo in Japanese) spread from Satsuma to the rest of Japan. Even today, Kagoshima is the main producer of sweet potatoes in Japan, producing 374,000 tons annually and accounting for 40% of domestic production. The reason for this is the volcanic ash soil covering over half the prefecture (not including islands).
 Since volcanic ash soil has difficulty retaining water and is low in nutrients, it is unsuitable for rice cultivation. However, soil with good drainage is suited to growing sweet potatoes, and so sweet potato farming became common. The drainage of the soil allows for the cultivation of high-quality sweet potatoes with low water content and high starch content. Taking advantage of the characteristics of volcanic ash soil, Kagoshima's residents made it famous for producing sweet potatoes.
◆The tour will visit a sweet potato field (for shochu liquor) during harvesting season, and hear from the farmer about the benefits of volcanic soil.
5.Satsuma Shochu, Liquor Made from the Volcano's Bounty
Traditional taste maintained thanks to local sweet potatoes and plentiful spring water
・Ibusuki Shuzo
http://www.riemon.com/about_riemon 
http://www.tanshikijyoryu-shochu.or.jp/satsumashochu/
 Using the sweet potatoes grown in volcanic ash soil and the plentiful spring water available thanks to the volcano, shochu production is very common in Kagoshima.
 Sometimes called the "Kingdom of Shochu," there are 113 distilleries in Kagoshima that ship 126 billion yen worth of shochu annually (figures from 2010).
 In 2005, "Satsuma" (the former name of Kagoshima) was approved for geographical indication for Satsuma shochu as part of the World Trade Organization's TRIPS agreement (Agreement on Trade-Related Aspects of Intellectual Property Rights). Other similar geographical indications include Bordeaux and Champagne wines, and Scotch whisky. The Satsuma shochu mark is only allowed for shochu made within Kagoshima prefecture using sweet potatoes and water from Kagoshima.
 In September, when the local farmers harvest the sweet potatoes they spent so much effort growing, the production of shochu using these freshly-picked sweet potatoes begins at Ibusuki Shuzo, a distillery within Ibusuki.
 Ibusuki Shuzo ships 500,000 bottles of shochu per year, and in recent years have also begun exporting to China, Hong Kong, Singapore, Taiwan, the US, and Vietnam.
◆The tour will visit Ibusuki Shuzo and observe the harvested sweet potatoes being processed to make shochu.
[Tour Itinerary]
1. Dates: Monday, September 12 to Wednesday, September 14, 2016 (3 days, 2 nights)
Day 1 (Monday, September 12): Kumamoto (Mashiki, Minamiaso, Aso)
| | |
| --- | --- |
| Time | Schedule |
| 8:10-09:55 (1h45) | Haneda to Kumamoto (JAL) |
| 10:10-10:30 (20) | Travel |
| 10:30-11:00 (30) | Film and photograph current state of Mashiki (*tentative) |
| 11:00-12:30 (1h30)  | Travel and lunch (boxed lunch in bus) |
| 12:30-12:50 (20) | Film and photograph current state of Minamiaso |
| 12:50-13:00 (10) | Travel |
| 13:00-14:00 (1h)   | Visit temporary housing and interview with evacuees (*tentative) |
| 14:00-14:10 (10) | Travel |
| 14:10-14:55 (45) | Café that has reopened for business: Tippel |
| 14:55-15:10 (15) | Travel |
| 15:10-16:20 (1h10) | Aso Farm Land |
| 16:30-17:10 (40) | Travel |
| 17:10-18:10 (60)    | Asobougama (kiln): Futoshi Yamashita |
| 18:10-18:20 (10) | Travel |
| 18:20 | Check in at hotel (Uchinomaki Onsen) |
| 18:40-19:10 (30)  | Interview locals involved in tourism industry |
| 19:15-20:45 (1h15) | Supper |
Day 2 (Tuesday, September 13): Kumamoto (Kumamoto City)
Time

Schedule

8:00

Check out of hotel

8:00-9:45 (1h45)

Travel

10:30-11:30 (1h)

Interview with governor of Kumamoto (20)

Kumamon (20)

Extra explanation by officials (20)

11:30-11:50 (20) 

Travel

12:00-12:30 (30)

Lunch (Johsaien, beside Kumamoto Castle)

12:30-12:50 (20)

Interview locals involved in restaurant industry (*tentative)

13:00-14:20 (1h20)

Kumamoto Castle (filming and photograph around the perimeter, along with guide)

14:30-15:00 (30)  

Travel

15:15-16:07 (52) 

Kumamoto to Kagoshima Chuo (Kyushu Shinkansen)

16:10-17:40 (1h30)

Travel

17:40           

Check in at hotel (Ibusuki Onsen)

18:00-19:30

Supper

(*Those interested may experience the steam sand baths after supper)
Day 3 (Wednesday, September 14): Kagoshima (Ibusuki)
Time

Schedule

8:15-8:35 (20)

Briefing by Ibusuki City official (1):

The blessings of the volcano (local specialties thanks to volcanic soil, hot springs, etc.)

8:35-9:00 (15)

Travel

9:00-9:30 (30)   

Filming and photography at Healthy Land Tamatebako Onsen outdoor bath

9:30-10:00 (30)

Travel

10:00-10:45 (45)

Sweet potato farmer

(Sweet potatoes used for Satsuma shochu)

10:45-11:00 (15)

Travel

11:00-12:15 (1h15)

Satsuma shochu distillery: Ibusuki Shuzo

12:15-12:45 (30)

Travel

12:45-13:30 (45)

Lunch

13:30-13:50

Travel

13:50-14:50 (50)

Eel farming using hot spring water

14:50-15:00 (10)

Travel

15:00-16:45 (1h45)       

Briefing by Ibusuki City official ②: Tourism in the city, effects of the earthquakes, benefits of hot spring steam sand baths, etc.

Former salt farm, view of Kaimondake, filming and photographing sand baths (guided by city official)

16:45-18:30 (1h45)  

Healthy Land to Kagoshima Airport

19:25-21:15

Kagoshima Airport to Haneda Airport (ANA)
2. Qualification: Bearer of Gaimusho Press Registration Card
3. Fee: 15,000 yen per person, including transportation, meals and accommodation
* FPCJ will later inform the participants of methods for payment, cancellation fee etc.
4. Number of participants: Limited to 10 applicants.
(Only one reporter and one photographer from each company, but two participants from each TV team will be acceptable.)
*If the number of applicants exceeds the maximum number of participants, we may limit the number of participants from each nation.
5. FPCJ tour organizer: Chika Yoshida(Tel: 03-3501-3405)
6. Notes:
(1) There may be some restrictions on photographing and filming at the tour sites. Please follow the instructions of the officials on duty.
(2) FPCJ, JTB Kyushu and Ministry of Economy, Trade and Industry will not be liable for any inconvenience, trouble or accident that might occur during the tour. 
(3) There are possibilities that tentative schedules on the itinerary will be changed. Please note that information in this article is as of early August and the situation on the tour days in September might be different.