International Exchange
[Notice] Chiba Press Tour: Industrial Revolution of the Skies, the Front Line of Applications for Drones (Nov. 2016)
 As drones are used in more and more situations, there is increasing anticipation for industrial uses of drones. According to Impress Corporation, an IT publishing company, the Japanese drone business market is estimated to be worth 113.8 billion JPY by FY2020. This "industrial revolution of the skies," using drones with both improved performance and safety, is attracting a lot of attention
 Chiba prefecture is home to a variety of initiatives using drones, such as at a startup company from Chiba University that is at the forefront of drone research in Japan, at the Chiba City Fire Department, and at a pear farm. Chiba University Professor Emeritus Kenzo Nonami was among the first in Japan to become involved in drone research, and is an authority in the field. Applying all the technology developed up to this point, the established Autonomous Control Systems Laboratory (ACSL), a startup company to meet the growing need in Japan and overseas for industrial drones. He developed the first entirely made-in-Japan drones including an autopilot /flight controller system (autonomous control system), which have been used in a proof of concept test for the Chiba City National Strategic Special Zone for delivery services using drones, measuring radiation levels at Fukushima Daiichi Nuclear Power Plant, and in a wide variety of applications for industry including agriculture, delivery, and infrastructure inspection.
 To prepare for large-scale disasters such as a major Nankai Trough earthquake or earthquake directly under Tokyo, the Chiba City Fire Department was equipped with a disaster-response drone provided by the Fire and Disaster Management Agency in March this year. Operators have been trained in order to use the drone to gather information and search for people during major disasters, and the drone is ready for use as of October.
 Chiba has the largest cultivated area, highest yield, and highest output of pears in Japan. Mr. Shogo Takahashi took over his family's pear farm five years ago, and though pears are usually cultivated by hand without using machinery, he is looking into using drones to increase work efficiency and improve the quality of the pears grown.
This press tour will cover applications of drones by ACSL, the Chiba City Fire Department, and a pear farm, looking into the state of the "industrial revolution of the skies" taking place in Japan. 
*This press tour is sponsored by Chiba Prefecture, with planning cooperation by the FPCJ.
*This press tour will require participants to bear part of the cost, but is not a profit-making venture.
 ***********************************************************************
【Tour Details】
1.Professor Kenzo Nonami, Japan's Leading Authority on Drone Research
Autonomous Control Systems Laboratory (ACSL)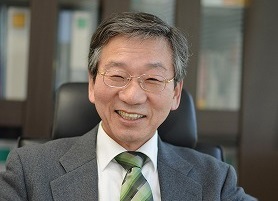 Dr. Kenzo Nonami (Chiba University Professor Emeritus, President of ACSL) began developing technology for a drone with a completely autonomous control system (a small robot that could fly, from take-off to landing, without any manual control during the flight) in 1998, and in 2001 was the first to succeed at autonomous control during flight. He followed this with success in completely autonomous take-off and landing, and in order to apply this world-class autonomous control system to a variety of industries, in November 2013 he established Autonomous Control Systems Laboratory.
 ACSL develops its own autopilot/flight controllers, that function as the brains of the drone, and is the only company in Japan that carries out everything from acquiring parts to manufacture and sales entirely in Japan. The company's drones can be used for aerial photography, delivery, spraying, measuring, and surveying, with potential applications in fields including logistics, agriculture, disaster response, security, and infrastructure inspections. For logistics in particular, this year in May ACSL collaborated with Rakuten, Inc. on a month-long trial of a service to transport items such as drinks and golf balls to players on a golf course in Chiba prefecture, which was carried out successfully. The drones were controlled completely autonomously, with the operating software developed in collaboration with Rakuten, Inc. 
 This year, Chiba city was designated as a National Strategic Special Zone for deliveries using drones, with a focus on examining institutional and regulatory reforms with the goal of introducing industrial applications of drones. Dr. Nonami is the chair of the technological investigative committee for the use of drones in delivery. In April, an ASCL drone was used for a test transporting a package from a specified location to its destination. The proof of concept testing will end by 2019, and the technology of ASCL will play an important role in this test as Chiba City moves towards practical business applications of drone deliveries.
 This month, ASCL began sales of Minori 1, an agricultural drone with a 110 cm diameter that weighs 7.5 kg, made small to meet the needs of Japan's cramped farms, enabling it to spray herbicides and fertilizer even in narrow spots and to avoid obstacles in fields, such as sheds. In order to reduce equipment costs for farmers that only spray a few times a year, there is also a drone sharing service available, as well as lessons to teach users how to operate the drone.
ACSL President Kenzo Nonami will explain the capabilities of the company's drones, and speak about their future potential. There will be an opportunity to film and photograph demonstrations of the logistics drone and the Minori 1 agricultural drone.
*In the case of rain or strong winds, the demonstration will be performed indoors.
2.Chiba City Fire Department Drone for Disaster Information Gathering
Chiba City Fire Department
 To prepare for large-scale disasters such as a major Nankai Trough earthquake or earthquake directly under Tokyo, in March this year the Fire and Disaster Management Agency provided Chiba City and Saitama City with specialized disaster-response drones, free of charge. When Emergency Fire Response Teams come to provide support after a major disaster occurs, it is anticipated that the drones will be effective as tools that can provide rapid and efficient support from the skies for gathering information, searching for people, establishing rescue routes, and confirming the safety of locations.
 These drones were developed for disaster response by a Japanese company. Using GPS, they are able to automatically navigate a specified route from take-off to landing. Able to fly for up to 20 minutes, they have the ability to automatically return to their take-off point in the case of the control signal being cut off or the battery level falling below a set value. They can be equipped with a digital camera, video camera, or gas sensor, enabling them to photograph the disaster site from the sky or analyze the terrain using 3D imaging, or in the case of a fire or leak at a chemical plant or a volcanic eruption, they can measure the concentration of gas released. The drone will not only be used in Chiba City, and will also be sent as support when major disasters occur in other cities. It is planned to be used in cases when it is determined that scouting with drones would be more effective than using helicopters.
 Since there is no legally required operating license for drones, the Chiba City Fire Department began training operators in May so they could learn the skills necessary to operate the drone and knowledge of the Civil Aeronautics Act. Plans are to train 12 drone operators, and the drone has begun to be used as of October by the operators who have finished their training.
Members of the Chiba City Fire Department will explain how drones will be used for disaster response, and demonstrate flying the drone.
*In the case of rain or strong winds, the demonstration will be done indoors with a training drone. The disaster-response drone cannot be flown indoors, but it will be possible to take pictures of the stationary drone.
3.Pear Farmer Looking Into Agricultural Uses for Drones
Takahashi Pear Farm, Akihiro Takahashi (54)
 Chiba prefecture has been known for pear production since the Edo period (1603-1868). Thanks to the warm climate, nutrient-rich soil, and pear-growing techniques accumulated over the years, Chiba is No. 1 in Japan for pear yield, output, and area cultivated.
 Takahashi Pear Farm, located in Katori, is a mid-sized pear farm with around 200 pear trees in the one-hectare farm. Mr. Takahashi, who runs the farm, quit his job at an IT company in Tokyo five years ago to take over the family farm, as the third-generation owner. Based on his 25 years of experience working in IT, he thought of using drones for agricultural purposes, and has been investigating various ways to use drones taking advantage of all their different capabilities. He uses a drone made by Chinese company DJI, which can fly for up to 28 minutes, using GPS for autonomous flight. Equipped with a camera for aerial photography, the drone is used to check the net used to prevent birds from eating the pears, and its mapping system is used to make a record of growth and check for changes over the entire pear farm. In order to raise interest in the process by which pears are grown, he has also made aerial videos of the pear farm and mapping images available on a website, using the drone for promotion of the pear farm as well.
The numbers of farmers growing Chiba's famous pears are decreasing year by year due to aging. Since there is a limit to how large farms can be made in Japan, Japanese agriculture must rely on improving quality in order to improve profitability at a small scale. For that reason, Mr. Takahashi hopes that drones and other advanced technology will be able to increase agricultural efficiency and improve product quality.
The tour will hear an explanation of the characteristics of and cultivation methods used for Chiba pears from a fruit-tree cultivation advisor from the Chiba Prefecture Agriculture, Forestry, and Fisheries Department, followed by Mr. Takahashi explaining why he started using drones for agricultural purposes, and his success so far. There will then be an opportunity to film and photograph the drone being flown.
*In the case of rain or strong winds, a small drone will be flown inside the store. The drone being used for agriculture cannot be flown indoors, but it will be possible to take pictures of the stationary drone.
【Tour Itinerary】 
1. Date:Tuesday, November 1, 2016
8:00           Leave FPCJ (Travel by chartered bus)
9:15-10:45      Chiba City Fire Department 
11:00-13:00     Autonomous Control Systems Laboratory
13:00-14:15     Bus (Lunch)
14:15-16:00     Takahashi Pear Farm
17:30          Arraive at FPCJ
*The schedule may be changed due to weather or other unforeseen circumstances.
2. Qualification: Bearer of Gaimusho Press Registration Card
3. Cost: 2,000 yen per person including transportation, accommodation and meal.
* FPCJ will later inform the participants of methods for payment, cancellation fee, etc.
4. Participants: Limited to 10 applicants.
(Only one reporter and one photographer from each company, but two participants from each TV team will be acceptable.)
*If the number of applicants exceeds 10, an upper limit may be set on the number of participants from each country.
5. FPCJ Contact: Ms. Obo (Tel: 03-3501-3405)
6. Remarks:
(1) There may be some restrictions on photographing and filming at the tour sites. Please follow the instructions of the officials on duty.
(2) Chiba Prefecture and FPCJ will not be liable for any inconvenience, trouble or accidents that might occur during the tour.