International Exchange
[Notice] Yamaguchi Press Tour (Dec. 2016)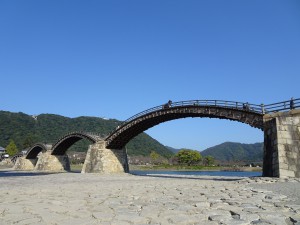 Located on the western end of Honshu, Yamaguchi is home to artisan SMEs which have overcome difficult conditions through their unique techniques and innovative management to open up new markets or expand their business overseas.
For over 50 years now, Yamashita Kogyosho has made noses for Shinkansen trains, using hammers to beat the metal into shape. Nishi-F, a company that specializes in making ships using fiber reinforced plastic (FRP), has used its ability to do everything from designing to constructing ships in-house to expand its business into fields such as lifeboats, and survive times when FRP boats were not selling well.
Yamaguchi prefecture has the highest transaction volume for fugu (pufferfish) in Japan, and Choshu Nagato Suisan not only farms fugu, but also processes them to remove the poisonous parts and sell fugu with high added value.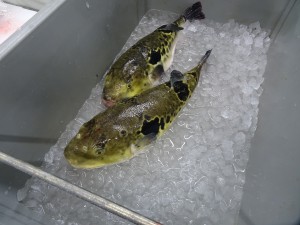 As the consumption of sake continues to decline, Yamaguchi is the only prefecture in Japan which has seen an increase in the amount of sake shipped annually for the past nine years. Asahi Shuzo has defied the conventions of sake brewing again and again, and managed to go from being on the brink of bankruptcy to one of the most well-known sake breweries in Japan, making a billion yen in overseas sales. With a data-based approach, brewery staff make sake year-round and consistently produce valuable, high-quality sake. Both Asahi Shuzo and Nishi-F are in the manufacturing industry, which overall is suffering from a serious lack of young workers to pass skills on to, but a majority of their employees are in their 20s and 30s.
Only a 20-minute drive away from Iwakuni Kintaikyo Airport, the gateway to Yamaguchi located in the east of the prefecture, Kintai Bridge is a wooden arch bridge made using traditional techniques, which still connects the two riverbanks in mostly the same fashion as it has for over 300 years of being rebuilt. Recently, tourists have been flocking to Motonosumi Inari Shrine as a new sightseeing spot, which has over 120 red torii gates lined up along a cliff by the sea, providing a beautiful contrast between the sea and the mountains. Over 300,000 tourists visited the seaside shrine in just six months.
This press tour will travel from east to west across Yamaguchi prefecture, covering both unique artisan companies operating on a global scale which overcame difficulties through their technical capability and bold management methods, and Yamaguchi's famous tourist attractions. The tour will also interview the governor of Yamaguchi Prefecture.
*This press tour is sponsored by the FPCJ.
*This press tour will require participants to bear part of the cost, but is not a profit-making venture.
[Tour Details]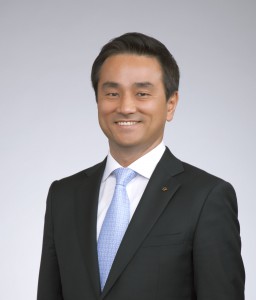 1. Interview with Governor of Yamaguchi Prefecture
Governor Tsugumasa Muraoka (43) was elected in 2014, and is working together with 12 younger governors from around Japan as a member of the Alliance of Governors Supporting Future Generations for the Creation of Japan, established in 2015, on initiatives to halt population decline in regional areas, support societal participation by youth and women, and support raising children. With the goal of a vibrant Yamaguchi, he has been visiting other countries such as South Korea, Malaysia, and Taiwan in order to promote sales of local products and the tourism industry.
Governor Muraoka will speak about future plans and initiatives to ensure a vibrant Yamaguchi.
2. Artisan Companies Overcoming Challenges and Expanding Globally
(1) Asahi Shuzo Co., Ltd. (Iwakuni)
—Dassai, a globally recognized brand: Japanese sake brewery that defied conventions to become a success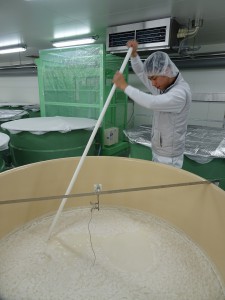 Domestic consumption of sake in Japan reached a peak in 1975 at 1.675 million kiloliters, with consumption in 2014 falling to 557,000 kl, approximately a third of peak levels. However, export volume has doubled in the past ten years, to 18,000 kl in 2015, accounting for 3.2% of total shipping volume for sake.
Dassai is now a globally recognized brand, and 10% of Asahi Shuzo's output of 2.34 million liters in 2015 was exported to around 20 countries including China and Hong Kong, France, Singapore, and the US. Of the company's 6.5 billion yen in total sales, exports accounted for 1 billion yen. Only 30 years ago, Asahi Shuzo had only 100 million yen in sales, and it managed to grow to its current size due to innovative efforts not bound by traditional sake brewing. Instead of hiring a sake brewer known as a toji from winter to early spring, and have them rely on their intuition to brew sake, the company switched to having their employees brew sake based on quantifiable data. Controlling the temperature in their modern facility made it possible to make sake year-round. Samples from sake being brewed are carefully analyzed every day, quantifying the brewing process, and careful data management enabled steady production of sake that maintains a specific level of quality. The company also chose to stop producing the most commonly available types of sake, and focused on exclusively making junmai daiginjo sake, with over 50% of the outer part of the rice polished away to eliminate the unwanted flavors it contains, and no extra distilled alcohol added. Only 3% of the sake produced in Japan is junmai daiginjo, making it a rare and valuable sake.
In early 2017, the company plans to launch a store in Paris in collaboration with world-famous chef Mr. Joel Robuchon. Mr. Kazuhiro Sakurai (39), who became Asahi Shuzo's 4th president at the end of September this year, has said, "I would like overseas sales to account for 50% of sales in the future."
The tour will visit the 12-floor brewery that finished construction last year, and cover Asahi Shuzo's systematic brewing process. Company president Mr. Kazuhiro Sakurai will talk about innovating traditional sake brewing processes, and future plans for the company.

(2) Yamashita Kogyosho Co., Ltd. (Kudamatsu)
—Skillfully hammering out noses for Shinkansen trains for over 50 years
Yamashita Kogyosho uses a technique called uchidashi to form sheet metal into curved shapes by beating it repeatedly with a hammer, and in the over 50 years since the Shinkansen began running in 1964, the company has made beautifully curved noses for over 400 Shinkansen trains. In addition to domestic trains such as the E7 series for the Hokuriku Shinkansen, which began operations last year, the company has also produced noses for the Shinkansen in Taiwan, and monorails in Dubai and Singapore. It is said to take 10 years to master the uchidashi technique, and when Mr. Tatsuto Yamashita, now the company president, joined the company in 2007 there were no workers under 30, making passing on techniques and training the next generation a concern. To promote the company's amazing techniques in a way that was easy to understand, Mr. Yamashita had violins and cellos made using aluminum and magnesium uchidashi sheets, creating unique musical instruments that drew attention to the company and led to a gradual increase in the number of applicants. Of the company's 40 employees, currently 13 performing uchidashi are under 40, with their skills improving every day.
There will be opportunities to film and photograph a demonstration of uchidashi by veteran craftsmen, as well as instruments made out of aluminum using uchidashi. There will also be a chance to interview younger employees.
*Since the body of the Shinkansen under production will not be in the factory the day of the tour, the process of making train noses using uchidashi sheet metal will be presented using video and photographs.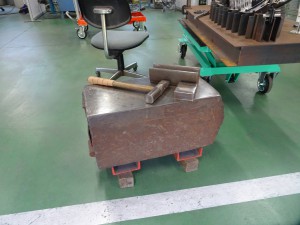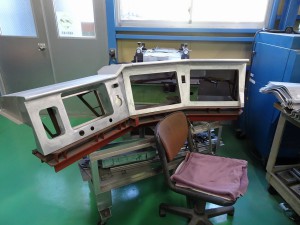 (3) Choshu Nagato Suisan (Nagato)
—Land-based farming, processing, and sales of high-quality fugu with high added value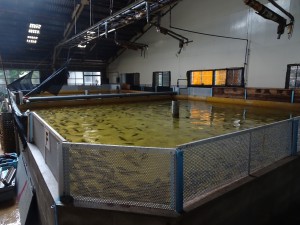 Yamaguchi prefecture has the highest transaction volume for fugu in Japan, and Choshu Nagato Suisan is a pioneer in "sixth industry," as it not only carries out land-based farming of Japanese pufferfish, but also removes the poisonous parts such as the skin, ovaries, and liver, and sells the processed fish. To compete with the drop in prices for fugu due to the availability of inexpensive Chinese fugu, five companies that were each involved in separate areas such as fugu farming, purchasing, or sales joined together to establish Choshu Nagato Suisan in November 2015. 35,000 fugu are being raised in 50 tanks at a farming facility that the local fishing cooperative had stopped using. Since the facility uses cold, clean seawater from the Sea of Japan, the fugu raised there have nice, lean meat. The fish are processed in the same facility, so they are still fresh when shipped.
Sales in 2015 were 60 million yen. The company plans to increase production, and reach 100 million yen in sales in four years.
There will be an opportunity to film and photograph the land-based farming facility for fugu, and the processing to remove poisonous parts that takes less than two minutes per fish. Company president Mr. Shigeyuki Ando will speak about future plans for the company.
(4) Nishi-F Co., Ltd. (Shimonoseki)
—Glass fiber reinforced plastic lifeboats that can handle a 25.3 meter drop to the water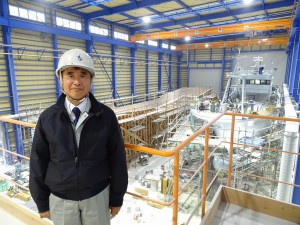 Nishi-F, located near Yuya Bay in the northwest of Yamaguchi, has continued manufacturing "made-in-Japan FRP boats" since the company's establishment 45 years ago, made mostly from glass fiber reinforced plastics (GFRP/fiberglass). GFRP is a material that combines glass fibers with plastic and is light, strong, and resistant to corrosion, used in manufacturing products such as playground equipment and parts for sports cars. Since FRP boats have a long lifespan, the market became saturated around 1990, but Nishi-F continued to build FRP boats even as their sales declined, lasting thanks to the skill that allowed them to do designs in-house, build wooden frames, and create custom boats to meet customers' needs. In order to expand their business, they began building lifeboats, and through research in cooperation with Yamaguchi University and other institutions developed lifeboats that could handle severe conditions. To check the safety of the boats, the president himself participated in an experiment where the lifeboat was dropped from a height of 25.3 meters, the highest in the world for this kind of test. The company manufactures approximately one hundred lifeboats per year, and in January of this year construction was completed on a new factory, which at 2,730 m2 is 2.7 times the size of the old factory and will also allow them to manufacture larger ships. The company aims to create a new market for large FRP ships over 100 tons, an area that is currently dominated by steel manufactured ships. By 2021, they plan to grow from their current 79 employees to 100, and to increase sales from 1.8 billion yen to over 3 billion yen.
The tour will visit Nishi-F's new factory, and film and photograph the construction of large FRP ships, and the interior and exterior of a lifeboat. Company president Mr. Atsushi Horii will also speak about the future of the company.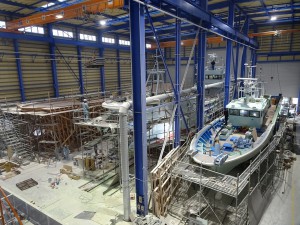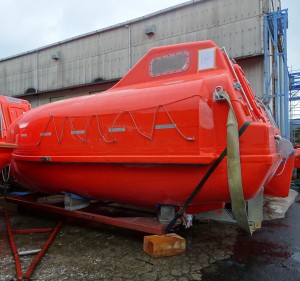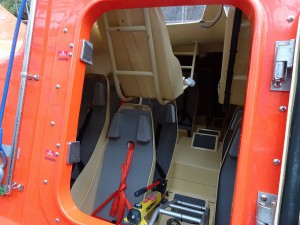 3. Famous Yamaguchi Tourist Resources
(1) Kintai Bridge
Kintai Bridge, which spans the Nishiki River flowing through Iwakuni, is built in five sections including three arches. Made using traditional construction methods, one of its arches is the longest in the world for a wooden arch bridge, at 35.1 meters long. With local carpenters reading plans made approximately 300 years ago, for the first time in 50 years the current bridge was rebuilt over the course of three years, starting in 2001. To pass on the precise construction technique that an expert has described as "matching up with modern physics, with no room for improvement," the bridge is planned to be rebuilt again in 2021.
Mr. Masakazu Nakamura (59), a carpenter who played a central role the last time the bridge was rebuilt, while speak about the history and structure of Kintai Bridge, and plans to continue rebuilding the bridge while maintaining tradition.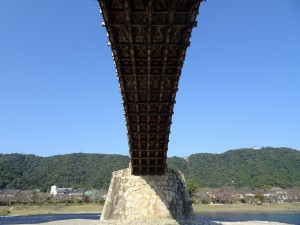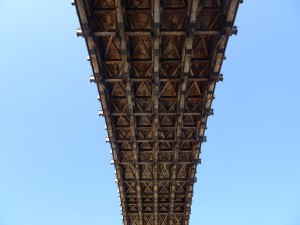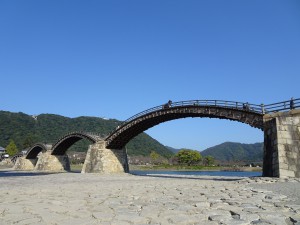 (2) Motonosumi Inari Shrine
Located in Nagato, in the northwest of Yamaguchi, Motonosumi Inari Shrine is known for its 123 red torii gates lined up on a cliff facing the Sea of Japan. An idea of shrine priest Yoriki Okamura, the offering box for the shrine is located five meters above ground near the top of the tallest torii gate, and people will frequently make many attempts to have their offering land in the box. After CNN listed it as one of "Japan's 31 most beautiful places" last year, the number of tourists to the shrine increased from 20,000 in 2014 to 70,000 in 2015, and from January to August this year the shrine had already been visited by 300,000 tourists.
The tour will film and photograph Motonosumi Inari Shrine.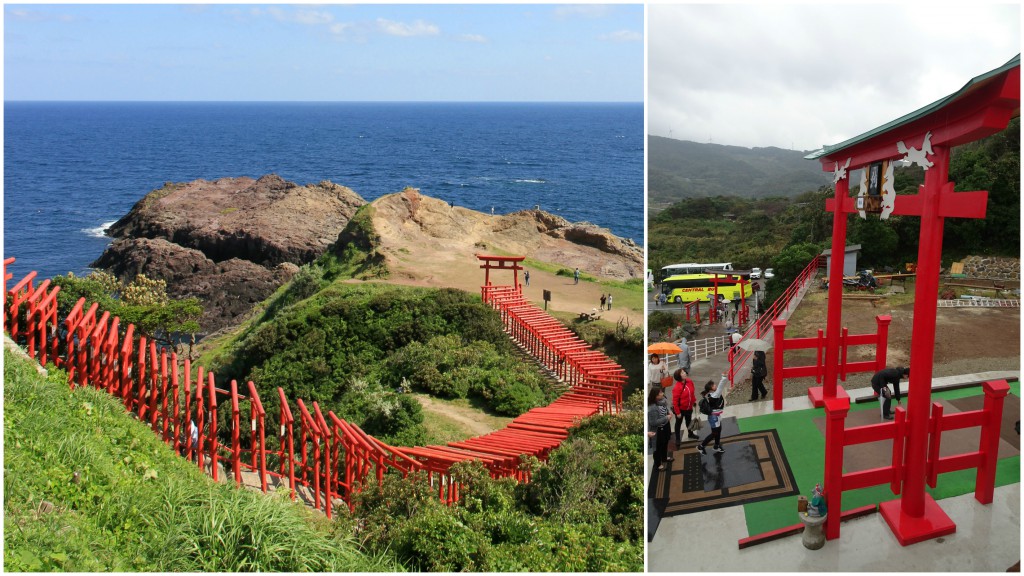 [Tour Itinerary]
1. Itinerary:
Day 1
| | |
| --- | --- |
| 6:55-8:35 | Haneda Airport- Iwakuni Kintaikyo Airport* |
| 9:20-10:10 | Kintai Bridge |
| 10:55-12:25 | Asahi Shuzo |
| 14:10-15:25 | Yamashita Kogyosho |
| 16:50-17:35 | Interview with Governor of Yamaguchi Prefecture |
| 18:00 | Arrive at hotel and dinner |
| |           Stay in Yamaguchi City |
Day 2
| | |
| --- | --- |
| 9:00-10:20 | Move by chartered bus |
| 10:20-11:50 | Choshu Nagato Suisan |
| 13:40-14:20 | Motonosumi Inari Shrine |
| 15:00-16:30 | Nishi-F |
| 19:15-20:40 | Yamaguchi Ube Airport- Haneda Airport |
The schedule may be changed due to weather or other unforeseen circumstances.
2. Qualification: Bearer of Gaimusho Press Registration Card
3. Cost: 13,000 yen per person including transportation accommodation and meals
(FPCJ will later inform the participants of methods for payment, cancellation fee, etc.)
*Those who wish to stay at the airport hotel on Thursday night, the cost will be covered by the organizer.
4. Participants: Limited to 10 applicants
(Only one reporter and one photographer from each company, but two participants from each TV team will be acceptable.)*If the number of applicants exceeds 10, an upper limit may be set on the number of participants from each country/region.
5. FPCJ Contact: Ms. Yokota (TEL: 03-3501-3405)
6. Remarks:
(1) There may be some restrictions on photographing and filming at the tour sites. Please follow the instructions of the officials on duty.
(2) FPCJ will not be liable for any inconvenience, trouble or accidents that might occur during the tour.