International Exchange
[Report] Yamaguchi Press Tour (Dec. 2016)
This press tour visited mainly Iwakuni and Nagato city, covering both unique artisan companies operating on a global scale which overcame difficulties through their technical capability and bold management methods, and Yamaguchi's famous tourist attractions. Ten journalists participated in the tour, from Russia, Italy, South Korea, China, Taiwan and Hong Kong.
Click here for further details on the tour
Click here for a log of real-time updates from during the tour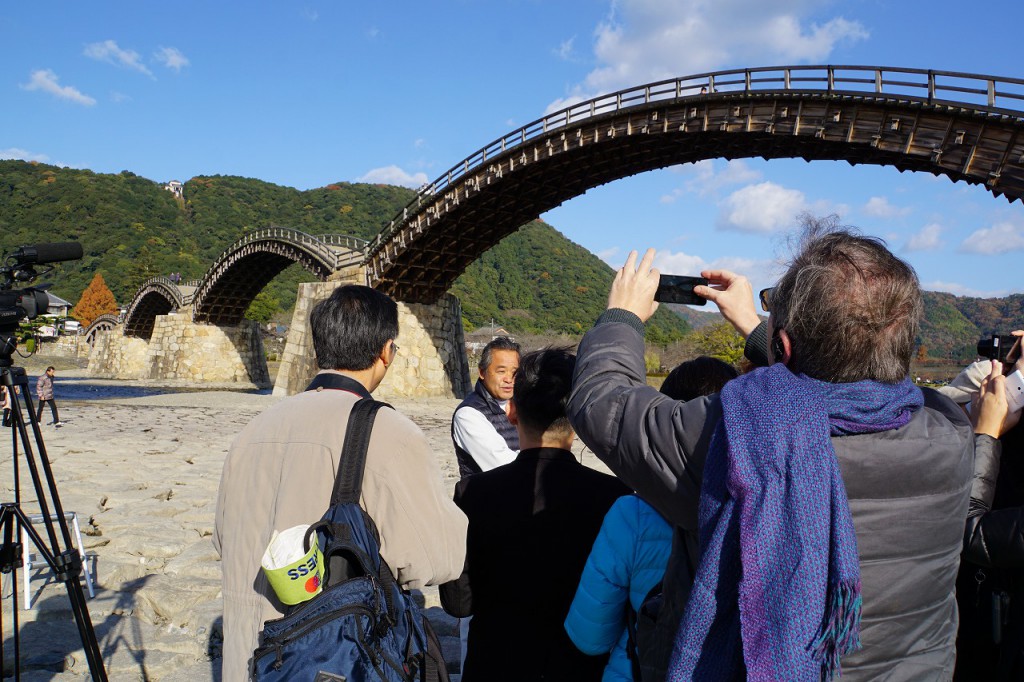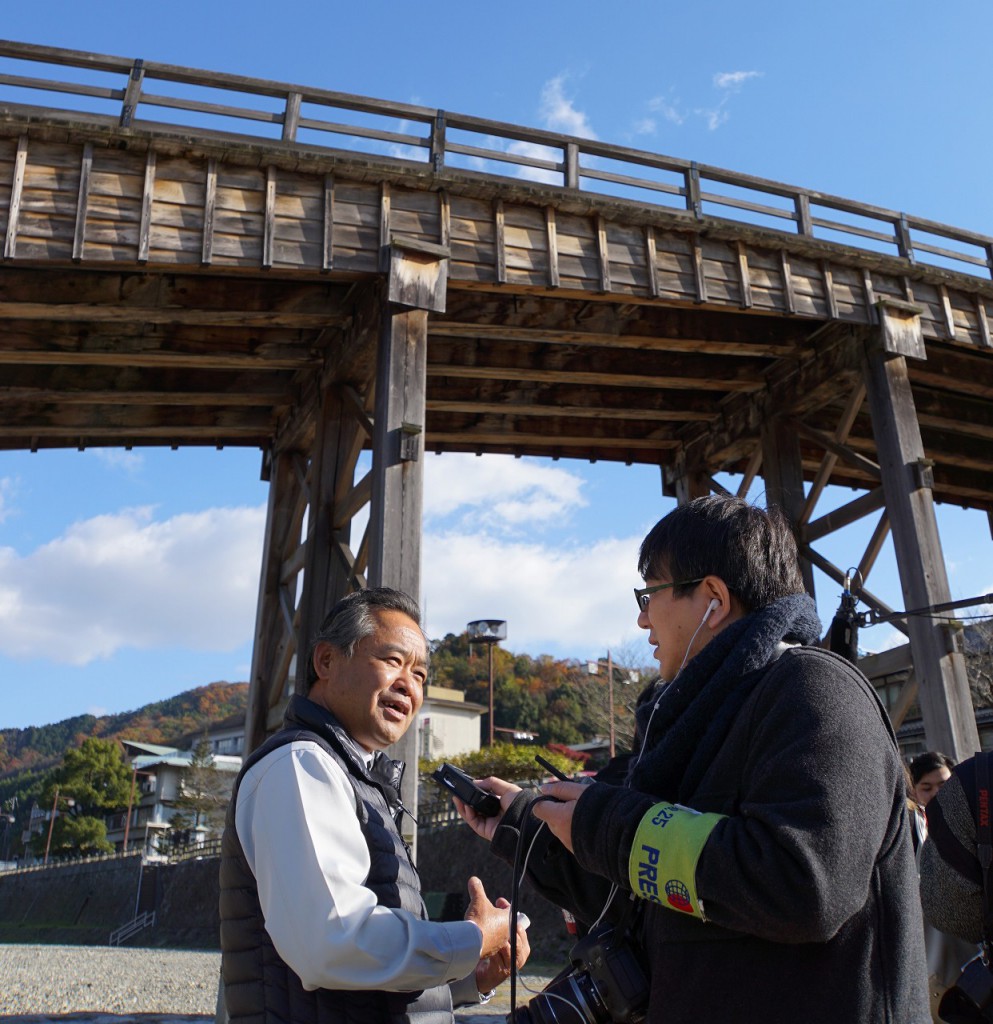 Kintai Bridge
Mr. Masakazu Nakamura, a carpenter who played a central role the last time Kintai Bridge was rebuilt (2001-3), spoke about the history and structure of the bridge. The journalists asked questions including what kind of tree was used as the timber, and if the bridge is resistant to earthquakes. They were impressed by Mr. Nakamura being highly motivated for preparing to rebuild the bridge again, scheduled to start from 2021, to pass on the precise construction technique which has been maintained for more than 400 years.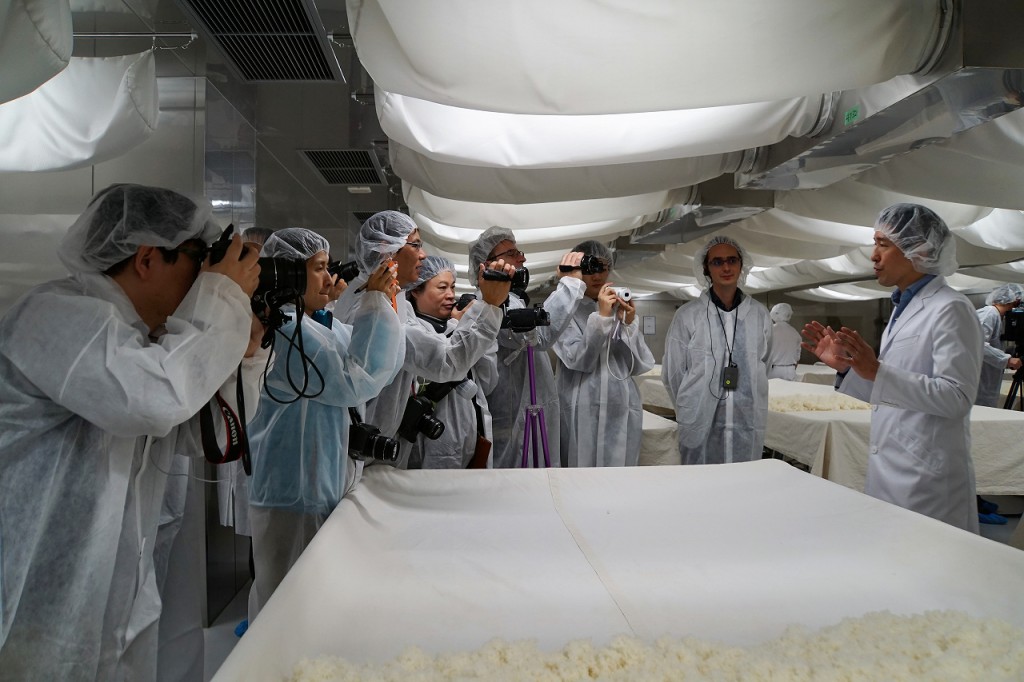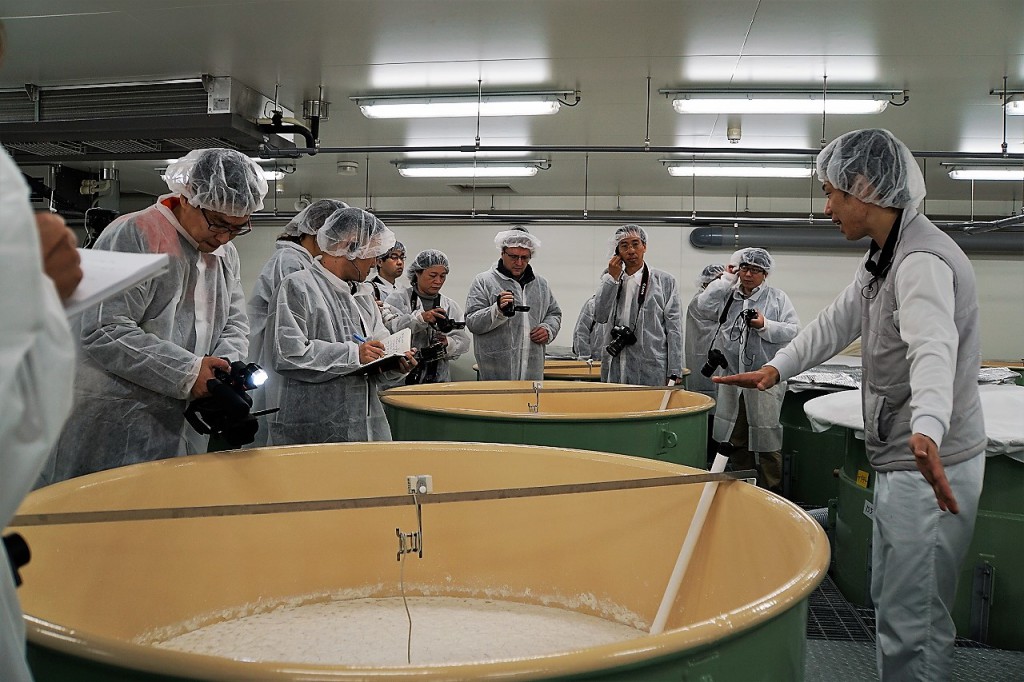 Asahi Shuzo
The tour visited this 12-floor brewery that has been operating since 2015 and saw Asahi Shuzo's systematic brewing process including rice washing and soaking, and mash fermentation. Then, company president Mr. Kazuhiro Sakurai talked about innovating the traditional sake brewing processes, and future plans for the company. Journalists asked questions including why the company recommends drinking Dassai with a wine glass, why Dassai is popular abroad, and whether the value of sake will be elevated when aged for a long term like wine.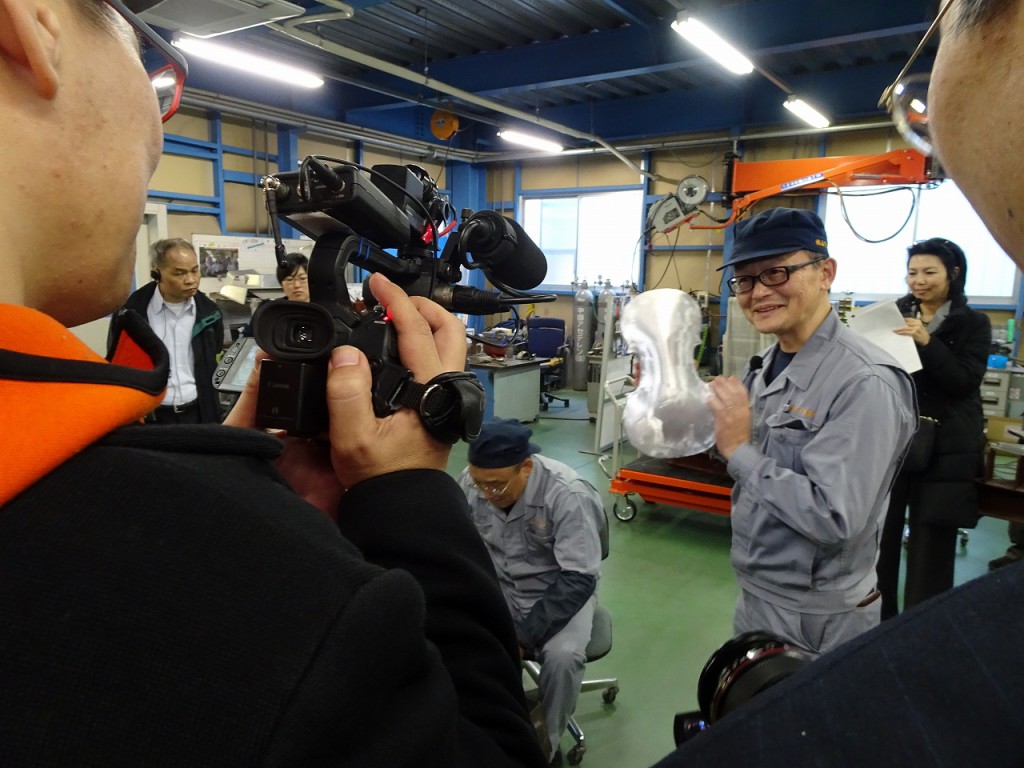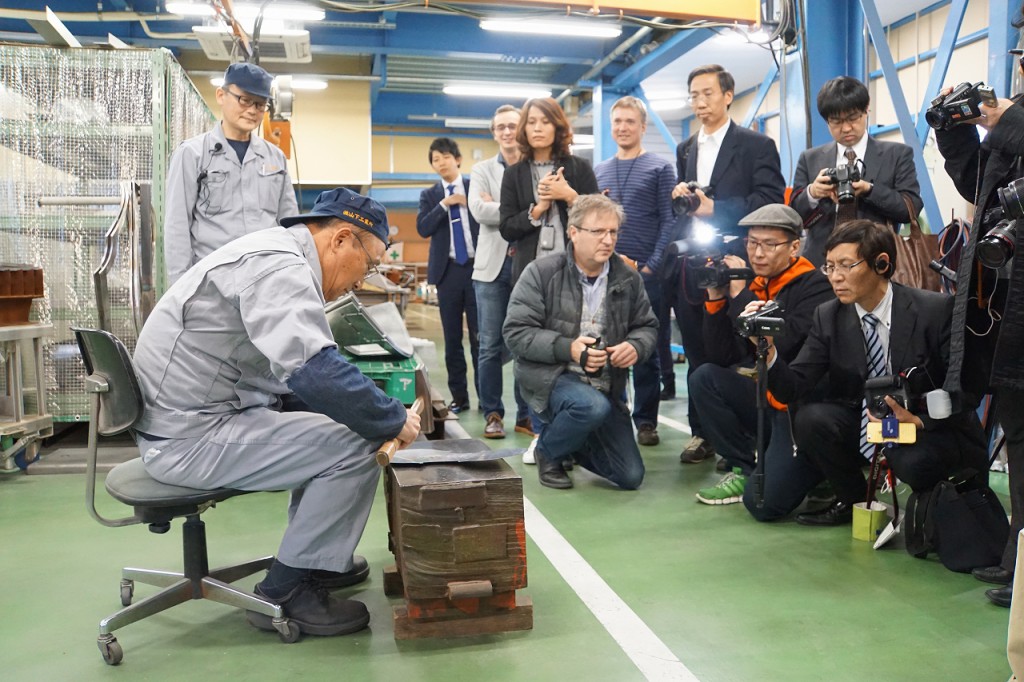 Yamashita Kogyosho
Yamashita Kogyosho uses a technique called uchidashi to form sheet metal into curved shapes by beating it repeatedly with a hammer, and in its over 50 years of history the company has made beautifully curved noses for Shinkansen trains. Followed by the explanation on the history of the company, company president Mr. Tatsuto Yamashita introduced violins and cellos made using aluminum and magnesium uchidashi sheets. The musical instruments were produced in order to promote the company's amazing techniques in a way that was easy to understand and to draw attention to the company. Journalists asked questions including why musical instruments, and whether the number of applicants increased since the production of the instruments. In the factory, journalists filmed and photographed a demonstration of uchidashi by a veteran craftsman, as well as interviewing younger employees in their teens and 20s. To Mr. Kiyoto Yamashita, the former president and the very first person to produce the Shinkansen nose using uchidashi, journalists asked what he felt when hammering the first Shinkansen nose.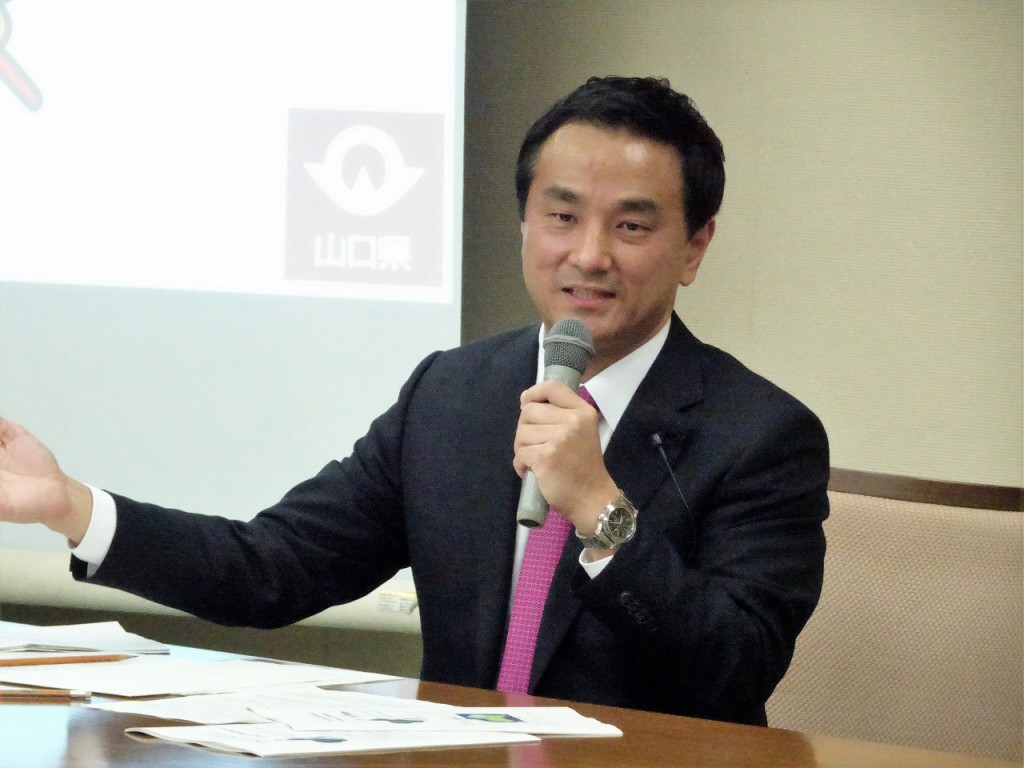 Interview with Governor of Yamaguchi Prefecture
In response to the presentation by Governor Tsugumasa Muraoka on tourism resources of the prefecture, journalists asked questions including which attraction of the prefecture the governor would like most for foreign tourists to know about, and what kind of initiatives are conducted for Asian countries in particular considering they are neighbors to Yamaguchi. Since it was one week to the Japan-Russia Summit Meeting held in Nagato City at the time, there was a journalist who asked if the governor thought there would be any progress regarding the negotiations over the Northern Territories.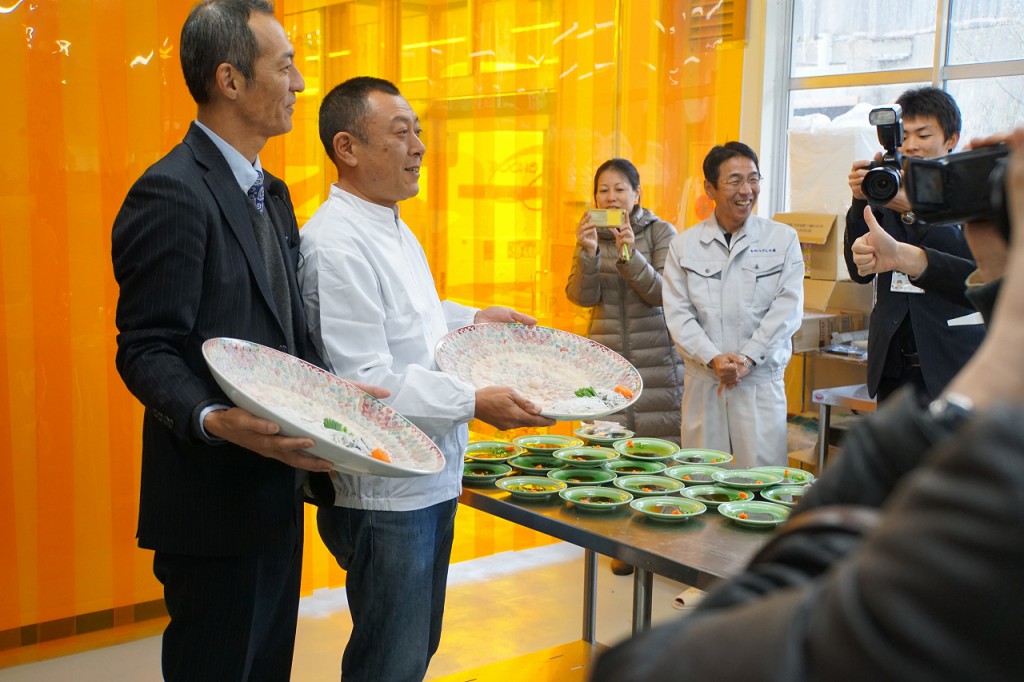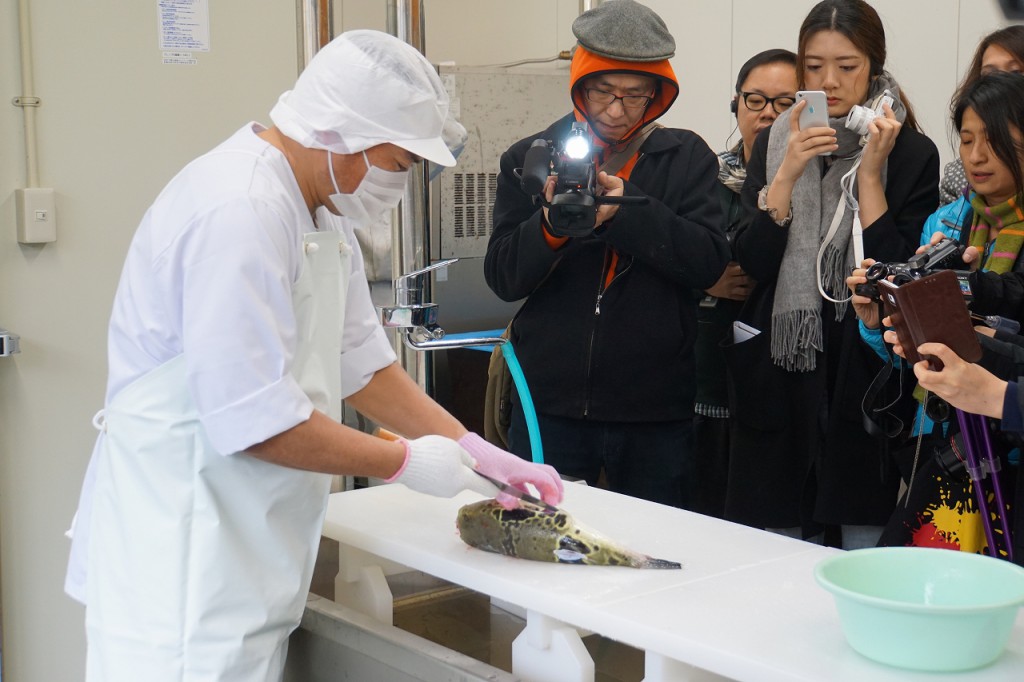 Choshu Nagato Suisan
Choshu Nagato Suisan is a company that carries out land-based farming, processing and sales of Japanese pufferfish [fugu] and is trying to build a "sixth industry" of fugu. The tour filmed and photographed fugu raised in land-based farming facilities and a demonstration of the processing, removing its poisonous parts. Journalists asked questions including whether there is any difference in taste between a natural and farmed fugu, whether quality control by a third party is conducted on the fugu before being shipped, and why the company does not export the products. Fugu sashimi was popular among journalists, and almost all of the two big plates served for tasting were eaten.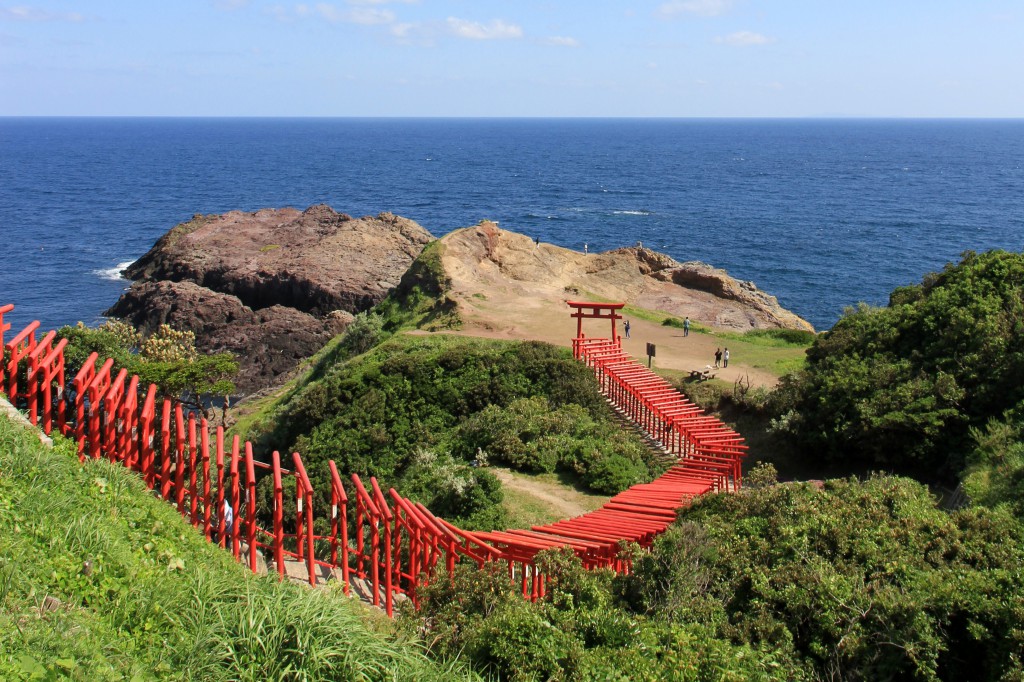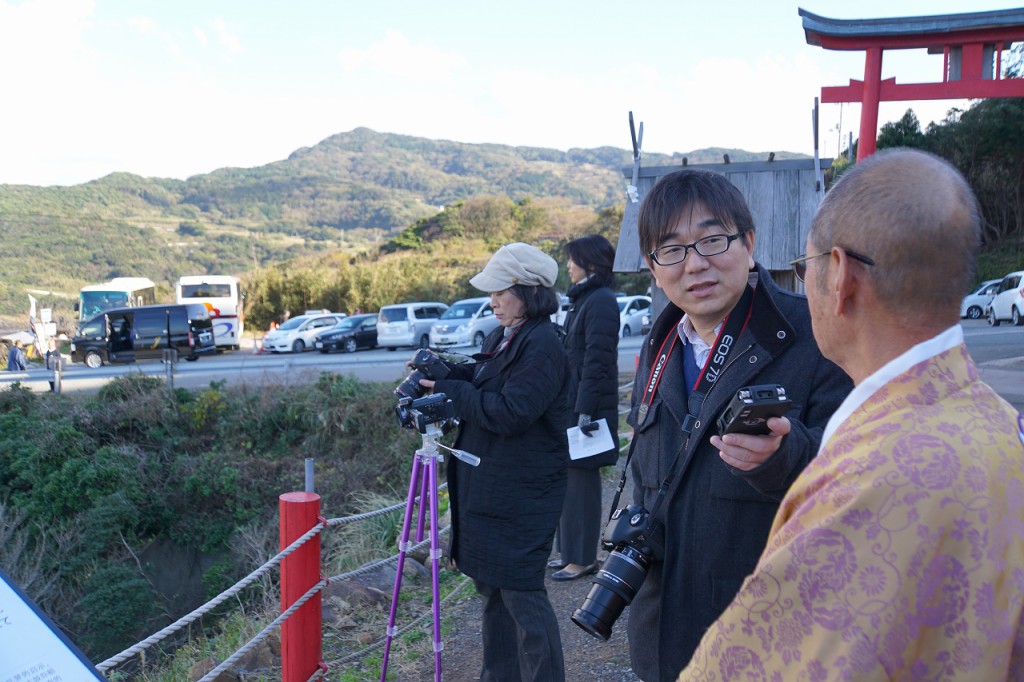 Motonosumi Inari Shrine
Motonosumi Inari Shrine is known for its 123 red torii gates lined up on a cliff, and for an offering box for the shrine located five meters above ground near the top of the tallest torii gate. Journalists asked questions to shrine priest Yoriki Okamura including why he decided to put the offering box up so high and how often he collects the offerings from the box.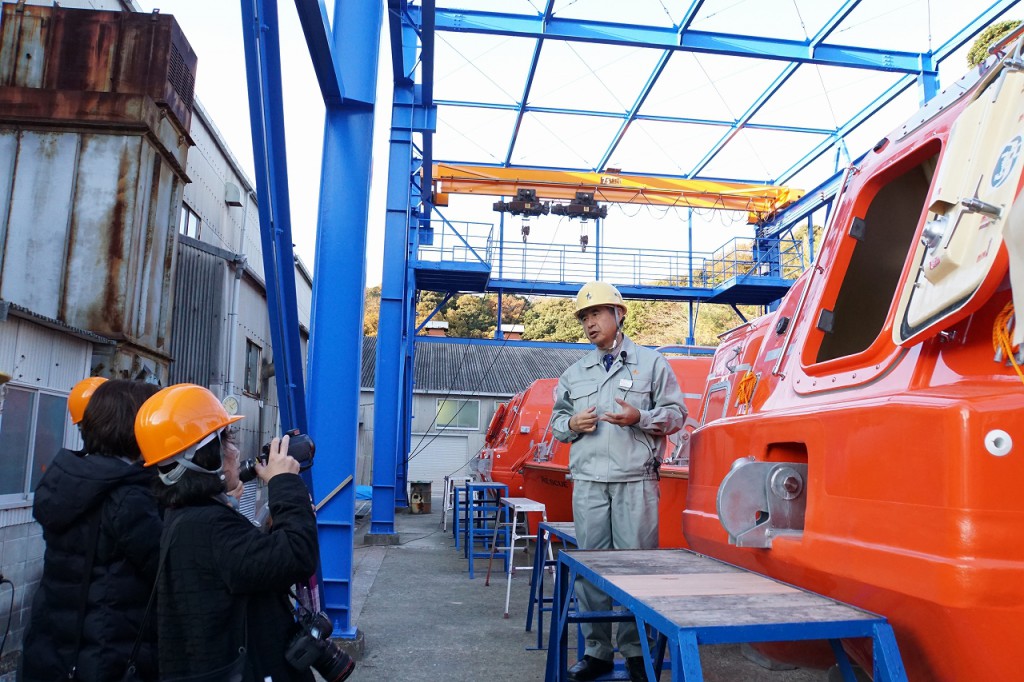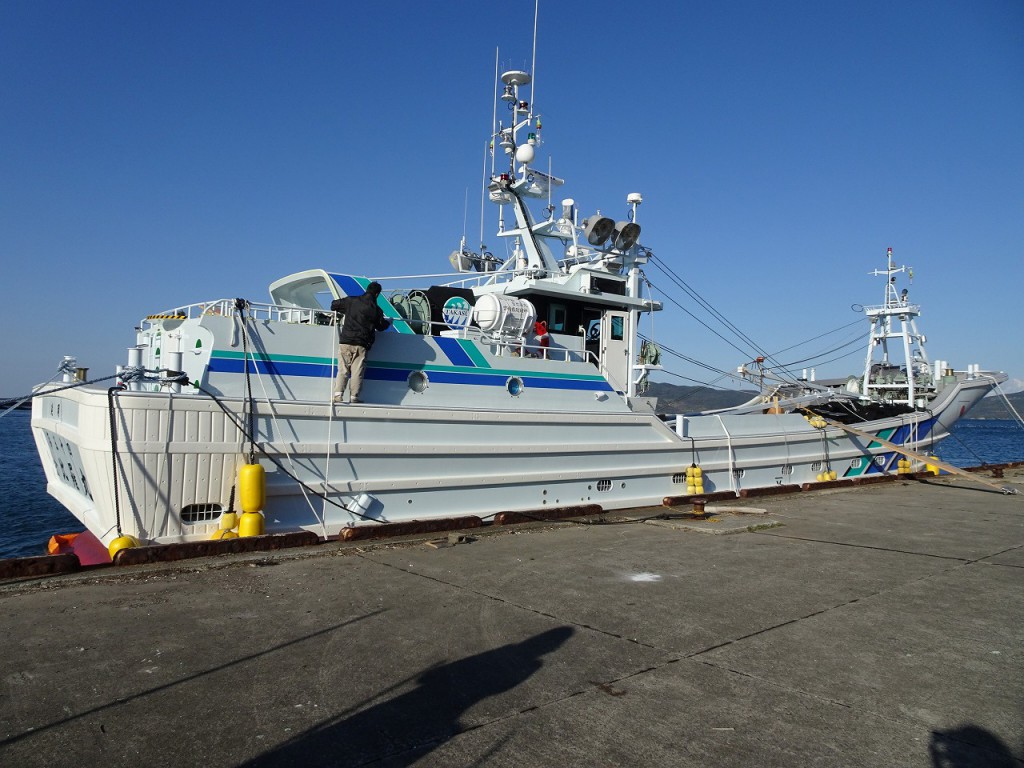 Nishi-F
Nishi-F is a company that manufactures "made-in-Japan FRP boats," boats made mostly from glass fiber reinforced plastics (GFRP/fiberglass.) They also build GFRP lifeboats that can handle a 25.3 meter drop to the water.
The tour visited Nishi-F's new factory, inaugurated in 2016, and filmed and photographed the construction of large ships, the interior and exterior of a lifeboat, and a fishing boat whose construction is mostly completed at Awano Port, located nearby the company. Journalists asked questions including the future of the company in five years, what the most important process when building a ship is, and whether the company would build a patrol vessel if requested.