International Exchange
[Report] Kyoto University Press Tour "Innovative Place for Research" (Nov. 2016)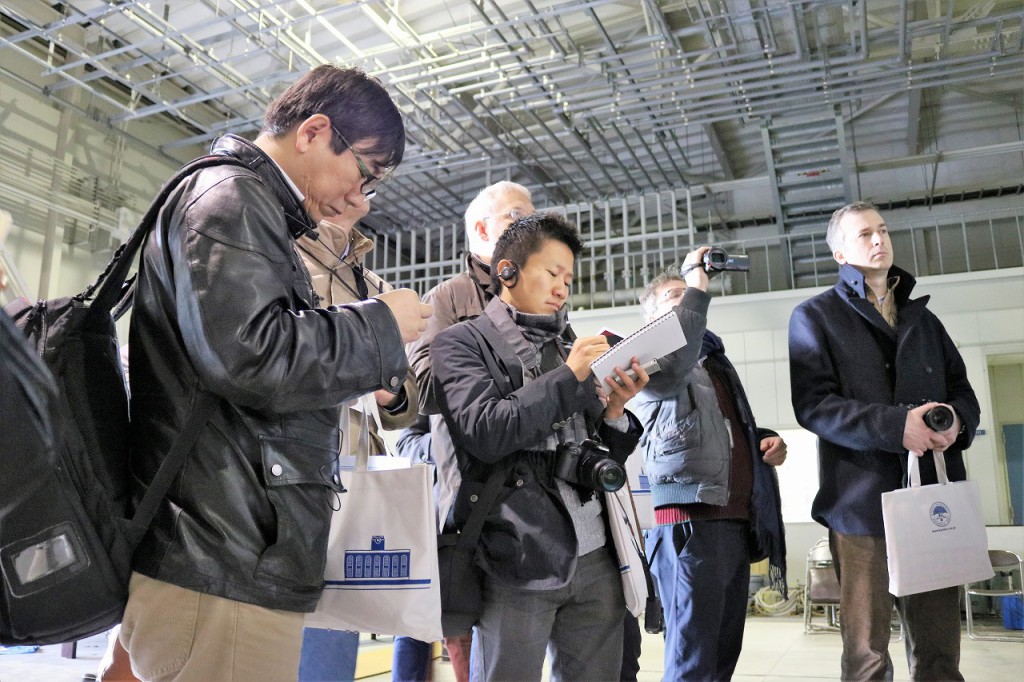 The "Innovative Place for Research" Kyoto University Press Tour was held on Tuesday, November 29, 2016. 
Many Nobel Prize winners have come from Kyoto University, which is known for innovative research. This tour covered three unique themes of research at the university. Twelve journalists participated in the tour, from China, Denmark, Germany, Hong Kong, Italy, South Korea, the UK, and Vietnam.
*This press tour was sponsored by Kyoto University, with planning cooperation by the FPCJ.
* Click here for further details on the tour.
Kyoto University Disaster Prevention Research Institute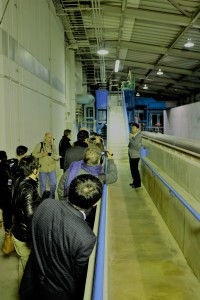 With frequent natural disasters, disaster prevention and disaster reduction initiatives are critical for Japan to prepare for the worst. The Kansai area where Kyoto University is located experienced the Great Hanshin earthquake, and the damage from a major Nankai Trough earthquake could reach the area, so the government, industries, and academia are all working together to develop countermeasures. In order to fulfill its responsibility as a major research institution in Kansai, Kyoto University established the Disaster Prevention Research Institute (DPRI) in Uji, separate from its main campus and Kyoto City. While traveling there by bus, Director Kaoru Takara explained the history of the institute and gave an overview of the research it is involved in, as well as explaining the importance of comprehensive research in the field of disaster prevention, including trauma care for people affected by disaster.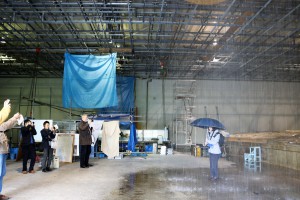 The journalists visited Ujigawa Open Laboratory, a subsidiary facility of the DPRI that carries out experiments on water disasters. Joined by Associate Professor Kenji Kawaike, the tour visited a simulator in the facility. Wearing waterproof suits and rubber boots, some of the journalists attempted to climb a staircase simulating flooding one floor underground, and were surprised at the water pressure. These facilities also take into account the lessons learned from the flooding around Hakata Station in Fukuoka in 1999, realistically reproducing the risks anticipated in the event of a disaster, and are used for training personnel such as fire fighters.
The journalists were also particularly interested in the tsunami simulator. With the press of a button, there is a rumbling noise and vibration as the water in a large tank rises rapidly. After an explanation that this simulator was newly installed after the 2011 Great East Japan Earthquake, journalists asked questions such as what kind of predictions and countermeasures were made possible by the simulator.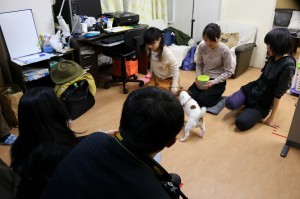 The tour then went to an apartment in Kyoto City, where they interviewed the members of Professor Kazuo Fujita's lab. These graduate students are researching animal psychology, attempting to find patterns in the actions taken by cats and dogs, and what emotions they are feeling. The apartment the tour visited was where the researchers carry out experiments, having received permission from pets' owners. With the help of a pet dog called Tenten, the day of the tour they were running an experiment using an empty box to determine whether dogs disliked people who did not cooperate with their owners. Possibly made nervous by the reporters, Tenten did not act as expected, but journalists made comments such as "This is very interesting research. I look forward to seeing future progress."
Graduate School of Informatics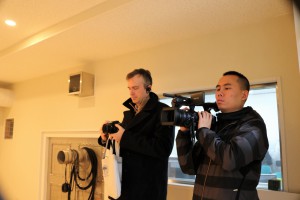 Lastly, the tour visited Professor Yukiyasu Kamitani's lab, where functional magnetic resonance imaging (fMRI) is used to analyze brain activity during sleep based on blood flow. Professor Kamitani is working on deciphering people's dreams. By collecting brain data from people before, during, and after sleeping with fMRI, it is gradually becoming more precise at identifying the objects that appear in people's dreams while they are sleeping. When asked what applications this research would have, Professor Kamitani enthusiastically replied, "By being able to accurately analyze the signals being sent by people's brains, I would like to see this used to develop prosthetic limbs that people can freely move by thinking about it."
Interview with President Juichi Yamagiwa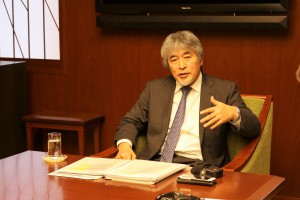 While interviewing Kyoto University President Juichi Yamagiwa, the journalists asked questions about what the university's secret was in turning out so many Nobel Prize winners, and what differences it had with other famous universities.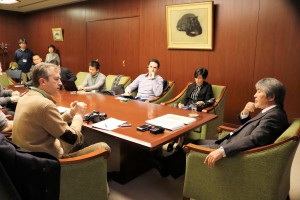 Speaking about the unique features of Kyoto University, he described the research style of students at the university: "Always questioning things, and pursuing the true nature of their properties," "Having places where people can debate freely, regardless of status," and "Through the 'dialogue' of debate, students can change." He also spoke about the importance of learning Japanese: "Everyone talks about globalization, but Japanese people should first learn how to think in Japanese and develop the ability to communicate. Japan's unique language can lead to new ideas." President Yamagiwa, who is also a renowned gorilla researcher, concluded with a story about how he received dozens of stitches after being attacked in an African jungle: "Without that level of dedication, you can't make it as a researcher."
<News Reports by Participants>
客观日本(China)
東亜日報(Korea)
「야마기와 총장 "교토대 노벨상 8명은 자유 토론의 힘"」
Il Sole 24 ore(Italy)
"Tsunami a Kyoto. Ma solo per prova"
Kristeligt Dagblad(Denmark)
"Her kan man aflæse drømme du ikke selv kan huske"
dpa German Press Agency(Germany)
"Wenn Regen zur Todesgefahr wird"
"Japans Kampf gegen sintflutartige Regenfälle"
"Japan rüstet sich gegen Todesgefahr Sintflut"
Nature.com(UK)