International Exchange
[Notice] Takaoka City Press Tour: Reproducing the Shaka Triad Statue National Treasure with New 3D Technology and Traditional Techniques (Mar. 2017)
Reproducing the Shaka Triad Statue National Treasure with New 3D Technology and Traditional Techniques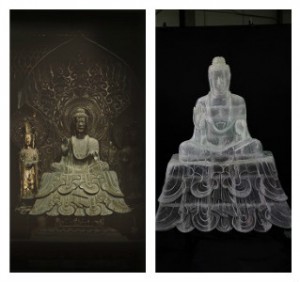 Horyuji Temple in Nara is part of the UNESCO World Heritage List, and in its Main Hall [Kondo] rests a Shaka Triad statue that is a Japanese National Treasure. Built by a sculptor specialized in Buddha statues during the Asuka period (592–710), it is a masterpiece representing the beginning of Buddhist art history in Japan. Using the latest 3D printing technology and traditional carving and casting techniques, a reproduction of the Shaka Triad statue that faithfully replicates the materials and textures will be completed at the end of this month. Major roles were played in this project by Tokyo University of the Arts; traditional cast metal artisans from Takaoka, Toyama; and Inami wood carving artisans from Nanto, Toyama. The completed Shaka Triad statue will be open for public display for the first time in Takaoka next month.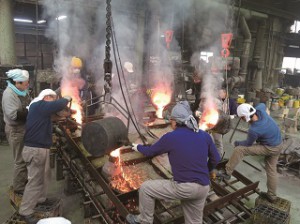 Since the Shaka Triad statue cannot be taken out of Horyuji Temple, it has only had limited availability for public display. With this project it has become possible to display a duplicate of this National Treasure, which normally stays in one place, anywhere in Japan or around the world. This project also has the goal of establishing a new model for stimulating local industry. By demonstrating the quality craftsmanship by the Takaoka cast metal artisans and Nanto wood carvers used to reproduce the statue, the hope is to provide an opening in foreign markets for traditional Japanese craft industries, which have been stagnating in the domestic market.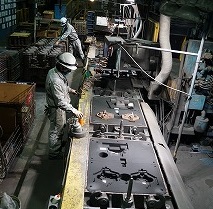 Since 3D printing can accurately reproduce objects, there are concerns that it will take work artisans previously did by hand. Kyowa Manufacturing, a Takaoka company that is part of the cast metal industry which relies heavily on the work of artisans, has been actively incorporating 3D technology. Although it is an SME, by incorporating 3D printing and mechanizing part of the work flow they have made a speedier production line for cast metal parts with complicated shapes, such as those used for precision machinery parts in industrial robots. They also have a production line consisting of experienced workers who can respond flexibly to various customer requests. The metal casting industry has been in decline over the past 25 years, with the number of businesses decreasing by over 50% from 4241 to 1886, but with a combination of pioneering technology and craftsmanship Kyowa Manufacturing has maintained strong sales.
————————————————————————–
This tour will visit Takaoka in Toyama, where the replica of the Shaka Triad statue will first be displayed. In addition to interviewing representatives from Tokyo University of the Arts and Takaoka City, as well as cast metal and carving artisans, the tour will visit metal casting companies that are growing by incorporating the latest 3D printing technology.
 ————————————————————————–
*This press tour is sponsored by the Council for the Promotion of Businesses and Creation of a Model to Stimulate Local Industry Using Takaoka City's Metal Casting with Over 400 Years of History and Nanto City's Carving with Over 600 Years of History, with planning cooperation by the FPCJ.
*This press tour will require participants to bear part of the cost, but is not a profit-making venture.
[Tour Details]
―Key Members of the Business, Academic, and Government Collaboration to Reproduce the Shaka Triad Statue National Treasure
1. Takaoka City Mayor Interview
Mr. Masaki Takahashi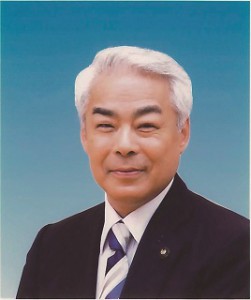 Mayor Masaki Takahashi was first elected in 2009, and is in his second term. He proposed using Takaoka's traditional industries as a foundation for creating new industries. The project to reproduce the Shaka Triad statue was started when Tokyo University of the Arts Professor Junji Ito, who is also an advisor for promoting Takaoka, suggested making a cast metal Shaka statue in the city. Collaborating with Nanto for national subsidies on stimulating regional economies, the project moved forward together with Tokyo University of the Arts, the The Takaoka Traditional Craft Copperware Promotion Cooperative, and the Inami Wood Carving Cooperative. The goal is to promote in Japan and around the world Takaoka's metal casting skills used in making a duplicate of the statue and create a new business in restoring and replicating cultural properties.
2. Tokyo University of the Arts
Public Collaboration Center, Project Professor Junji Ito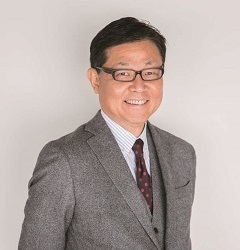 Project Professor Junji Ito of the Tokyo University of the Arts Public Collaboration Center is also an advisor for promoting Takaoka. Inspired by the Tokyo University of the Arts beginning a project in 2014 to save 3D data of Horyuji's Shaka Triad statue, he created a plan to make a physical reproduction of the triad statue using traditional techniques, and proposed the collaboration to Takaoka. Commenting on his hopes for this project, he said, "By exhibiting this reproduction of the Shaka Triad statue, a National Treasure, I hope it will create opportunities for Japanese industrial technology to contribute to restoring cultural properties."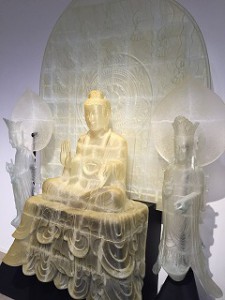 In 2010, the Tokyo University of the Arts acquired a patent for technology developed to restore and reproduce cultural properties with high precision, using the same materials and with the same texture, with a combination of traditional and digital reproduction techniques. The university has reproduced cultural properties from around the world that were lost or destroyed, and in April 2016 made a scale reproduction of a Buddhist ceiling mural from Bamiyan, which had been destroyed by the Taliban. The current project involved gathering 3D data for the Shaka Triad statue, then 3D printing a model of the statue. In order to ensure the reproduction is faithful, x-ray fluorescence analysis was used on the metals in the statue, and that information was passed on to the metal casting companies in Takaoka. The university also handled the finishing touches on the statue after it had been cast.
3. Takaoka Traditional Craft Copperware Promotion Cooperative
Former Director Yasuo Shima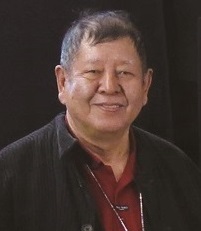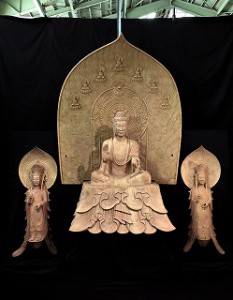 The Takaoka Traditional Craft Copperware Promotion Cooperative was in charge of casting the Shaka Triad statues for this project, and coordinated the cooperative member companies involved in their production. Production of the replica began in 2015, with Mr. Yasuo Shima, the cooperative's director at the time, playing a central role and selecting five companies to work on the project. In order to accurately reproduce the original, which was made nearly 1400 years ago, they had to use a copper alloy close to that used for the original, and use lost-wax casting to create cast metal objects nearly two meters in size. In addition to Mr. Shima's company Shimayasu being involved in the manufacturing process, he was also involved as a go-between for technical questions brought up by the participating companies, and for requests from Tokyo University of the Arts.
4. Inami Wood Carving Cooperative
Director Koushin Iwasaki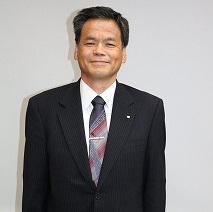 The Inami Wood Carving Cooperative was in charge of the pedestal for the Shaka Triad statue. The pedestal was made out of cypress and camphor wood, just like the original, and supports the three Buddha statues and great halo weighing over 500 kilograms. The lotus flower decoration on the base of the pedestal was carved with traditional techniques using more than 200 chisels.
 Inami-style carvers made carvings for many temples and shrines, but from the 1870s they also started making ranma [transoms] and decorations for homes. With each piece made by hand, it is said there are no two that are alike. The ranma used in traditional Japanese houses are expensive, costing from one to three million yen for one set. With lifestyle changes in recent years, the demand for ranma has been declining. In response, some young Inami carving artisans have begun selling products such as guitars and speakers for smartphones. Director Iwasaki of the Inami Wood Carving Cooperative has said that starting with this project, they would like to be involved in restoring and reproducing cultural properties.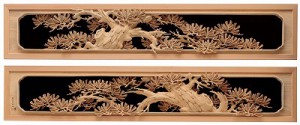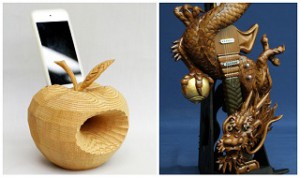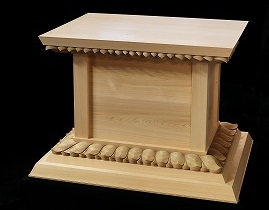 The tour will hear from these key members who fulfilled important roles in the project about what led to their participation, their thoughts on the project, and the challenges in their fields. There will also be an opportunity to film and photograph from close up the reproduction of the Shaka Triad statue being exhibited for the first time, and the model made using 3D printing.
―Takaoka Metal Casting: Faithfully Reproducing the Shaka Triad Statue National Treasure
5. Kajihara Seisakusho, President Toshiharu Kajihara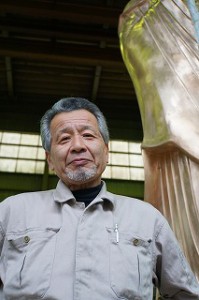 Established in 1902, Kajihara Seisakusho specializes in large Buddhist statues and art pieces. With the 400 years of metal casting history in Takaoka, the labor involved in metal casting is often divided and specialized. However, Kajihara Seisakusho handles every aspect of the process, from making the model to the actual casting and finishing touches. There are specialized artisans for each step of the process, with about 20 people working at the company. Most of the work is done by hand, preserving traditional techniques.
 For the project to reproduce the Shaka Triad statue, Kajihara Seisakusho was tasked with casting the largest part, the 177 centimeter great halo. The work took one month. The company has handled many other famous copperware pieces in the past, such as the Sapporo Olympic Cauldron and the hanging lanterns at Sensoji Temple, but the company name and where they were made were not publicized. President Toshiharu Kajihara (65) said, "I would like to promote the brand value of Takaoka copperware through this project."
President Kajihara will describe making the Shaka Triad statue's halo, and discuss the products and policies of his company, which values traditional methods. There will also be the chance to film and photograph making models, finishing work, and shaping molds.
※The photos are when Kajihara Seisakusho was making the Shaka Triad Statue. At the tour, you can photograph/film above works.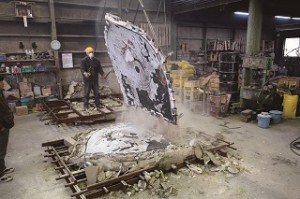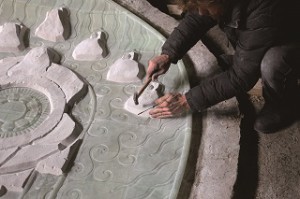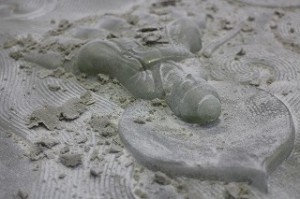 6. Engraver, Mr. Hiroyuki Sano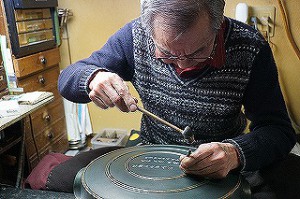 Mr. Sano apprenticed to his father as an engraver at the age of 20, and has worked in metal engraving for 52 years. Metal engraving uses a graver/burin and mallet to cut, carve, and strike a metal surface to write letters or create delicate patterns on objects such as vases and Buddhist objects. Mr. Sano (72) is a skilled engraver, who was certified as a member of the Japan Kogei Association at the age of 30 and has won multiple prizes at exhibitions held by the Toyama branch of the Japan Kogei Association. Currently, he is passing on his techniques to the next generation at the Takaoka Design and Craft Center.
 The Shaka Triad statue reproduction project also faithfully reproduced the inscription on the back of the great halo, with Mr. Sano and a younger engraver, Mr. Koji Inoue, handling the inscription. Although it is possible now to inscribe words using lasers or drills, according to Mr. Sano, "There are subtleties that cannot be expressed without engraving them by hand."
Mr. Sano will speak about his life as an engraver, and his feelings on engraving the inscription into the great halo. The tour will also hear about future opportunities for engravers, and have the opportunity to film and photograph engraving being performed.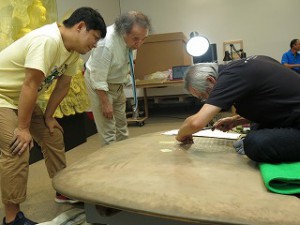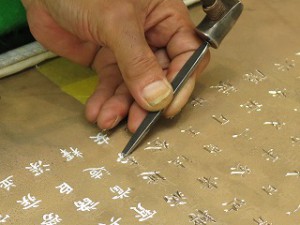 ―Metal Casting in the Age of 3D Printing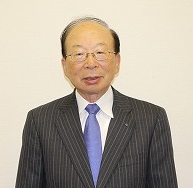 Since its founding in 1953, Kyowa Manufacturing has worked to combine expert craftsmanship with the latest machine processing technology in order to create high-quality and high-precision cast metal products. At first, the company made products with simple shapes, such as manhole covers and water pipes. In recent years, parts for construction machinery became a key category for the company, and as the number of parts for industrial machinery such as robots is also increasing. Despite the metal casting industry overall being in a slump, Kyowa Manufacturing's sales are increasing. Some of the products the company has made include arm parts for automobile-manufacturing robots, and seismic isolation parts to reduce vibration for the Tokyo Sky Tree.
 To ensure stable production of high-quality, high-precision products, in June 2016 Kyowa Manufacturing started using a 3D printer to make sand casting molds. This made it possible for the company to fulfill orders several days faster, and to accept orders for small quantities of multiple different types. The finishing process is also becoming progressively more mechanized, and processes that new workers used to need around one year to learn can now be done by them spending two or three days to learn how to operate the machine. While proceeding with mechanization, the company has also established a system in which orders for materials and shapes that only skilled artisans can make can be fulfilled quickly and at low cost, and so sales are strong.
The tour will hear from President Isamu Hayakawa about the company's initiatives to mechanize and automate processes, such as 3D printing sand casting molds directly. There will also be an opportunity to film and photograph the 3D printer and work being performed.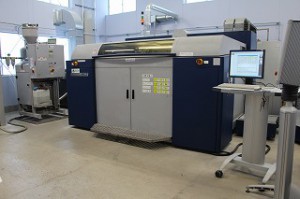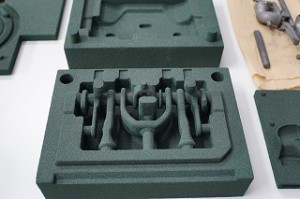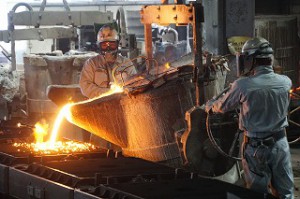 【Tour Itinerary】
1.Itinerary: Thursday, March 16, 2017
8:12-10:47

Tokyo–ShinTakaoka (Kagayaki 521, Hakutaka 553)

11:15-13:00(1h45m)

Exhibit of Reproduced Shaka Triad Statue

-Mayor Masaki Takahashi

-Project Professor Junji Ito

-Former Director Yasuo Shima

-Director Koshin Iwasaki

13:15-14:15(1h)

Lunch

14:30-15:45(1h15m)

Kajihara Seisakusho

15:55-16:30(35m)

Mr. Hiroyuki Sano

16:45-18:30(1h45m)

Kyowa Manufacturing

18:50  

Arrive at ShinTakaoka Station

19:16-21:56   

ShinTakaoka–Tokyo (Tsurugi 722, Kagayaki 541)
*The above itinerary may change.
2. Qualification: Bearer of Gaimusho Press Registration Card
3. Cost: 5,000 yen per person including transportation, meal and interpreter fee (FPCJ will later inform the participants of methods for payment, cancellation fee, etc.)
4. Participants: Limited to 10 applicants.
(Only one reporter and one photographer from each company, but two participants from each TV team will be acceptable.)
*If the number of applicants exceeds 10, an upper limit may be set on the number of participants from each country/region.
5.  FPCJ Contact:  Ms. Kiyomi Obo (Tel: 03-3501-3405)
6. Remarks:
(1) There may be some restrictions on photographing and filming at the tour sites. Please follow the instructions of the officials on duty.
(2) The sponsor and FPCJ will not be liable for any inconvenience, trouble or accidents that might occur during the tour.