International Exchange
[Notice] Iki City Press Tour (Sep. 2017)
Iki Press Tour
<Monday, September 11 to Tuesday, September 12, 2017>
—To apply for the tour, please use the form at the top right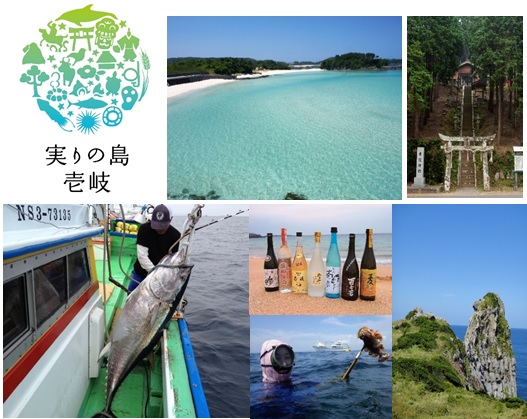 [Tour Themes]
1.  Iki and Regional Revitalization: Working styles that don't put remote islands at a disadvantage, sustainable resource management
2.    Bountiful Island with Historical and Cultural Sites
[Iki City]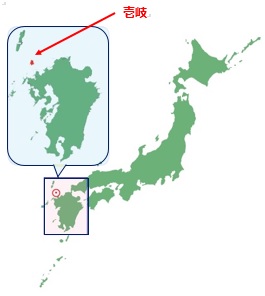 Iki City (Nagasaki Prefecture) is a remote island located to the northwest of Kyushu in the Genkai Sea. About one hour by high-speed ferry from Hakata in Fukuoka, it has a population of approximately 27,000, and an area of 139.42 km2 (including other islands under its administration).
 Iki prospered as a center for trade and commerce with Korea and China for centuries, and is mentioned in both Japanese and Chinese ancient historical texts. There are many important historical sites and artifacts on the island, and in April 2015 Iki was first designated as Japan Heritage by the Agency for Cultural Affairs with the label "The Ancient Bridge to the Continent."
The natural environment of the island, starting with the emerald sea it is surrounded by, provides a sense of epic scale that retains the scenery of ancient Japan. With Iki beef (a kuroge wagyu brand), and plentiful seafood such as tuna and sea urchin, the island is also a gourmet destination. People live in harmony with nature, and history and culture maintain a presence in people's daily lives.
---
[Tour Details]
1. Iki and Regional Revitalization: Working styles that don't put remote islands at a disadvantage, sustainable resource management
Iki has the plentiful nature expected of a remote island, and its own unique culture and traditions, but faces issues with an aging population and a lack of successors to carry on businesses. The population peaked in 1955 at approximately 51,000, but in 2017 has decline to around 27,000.
Iki is approaching finding solutions to these social issues as a business opportunity, and in a cooperative effort between government and private companies has been working on "regional revitalization" and "working styles that don't put remote islands at a disadvantage."
Local fishers and ama divers have also determined their own sustainable resource management practices to preserve the bounty of the sea for the next generation.
*****
(1) Interview with Iki Mayor, Hirokazu Shirakawa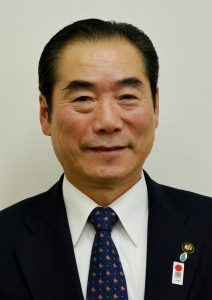 Former mayor of Ashibe city.
Mayor of Iki city since 2008, currently in his third term. 67 years old.
Iki is focusing on initiatives to stimulate local industries such as primary industries (fishing and agriculture) and tourism, as well as increasing the number of people who move to Iki.
During the interview, Mr. Shirakawa will discuss the appeal of Iki's tourism resources, as well as initiatives in cooperation with private companies to stimulate local industry and inbound tourism, and the regional partnership Reto Project.
He will also speak about plans to promote the traditional food culture and unique lifestyle of Iki as a remote island as tourism resources (the Let's Go to Japans Border!! Project), in response to the Act on Preserving Inhabited Remote Islands along Border (*) having been put into force in April 2017.
 (*)Act on Preserving Inhabited Remote Islands along Border: Temporary legislation with a 10-year limit with the goal of preserving inhabited remote islands in border waters, to prevent them from becoming uninhabited due to population decline.
*****
(2) Iki Tuna Resources Group
Fishers from Iki generally fish in nearby waters, and previously mainly caught squid and amberjack, but since 2000 they have also been catching large tuna, and establishing "Iki tuna" as a brand. When it comes to tuna caught with pole and line in coastal waters around Japan, Iki is said to be on the same level as Oma, Aomori.
Since pole and line fishing causes minimal stress to the tuna when catching them, this method maintains the quality of the catch, and at times tuna weighing nearly 200 kg are caught with this method. Unlike purse seine fishing, which catches huge amounts of fish in a net at once, it is possible to adjust the amount of fish caught to avoid overfishing.
The amount of Pacific bluefin tuna caught in Iki was 358 tons in 2005, but this declined to 23 tons in 2014. In response to this decline, fishers in Iki established the Iki Tuna Resources Group. Stating that sustainability is fundamental to pole and line fishing, they have been carrying out resource management such as banning fishing of adult fish during the summer breeding season.
The tour will hear from Mr. Minoru Nakamura, chairman of the Iki Tuna Resources Group, about the fishing industry in Iki, sustainable resource management initiatives, and proposals that have been made to the national government.
*****
(3) Ama Diving Wearing Leotards
Ama are women that free dive to gather seafood such as sea urchin, abalone, and sazae. Ama have been active in Iki since the 1600s.
Ama diving consists of free diving, without using an oxygen tank. The ama divers off Iki's Yawata Peninsula are known throughout Japan for their unique style of diving wearing leotards, instead of using wet suits to maintain their body heat. This is both to provide ease of movement, and to help prevent excessive harvesting of resources, making it a sustainable diving style focusing on preserving the sea's ecosystem.
The tour will join the ama on a boat in order to observe them first hand as they dive (*). There will also be an interview with Ms. Ayako Fujimoto, who moved from Yokohama to Iki because she wanted to become an ama.
(*) This is subject to change depending on the weather the day of the tour.
*****
(4) Iki Telework Center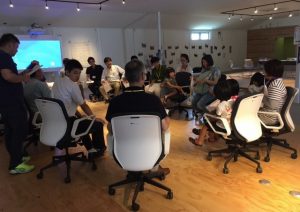 In 2015, Iki City entered into a regional revitalization agreement with Fuji Xerox, and started the Iki Future Building Project with the goal of stimulating Iki by taking advantage of its position as a remote island.
As a result of the project working with citizens to find working styles that don't put remote islands at a disadvantage and new industries to grow the population, the Iki Telework Center opened in September 2017 in building that had been unused.
Here, Fuji Xerox researchers and other employees carry out some functions of the head office through telework, and Iki residents and companies can use crowdsourcing and other telework. The goal is to create a flow of jobs to regional areas to stimulate those areas.
The tour will hear about the public-private Iki Future Building Project and the functionality of the telework center, followed by an interview about future plans.
*****
(5) Iki Industry Support Center: Iki-Biz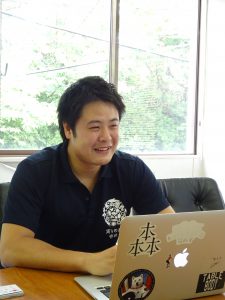 Stimulating industry is the most important policy issue for Iki. To this end, Iki-Biz was established in August 2017 to carry out regional revitalization.
Iki-Biz's goal is to increase sales of SMEs and stimulate the island as a whole. By providing business consultation to SMEs and sole proprietors to help them take advantage of their strengths, it is hoped Iki-Biz will help increase sales.
The center director of Iki-Biz, chosen from 391 applications sent in from around Japan, is Mr. Shunsuke Mori. He is a young entrepreneur who has previously established "Mori no Tosyo Shitsu" in Shibuya, Tokyo.
The tour will interview Mr. Mori, hearing about why he decided to move from Tokyo to a new challenge in Iki, about building a system to support establishing businesses and revitalizing Iki, and his thoughts about this effort to stimulate the island as a whole.
*****
(6) Nagasaki Prefectural Iki High School Remote Island Study Program
Iki High School has a rich history and tradition, having been established over 100 years ago. The school provides unique learning opportunities to determined, goal-oriented students, and has a "remote island study program" to provide students from outside the island with a fulfilling high school life.
The students in this program develop a global perspective in the East Asian History and Chinese Language course, which includes classes on history, culture, and Chinese language, as well as visits to historical sites around Iki and others.
The tour will hear a presentation from students participating in the program, followed by an interview with the students.
---
2.    Bountiful Island with Historical and Cultural Sites
Located between Kyushu and Tsushima, Iki prospered as a center for contact between Japan and continental Asia, and is a bountiful island full of culture and historical sites. The island is also blessed with dynamic natural beauty, and many tourists visit throughout the year.
Iki is also said to be where Koshinto (ancient Shinto)  originated, and there are over one thousand shrines of various sizes on Iki, including Tsukiyomi Shrine. The tour will visit famous Iki sites, and learn about its traditions and culture.
*****
(1) Iki City Ikikoku Museum
Iki is referred to as "Ikikoku" in an ancient Chinese historical text, and many historical sites demonstrating how it prospered as a center for trade with continental Asia have been excavated. The Ikikoku Museum exhibits excavated artifacts, and the area its collection is stored can also be seen through glass. Focusing on Iki's history as a center for marine trade, the museum compares the history of Japan and the rest of East Asia, and introduces the general history of border islands. Museum Director Mr. Masato Suto will explain the exhibits and the history of Iki.
The Ikikoku Museum first opened in 2010. It is also known for being the final building in Japan to be designed by world-famous architect Kisho Kurokawa.
*****
(2) Ikinokura Distillery
Iki has the second-largest amount of flat land in Nagasaki Prefecture, and was developed as a grain-producing region long ago. Since it also has plentiful groundwater, it has been a center for production of mugi [barley] shochu for 500 years. Distillation techniques from continental Asia, combined with the agriculture that had developed in Iki thanks to its bountiful nature, led to the creation of shochu which has received worldwide acclaim. Iki is called the birthplace of mugi shochu.
In 1995, as part of the World Trade Organization (WTO) Agreement on Trade-Related Aspects of Intellectual Property Rights (TRIPS), Iki Shochu was designated as a protected geographical indication. Similar examples include Bordeaux Wine and Scotch Whisky.
Iki Shochu uses malted rice, and is unique for its sweetness and strong body. While maintaining 500-year-old traditional techniques, Ikinokura Distillery also incorporates modern technology and sales strategies. For example, they made the first mugi shochu in Japan using flower yeast. By using nadeshiko (carnation) and nichinichiso (periwinkle) flower yeast, the shochu has a flower scent and elegant flavor. One of the first yuzu liqueurs, which have become popular in Japan, was made by Ikinokura Distillery. Recently, the distillery also received attention for selling Iki Shochu with characters from the anime Neon Genesis Evangelion on the labels.
The tour will learn about the shochu making process at Ikinokura Distillery, and about what new ideas they have for the future.
*****
(3) Tatsunoshima
Even among Iki's beautiful seas, the sea around Iki's northernmost (and uninhabited) island, Tatsunoshima, is especially clear. The emerald sea and white sand beaches are known as "the Jewell of Iki" throughout Japan, and the number of tourists who visit during the summer to swim there has been growing every year. The tour will take a boat around Tatsunoshima, and see its 50-meter-tall sheer cliffs that have been eroded by the rough waters of the Genkai Sea.
*****
(4) Saruiwa (Monkey Rock)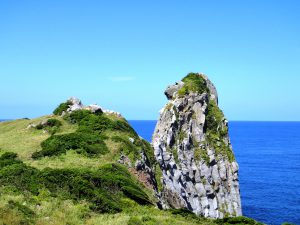 At the tip of the Kurosaki Peninsula on the western side of the island, a 45-meter-tall basalt rock has been eroded by the waves into a shape that resembles a monkey, and it is a popular spot for tourists.
There is a myth on Iki that the island was a living thing, and so eight pillars were placed in order to keep it in place, with those pillars remaining today as rocks. The Monkey Rock is said to be one of those pillars.
The Monkey Rock was designated as one of Japan's 100 Strange Rocks in 2015 by the Geological Information Utilization and Promotion Initiative (GUPI).
*****
(5) Tsukiyomi Shrine
According to Japanese myth, Tsukuyomi-no-Mikoto, the god enshrined at Tsukiyomi Shrine, was the god of the moon, including the ebb and flow of the tides; prosperity for fishing and agriculture; and of the birth of life. In 487, the emperor of the time received a divine revelation from the moon god, and had part of the god moved from Iki to a shrine in what is now Kyoto. Since this is considered as a possible reason that Koshinto (ancient Shinto) spread throughout Japan, Iki's Tsukiyomi Shrine is called the birthplace of Koshinto (ancient Shinto) .
---
[Tour Itinerary]
1. Itinerary (Schedule may change due to weather or other issues.)
<DAY 1:  Monday, September 11>
| | |
| --- | --- |
| 6:45 | Meet at Haneda Airport |
| 07:25-09:15 | Haneda Airport to Fukuoka Airport (ANA Flight NH241) |
| 10:30-11:35 | Hakata to Iki (Ashibe Port) (high-speed ferry) |
| | Lunch |
| 13:00-14:00 | Iki Tuna Resources Group |
| 14:30-15:20 | Tatsunoshima cruise |
| 16:00-16:40 | Iki High School |
| 16:50-17:30 | Interview with Iki Mayor Hirokazu Shirakawa |
| 17:50-18:20 | Saruiwa (Monkey Rock) |
| 19:00-20:30 | Supper (with Iki Mayor) |
| | Stay overnight in Iki |
<DAY 2:  Tuesday, September 12>
| | |
| --- | --- |
| 08:00-09:30 | Ama diving wearing leotards |
| 09:50-10:50 | Ikikoku Museum |
| 11:00-12:00 | Iki City Telework Center |
| | Lunch |
| 13:10-13:50 | Tsukiyomi Shrine |
| 14:00-14:50 | Ikinokura Distillery |
| 15:10-16:10 | Iki-Biz |
| 17:10-18:20 | Iki (Gounoura Port) to Hakata (high-speed ferry) |
| 19:40-21:25 | Fukuoka Airport to Haneda Airport (ANA Flight NH 270) |
2. Qualification:
  Bearer of Gaimusho Press Registration Card
3. Cost:
  18,000 yen per person including transportation, accommodation, and meals.
  (FPCJ will later inform the participants of methods for payment, cancellation fee, etc.)
4. Participants:
  Limited to 10 applicants.
  (Only one reporter and one photographer from each company, but two participants
  from each TV team will be acceptable.)
  *If the number of applicants exceeds 10, an upper limit may be set on the number of
  participants from each country/region.
5. Remarks:
– This press tour is sponsored by Iki city, with planning cooperation by the FPCJ.
– This press tour will require participants to bear part of the cost, but is not a profit-making venture.
– Iki city and FPCJ will not be liable for any inconvenience, trouble or accidents
 that might occur during the tour.
– There may be some restrictions on photographing and filming at the tour sites.
 Please follow the instructions of the staff in charge.
– The FPCJ's press tours are intended to provide opportunities for news coverage.
 We request that all participants contact us after their reports, have been published or aired,
 and send us a copy of the content of their coverage (article, video, or audio in the case of radio).
 When your report is in a language other than English or Japanese, we also ask you provide
 a summary. By applying, we assure  that you agree to these conditions.
6. FPCJ contacts:
Tomomi YOSHITAKE (Ms.) , Hazuki TSURUTA (Ms.)
E-mail: ma@fpcjpn.or.jp 
Tel: 03-3501-3405