International Exchange
[Notice] Oita Press Tour (Nov. 2017)
※Application closed.
Oita Press Tour
<Monday, November 13 to Tuesday, November 14, 2017>
—To apply for the tour, please use the form at the top right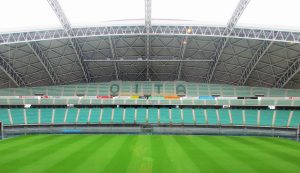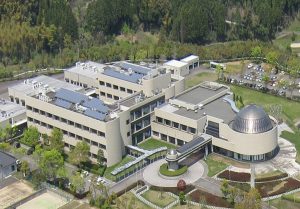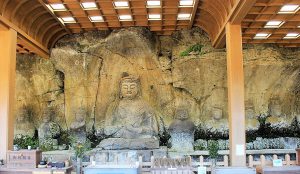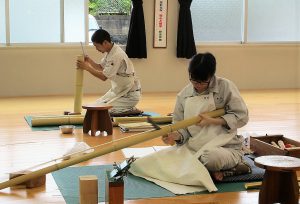 ---
[Tour Themes]
–  Rugby World Cup 2019
–  Oita's Unique 4th Industrial Revolution, Oita 4.0: Aiming to be western Japan's largest industrial cluster
–  Beppu Bamboo Crafting: Traditional craft integrating advanced techniques and pursuing new possibilities
---
Although Oita is known as the "Onsen Prefecture," it has many other attractions as well. Located in eastern Kyushu, it has long been known for its restorative hot springs. Oita produces a variety of agricultural goods, and many types of seafood can also be caught off Oita's coast, making it a treasure trove of food. With 80% of its land area covered in mountains, Oita has been able to preserve its unique natural beauty and culture, which charm all those who visit. Recently, the prefecture has also made becoming the biggest industry cluster in western Japan its goal, and has been implementing efforts to support training personnel for the information industry, and to promote industrial use of revolutionary technologies such as drones.
The 2019 Rugby World Cup in Japan will be the first Rugby World Cup to be held in Asia. Twelve stadiums throughout Japan have been chosen as venues, included one in Oita. The matchups were decided on November 2, and New Zealand, Australia, Wales, Fiji, and Americas 2 (Canada or Uruguay) are confirmed to be playing in Oita.
*****
[Tour Details]
(1) Interview with Mr. Katsusada Hirose, Oita Governor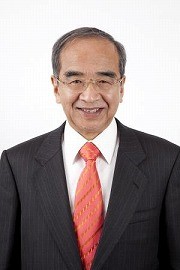 Oita Prefecture, which calls itself "Japan's No.1 Onsen Prefecture," has the highest hot springs output of any prefecture in Japan, as well as numerous other appealing resources including bountiful nature, fresh seasonal ingredients, history, and culture. In recent years, the prefectural government and local businesses have been working together to promote Oita both domestically and overseas. Mr. Katsusada Hirose has been Governor of Oita Prefecture since 2003, and will speak about bringing Rugby World Cup 2019 to Oita, and the World Onsen Summit planned for May 2018, as well as prefectural policies in areas including industry and tourism.
(2) World Cup Venue, Oita Sports Park Oita Bank Dome
In the fall of 2019, Japan will be hosting the Rugby World Cup. Oita was selected as one of the twelve cities throughout the country to be a venue, and the whole prefecture is working together under the slogan "One Rugby, One Oita." Numerous plans have been prepared for 2019 to encourage not only more domestic tourism, but also to use the Rugby World Cup to promote inbound tourism to Oita.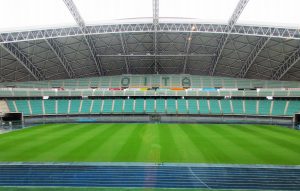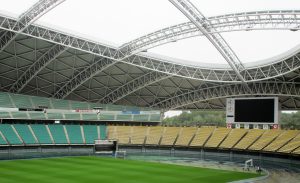 The tour will visit the Oita Bank Dome in Oita Sports Park, the Kyushu venue with the largest capacity (40,000 people), and hear from Mr. Nakatsuru of the Oita Prefecture Rugby World Cup 2019 Promotion Office about the state of preparations. Ms. Reina Takahashi, a member of Oita's women's rugby team, Oita Women's, will also speak about rugby in Oita and her hopes for the World Cup.
(3) Industry and Science Technology Center: Drone Industry Cluster
The Japanese government has announced a growth strategy including promoting the fourth industrial revolution. Oita Prefecture is working towards its own fourth industrial revolution of "Oita 4.0" by creating new businesses through incorporating cutting-edge technologies such as the internet of things (IoT) and artificial intelligence (AI). Taking advantage of the fact a leading company in industrial drones is positioned there, Oita is aiming to create an industry cluster and become western Japan's number one center for the field. The prefectural government is also working with local companies to train IT workers, and supporting the establishment of IT company offices on remote islands and in mountainous areas, in order to increase employment and stimulate local economies.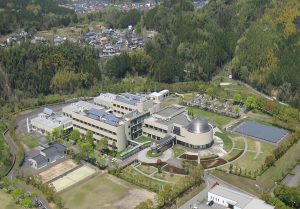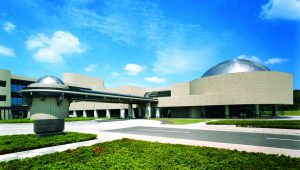 The tour will hear about Oita 4.0 initiatives and more from Mr. Hiroyuki Mizobe, president of West Kronos. Mr. Mizobe is from Oita Prefecture, and was encouraged by Oita 4.0 initiatives to start a business there. Collaborating with enRoute, Japan's largest producer of industrial drones, his company is developing marine drones for use on water and four-wheel-drive drones for use on land, in addition to aerial drones. There will also be an outdoor demonstration flight of an industrial drone.
(4) Usuki Stone Buddhas (National Treasure): The Beauty of Stone Sculpture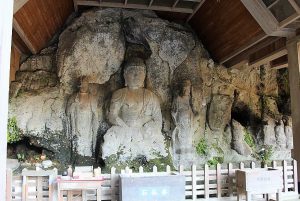 The Usuki Stone Buddhas are a series of stone Buddha statues carved into the natural cliff face. They are said to have been carved from the late Heian (794–1185) to early Kamakura (1185–1333) periods, and due to their size, number (over 60), and quality of their carving, they are the most famous group of stone Buddhas in Japan. In 1995, 59 of them became the first stone Buddhas to be designated as National Treasures.
One woman has dedicated herself to restoring these stone Buddhas: Ms. Shinobu Yamaji of the Institute for Conservation and Use of Cultural Heritage. Her husband Dr. Yasuhiro Yamaji is an expert in Japanese Cultural Properties, with a PhD in conservation science, and when he began working as a professor in Oita, she decided "This is fate," and switched from being a housewife to working on conservation and restoration. The stone Buddhas she restores will stay in people's memoires, and continue to be protected in the future. That is both her dream and the dream of her husband.
The tour will hear from Ms. Yamaji about her feelings on preserving cultural properties for future generations, as well as from Dr. Kanda, head of the Usuki City Institute for Cultural Properties.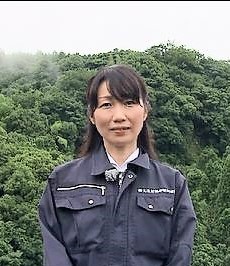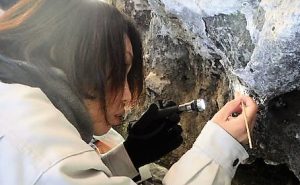 (5) Oita International Students Business Center (Sparkle)
The Oita International Students Business Center (also known as Sparkle) was established in October 2016 to provide support for international students in Oita Prefecture to start businesses after graduation and for working together with Oita companies. The main target is Ritsumeikan Asia Pacific University (APU) in Beppu, with international students making up over half its student population. The goal is to harness the strengths of the 5,800 international students from 90 countries studying in Oita Prefecture to help local companies expand overseas and strengthen industrial development.
Sparkle provides consultations by experts on starting businesses and finding work, as well as free support by legal specialists for changing visa status. There are also networking events for international students and with entrepreneurs who have started their own businesses, and space available for international students planning on starting a business to hold meetings and work on computers. Approximately 400 international students use the facilities every month. Periodically, local companies also arrange tours and job fairs.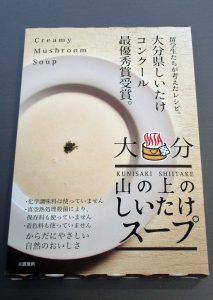 The tour will hear about Oita Prefecture's international student policies, and speak with students at Sparkle preparing to start businesses, as well as Mr. Tenam Song, a third-year APU student from South Korea, who was involved in developing a mushroom soup that won first prize in the Oita Prefecture Shiitake Contest and has been released as a commercial product.
(6) Bamboo Craft Training Center
Bamboo crafting is a traditional industry of Oita Prefecture. Since Beppu produces high quality bamboo, people who came to use the hot springs in the past would make cooking utensils from the bamboo, and then bring them back home where they continued to use them, which is said to have led to the spread of Beppu bamboo craft throughout Japan.
Bamboo craft requires careful, delicate technique. Around 80 years ago, Oita Prefecture established the only bamboo craft specialty school in Japan to pass on bamboo crafting techniques to the next generation and preserve this traditional craft. In 2016, it changed its name to the Oita Prefecture Bamboo Craft Training Center. Over its history, around 1700 students have graduated from the school.
The training period is two years. Every year, 12 high school graduates who are 39 years old or younger are accepted into the program, where they learn about techniques necessary to bamboo craft such as processing, dyeing, and painting, and even marketing. Recently, more hopeful students have been applying from outside of Oita, and there is hope that it will contribute to young people relocating to the area, with graduates staying in the prefecture and producing bamboo craft at local companies or establishing their own workshops.
<Bamboo Craft Artisan, Mr. Kenichi Otani>
The tour will visit Studio Chikufusha, run by Mr. Kenichi Otani, a graduate of the Bamboo Craft Training Center.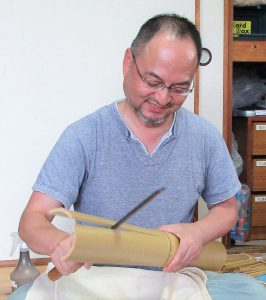 Mr. Otani was not born or raised in Oita. A native of Saitama, he was a landscape gardener, but while building bamboo fences he became entranced by bamboo, and at the age of 38 entered the world of bamboo craft. Now, his pieces even receive attention from outside Japan. In 2003, he presented his bamboo jewelry at an exhibition in New Mexico, US. His accessories such as earrings made by sealing woven bamboo in acrylic were well-received overseas due to the exotic nature of Japanese bamboo. They are sold at the Museum of Modern Art store in New York, and Paul Smith in London.
Traditional crafts passed down over the years must incorporate newness in order to survive. The tour will hear about Mr. Otani's efforts to bring new life to bamboo craft in cooperation with young craftsmen in Oita.
---
[Tour Itinerary]
1. Itinerary (Schedule may change due to weather or other issues.)
<DAY 1:  Monday, November 13>
| | |
| --- | --- |
| 7:20 | Meet at Haneda Airport |
| 8:10-9:55 | Haneda Airport → Oita Airport (ANA 791) |
| 11:40-12:00 | Oita Prefectural Office (Interview with Oita Governor) |
| | Lunch |
| 14:20-15:10 | Oita Sports Park Oita Bank Dome (Tour facility, interviews) |
| 15:30-17:10 | Industry and Science Technology Center (Tour facility, drone demonstration) |
| | |
Stay in Beppu overnight
<DAY 2:  Tuesday, November 14>
| | |
| --- | --- |
| 7:20 | Leave hotel |
| 8:20-9:50 | Usuki Stone Buddhas (See the Buddhas, explanation, shoot video/photos) |
| 10:40-12:10 | Oita International Students Business Center (Tour facility, interview students) |
| | Lunch |
| 13:50-15:10 | Bamboo Craft Training Center (Tour facility, interview students) |
| 15:30-16:45 | Chikufusha (Interview with Mr. Otani) |
| 18:10-19:40 | Oita Airport → Haneda Airport (ANA 800) |
2. Qualification:
  Bearer of Gaimusho Press Registration Card
3. Cost:
  18,000 yen per person including transportation, accommodation, and lunch (13&14).
  *FPCJ will inform the participants of methods for payment, etc. at a later date
     *Cancellation fees:
              -For cancellations up to 3:00 PM on Friday, November 10: 9,000 yen (half)
              -For later cancellations: 18,000 yen (full amount)
4. Participants:
  Limited to 10 applicants.
  (Only one reporter and one photographer from each company, but two participants
  from each TV team will be acceptable.)
  *If the number of applicants exceeds 10, an upper limit may be set on the number of
  participants from each country/region.
5. Remarks:
– This press tour is sponsored by Oita Prefecture, with planning cooperation by the FPCJ.
– This press tour will require participants to bear part of the cost, but is not a profit-making venture.
– Oita Prefecture and FPCJ will not be liable for any inconvenience, trouble or accidents
 that might occur during the tour.
– There may be some restrictions on photographing and filming at the tour sites.
 Please follow the instructions of the staff in charge.
– The FPCJ's press tours are intended to provide opportunities for news coverage.
 We request that all participants contact us after their reports, have been published or aired,
 and send us a copy of the content of their coverage (article, video, or audio in the case of radio).
 When your report is in a language other than English or Japanese, we also ask you provide
 a summary. By applying, we assure  that you agree to these conditions.
6. FPCJ contacts:
Ms. Fukasawa , Ms. Yamada
E-mail: ma@fpcjpn.or.jp 
Tel: 03-3501-3405