International Exchange
[Report] Iki City Press Tour (Sep. 2017)
 Iki prospered as a bridge between Japan and the rest of Asia for many years, with abundant nature and its own unique culture and customs due to being a remote island. To take advantage of these features and increase inbound tourism, in 2014 Iki City began working on attracting more foreign tourists.
 At the same time, Iki's population in 2017 has declined to nearly half what it was during its peak in 1955, with the island facing issues including a declining birthrate, aging population, and lack of younger workers to carry on companies.
 The tour looked at the beautiful nature and tourism resources found in Iki, and at efforts to solve social issues with cooperation between residents, businesses, and local government.
---
   [Tour Themes]
   ◆Bountiful Island with Historical and Cultural Sites
   ◆Iki and Regional Revitalization:
    ・Working styles that don't put remote islands at a disadvantage
    ・Sustainable resource management
---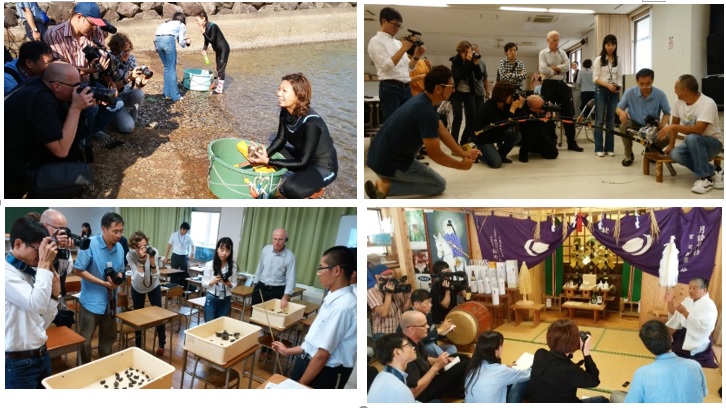 [Tour Details]
1.Date:
  September 11 to September 12, 2017
2.Participants:   This tour had 12 participants from 7 countries and region.
  【Europe】Germany, Switzerland
  【Asia】  China, Taiwan, Republic of Korea, Vietnam, Bangladesh
3.Tour Itinerary
  - Click here for further details on the tour.
4.Tour Stops:
【Day 1:September 11 】
(1)Iki Association For Bluefin Tuna
 In the port of Katsumoto in northern Iki, the tour spoke with Mr. Minoru Nakamura, chairman of the Iki Association For Bluefin Tuna, about tuna fishing in Iki.
 According to Mr. Nakamura, due to the aging of workers in the fishing industry, a lack of younger workers to take over businesses, and damage to fishing areas, Iki's fishing industry, which is the main industry on the island, is in trouble. In response, members of the fishing industry in Katsumoto established the Iki Association For Bluefin Tuna in 2013. The association has made proposals to the government about restricting fishing on tuna during spawning season to promote sustainable resource management, and discusses issues with members of the fishing industry in Oma, Aomori and Nachikatsuura, Wakayama.
 While being shown the fishing poles normally used by Mr. Nakamura and others, the journalists heard about how instead of purse seine fishing, which catches huge amounts of fish in a net at once, fishers in Iki use the pole and line method. This reduces the amount of stress applied to the tuna and preserves its quality, while also preventing overfishing.
 Journalists asked questions such as whether Mr. Nakamura's son was going to become a fisher as well, why the catch has decreased compared to the past, the difference between wild and farmed tuna, and his opinion on the report announced at the Western and Central Pacific Fisheries Commission meeting held in Busan, South Korea.
(2)Tsutsukihama Beach, Oni no Ashiato [Devil's Footprint] in Makizaki Park
 The tour visited two of Iki's most famous scenic spots, Oni no Ashiato [Devil's Footprint] in Makizaki Park and Tsutsukihama Beach. The journalists took pictures of the diversity of Iki's nature, impressed by the shining emerald sea and white sand beach, and by the natural formation created over years of erosion by waves.
(3)Nagasaki Prefectural Iki High School
 Iki High School provides unique learning opportunities to determined, goal-oriented students through a "remote island study program." According to Mr. Masahiro Torii, a teacher at the school, "In order to become a truly international person and take part in international society, it is important to learn English and Chinese, which have a large number of speakers, and to have a deep understanding of your own country's history. As a border island, Iki has long had a deep connection with countries in mainland Asia, and has many historical sites left as well. Through trips to historical sites on Iki and in the surrounding area, students on the study program develop a global perspective. By living away from their parents, many students also develop independence and a desire for self-improvement."
 The journalists then saw presentations from four students on the program specializing in history and Chinese language. Including some Chinese in their presentations, the students discussed fossils discovered on Iki, and studying language abroad in Shanghai, China.
 The journalists were surprised at one of the students being from Hokkaido, and asked questions of Mr. Torii and the students such as why they decided to come (all the way from Hokkaido) to study at Iki High School, what they planned to do after high school, and whether there was any economic support for students in the program. The journalists were impressed at Iki High School's initiative to solve Iki's population decline while simultaneously helping teach students to be active globally.
(4)Iki Mayor, Hirokazu Shirakawa
 The tour interviewed Iki Mayor Hirokazu Shirakawa at Iki Town Hall, hearing about the history and unique geopolitical features of Iki, as well as new initiatives to resolve the issues of a declining birthrate, aging population, and lack of young workers.
 Mr. Shirakawa spoke about promoting the traditional food culture and unique lifestyle of Iki as a remote island as tourism resources (the Let's Go to Japans Border!! Project), in response to the Act on Preserving Inhabited Remote Islands along Border having been put into force in April 2017. He also spoke about a project to cooperate with private companies, and his efforts to take full advantage of all the benefits the island offers to make it into a model for remote islands throughout Japan.
 Journalists asked questions about inbound tourism policies taking advantage of Iki's proximity to mainland Asia, the mayor's thoughts on bringing in workers from overseas, and what actions Iki has taken as a border island in response to the threat of a missile attack from North Korea. The mayor also ate supper with the journalists, speaking frankly with them in a friendly atmosphere.
(5)Saruiwa (Monkey Rock)
 The tour visited the Monkey Rock, which was designated as one of Japan's 100 Strange Rocks in 2015 by the Geological Information Utilization and Promotion Initiative (GUPI). Tour guide Ms. Yukiko Isafuji explained how the rock was naturally eroded by waves into a shape that resembles a monkey, and the journalists took photos from various angles. She also mentioned how Iki Island was designated by the Agency for Cultural Affairs as Japan Heritage in 2015 as part of "The Border Islands Iki, Tsushima, and Goto – The Ancient Bridge to the Continent."
【Day 2:September 12 】
(6)Ama Diving Wearing Leotards
 The ama divers off Iki's Yawata Peninsula are known throughout Japan for their unique style of diving wearing leotards, instead of using wet suits to maintain their body heat. This is both to provide ease of movement, and to help prevent excessive harvesting of resources, making it a sustainable diving style focusing on preserving the sea's ecosystem.
 The journalists leaned out from the shore to get as close as possible for their shots of the ama divers free driving up to 10 meters without an oxygen tank. The journalists interviewed Ms. Ayako Fujimoto, who moved from Yokohama to Iki because she wanted to become an ama, asking questions such as what led to her making the decision, what life on Iki is like, and what training was necessary to become a full-fledged ama.
 The ama then cooked some abalone that they had just gathered right there on the beach, letting the journalists try it.
(7)Iki City Ikikoku Museum
 Museum Director Mr. Masato Suto explained the exhibits and the history of Iki, which prospered as a center for marine trade. Many archeological sites indicating Iki's history as a center for trade have been found, and in the museum it is possible to actually touch some of the excavated artifacts. The journalists took pictures, surprised at the weight when lifting one of the artifacts.
(8)Iki Telework Center
 In 2015, Iki City entered into a regional revitalization agreement with Fuji Xerox, with the goal of stimulating Iki's economy by taking advantage of its position as a remote island. The Iki Telework Center was opened in September 2017 in a renovated storehouse in the Harunotsuji site park.
 Mr. Tokuhiro Takashita of Fuji Xerox and Mr. Issei Shinohara of Iki City explained how the goal of the project is to enable resort-style telework taking advantage of Iki's history and natural beauty, as well as being a base for entrepreneurs, for companies from outside the island to establish satellite offices on Iki, and for creating new jobs through crowd-sourcing by at-home workers in Iki.
 Journalists asked questions about topics such as "Fuji Xerox was originally a hardware company, are you active in the solutions business as well," "How many applications have there been for using the Telework Center," "How interested are housewives in telework," and how Mr. Takashita's life had changed since moving to Iki, and if he ever felt like moving back to Tokyo.
(9)Tsukiyomi Shrine
 Iki's Tsukiyomi Shrine is called the birthplace of Shinto. Mr. Shin Sakakibara, head priest of the shrine, explains that Tsukiyomi Shrine is visited by many people from around the country as a "power spot," but the number of parishioners has decreased in the last 30 years, making it uncertain whether it will be possible to continue holding religious services at the shrine. Journalists asked questions about how long he had been a priest, and how a successor would be chosen, showing interest in the preservation of this historical shrine.
(10)Ikinokura Distillery
 The tour visited Ikinokura Distillery, one of seven distilleries on the island. While maintaining 500-year-old traditional techniques, Ikinokura Distillery also incorporates modern technology and sales strategies. For example, they have made shochu using nadeshiko (carnation) and nichinichiso (periwinkle) flower yeast, and also received attention for selling Iki Shochu with characters from the anime Neon Genesis Evangelion on the labels.
 Ms. Ayano Fukuda gave the journalists a tour of the distillery and explained the process of making shochu, followed by tasting several types of shochu.
(11)Iki Industry Support Center: Iki-Biz
 Stimulating industry is the most important policy issue for Iki. To this end, Iki-Biz was established in August 2017 to carry out regional revitalization. By providing business consultation to SMEs and sole proprietors to help them take advantage of their strengths, it is hoped Iki-Biz will help increase sales.
 Mr. Shunsuke Mori is the Center Director of Iki-Biz, chosen from 391 applications sent in from around Japan. According to him, "To bring back vitality to the island, which has seen a declining population and numbers of tourists, we would like to carry out the ultimate economic stimulation project by increasing sales of SMEs and supporting startups… Every business has some unique advantage. Iki businesses just have yet to find out how best to promote themselves. At Iki-Biz, we will listen carefully to businesses who consult with us, and provide the best care possible… The goal of Iki-Biz is not to increase the sales of only a few businesses on the island, but to expand the market of the island as a whole."
 Journalists asked questions about why Mr. Mori decided to leave Tokyo and become the Iki-Biz Center Director, how many consultations they have performed since Iki-Biz opened in August, what obstacles there are to doing business in Iki and how they can be overcome, and the difference between business models of other areas and Iki-Biz. One journalist also mentioned, "I would like to come back to visit Iki-Biz in a year, and see how business in Iki has developed in that time."
5.Below are some of the articles and programs produced by the journalists based on this press tour.
※Click the title of the articles below and you can read the original articles
・The Central News Agency(Taiwan)
 September 11:⽇本離島⾼中全校僅33⼈ ⾼⼀必修中⽂
・Frankfurter Allgemeine Zeitung(Germany)
 September 16:Die Reichtümer des Meeres sind nicht endlos
・Neue Zürcher Zeitung(Switzerland)
 September 17:Hartes Brot auf der japanischen Insel Iki
・The Dong-a Ilbo(Republic of Korea)
 September 29:젊은이 유턴・・・ 외지인 유치・・・ 미래 꿈꾸는 활기찬 섬으로
・Vietnam Television(Vietnam) 
 September 20:Ama – Những thợ lặn nữ bí ẩn ở Nhật Bản 
 October 8:Quy trình chưng cất rượu truyền thống trên 500 năm tuổi của Nhật Bản
・SBS(Seoul Broadcasting System)(Republic of Korea)
 October 1:젊은 후계자 찾지 못해 '비상'…日 전통직업 사라지나
 October 11:[월드리포트] 원격 근무에 유학생까지…日 '젊은 섬 만들기' 혈안
・Xinhua News Agency (China)
 November 15:日本的故乡
---