International Exchange
[Notice] Cutting-Edge Technology Press Tour to Tsukuba, a Center of Knowledge (May 2019)
【Theme】
Tsukuba's cutting-edge technology:
AI applications in sports and nursing care, development of new materials supporting the future of medicine, and space business
【Summary】
On Saturday, June 8 and Sunday, June 9, 2019, the G20 Ministerial Meeting on Trade and Digital Economy will be held in Tsukuba, Ibaraki. Ministers from G20 countries will discuss global economic growth through promoting free trade and revolutionary technologies such as the Internet of Things (IoT) and AI.
Tsukuba, located in the south of Ibaraki Prefecture, was developed as a Science City as part of a national project in the 1960s. Now, it is home to 29 research and educational institutions, including the Japan Aerospace Exploration Agency (JAXA) and the National Institute of Advanced Industrial Science and Technology (AIST), and to over 20,000 researchers (including approximately 8000 with PhDs) carrying out different kinds of research, making it a global center for science and technology.
While advanced technology such as artificial intelligence, big data, and the IoT have become part of our lives, they could also be the keys to solving various issues facing humanity such as environmental and energy problems, and the declining birthrate and aging population. Tsukuba, in addition to being a center for knowledge that could surprise the world in these areas, is also home to many venture companies that can quickly implement applications of these research results.
This press tour will cover the latest technology from Tsukuba contributing to solving problems on a global scale, including: the world's first 3D haptics technology which digitally recreates a sensation of touch; AI systems passing on the skills and knowledge of experts to the next generation; wearable technology that uses AI to monitor the strength of swallowing food to contribute to the prevention of aspiration by seniors; smart polymers, the medical material of the future; and a startup company aiming to expand the use of space with low-cost, miniature satellites.
 Creating the Future with Cutting-Edge Technology from Tsukuba
(1) Interview with Ibaraki Governor Kazuhiko OIGAWA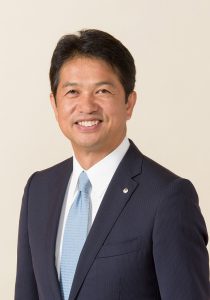 A governor from the IT industry leading the digital revolution in Ibaraki Prefecture Mr. Oigawa (55 years old) has experience as an executive in IT companies such as Microsoft and Dwango (the company which operates Niconico). Since becoming governor in September 2017, he has implemented numerous revolutionary policies, working to attract research facilities and head offices in new growth areas dealing with subjects such as AI, IoT, robots, and next-generation automobiles; providing support for new industries such as startup space businesses; and being the first local government in Japan to switch to almost 100% digital paperwork. At the National Sports Festival of Japan which will be held in fall 2019 in Ibaraki, an esports competition between prefectural teams will also be included for the first time as part of the cultural program.
◆The tour will hear from Mr. Oigawa about his vision for the future of Ibaraki, a leader in technological innovation, and also about his thoughts on the upcoming G20 Tsukuba, Ibaraki Ministerial Meeting on Trade and Digital Economy.
(2) PLIMES Inc.
"Preventing aspiration with AI technology"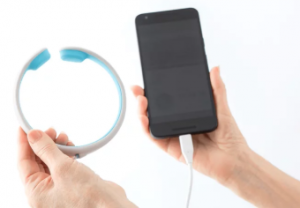 After cancer and heart attacks, the third most common cause of death in Japan is pneumonia. For seniors, pneumonia is often aspiration pneumonia due to accidentally swallowing matter into the lungs, and so a decrease in swallowing strength is a matter of life and death for seniors. There was interest in preventing aspiration by using a smaller, easier to use, but still accurate testing device. Plimes, a startup company spun off from the University of Tsukuba, developed the Gokuri wearable device that analyzes the sound of swallowing using AI, and has been working towards releasing it to market. The company was founded in April 2018 by University of Tsukuba Professor Kenji Suzuki, who has researched AI for more than 20 years.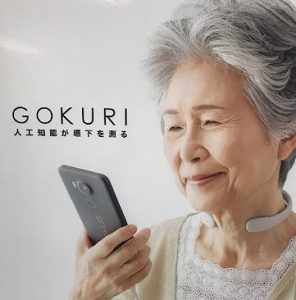 The Gokuri uses small sensors worn around the neck to measure swallowing sounds and posture, quantifying swallowing capability using AI technology and a cloud database. The device has achieved 97% accuracy. Deep learning technology is used for the Gokuri, allowing the AI to improve more and more as data is accumulated. Within one year of establishing the company, the Gokuri is now in use by over a thousand users, mainly nursing homes and medical institutions. The company's goal is for this device to measure swallowing strength to become as common as thermometers or blood pressure monitors, to increase the healthy lifespan with the power of technology.
◆The tour will visit a nursing home where the Gokuri is used, and hear from a representative of Plimes about the device's development process and how it works. The nursing home's director will then explain why they introduced the Gokuri and their opinions on it, followed by a demonstration of the Gokuri.
(3) University of Tsukuba Digital Nature Group
"The Telewheelchair, an electric wheelchair that can be operated remotely"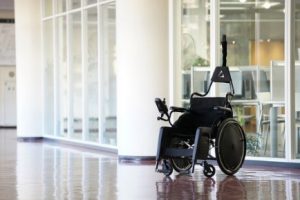 The Telewheelchair, an electric wheelchair which incorporates advanced technology, was developed by the young researchers at the University of Tsukuba Digital Nature Group. Using VR and AI, the Telewheelchair can be remotely controlled by a caregiver at a different location wearing specialized goggles. Since the wheelchair itself is also able to detect obstacles, using deep learning, it automatically stops when people approach. The Telewheelchair means there is no need for a caregiver to go along to push the wheelchair.
The nursing care industry is currently faced with a rapidly increasing shortage of workers. It is estimated around 2.53 million caregivers will be necessary by 2025, which would mean a shortage of around 380,000 workers.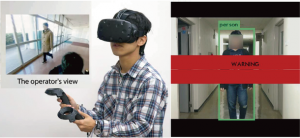 Technology such as this would decrease the workload of caregivers and allow them to focus on tasks that only humans can do. Despite the Telewheelchair incorporating the latest technology, it is made using existing products which can be purchased at a low cost in order to reduce its development costs. The time is rapidly approaching when facilities that could not afford to incorporate new technology due to the cost will be able to use the latest devices without worry.
(Left: Caregiver remotely operating the Telewheelchair; Right: Showing a warning and stopping when a person is detected.)
◆ The tour will visit the Digital Nature Group and hear from the developers of the Telewheelchair about the background behind its development, its purpose, and its features, followed by an opportunity to film and photograph the Telewheelchair in use.
(4) LIGHTz Inc.
"Passing on the knowledge of veterans to the next generation using AI"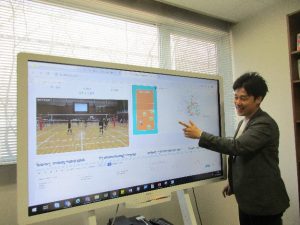 With the working population decreasing due to the declining birthrate and aging population, the issue of how to pass on the skills and knowledge of veterans to the next generation has become an issue in every industry. Lightz Inc., a startup established in 2016 in Tsukuba within a technology consulting firm working in the manufacturing industry, is solving this issue using AI. Starting from the concept of "people's ideas," the company is developing a skill transferal system that quantifies the "intuitive aspects" of veterans' perceptiveness, decision-making abilities, and intuition from experience by combining surveys with veterans, language analysis, and AI.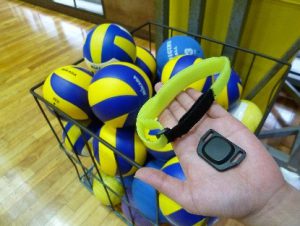 After having been involved in analyzing bouts by Yuki Ota, a silver medalist in fencing at the Beijing Olympic Games, Lightz also began working in the field of sports, where skills have a tendency to be unique to specific individuals. Currently, the company is working together with the University of Tsukuba women's volleyball team, a high-ranking team, on research to quantify the skills and experience of the coach as data and apply it to creating strategies and training plans for the athletes.
◆The tour will hear an explanation from President Shingo Otobe about using AI to quantify as data the skills of veterans and knowhow of top athletes, followed by seeing a practice by the University of Tsukuba women's volleyball team, which now uses this technology, and hear about its applications in the field of sports.
"A world first: Invention of '3DHaptics Technology' that realistically expresses the sense of touch with a mental illusion"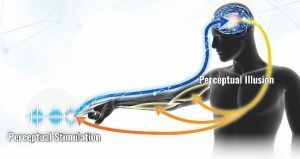 3DHaptics Technology expresses different types of touch as if interacting with an object even when there is nothing there, such as the tactile feeling of touching an object, the resistance of pushing and pulling an object, or the uneven texture of an object, using only vibrations transmitted from a small device that fits in the hands. Using the patented neuroscience-based "Brain Illusion Phenomenon", it gives the sensations that you are touching something by using specific vibrations. This amazing technology was developed by Dr. Norio Nakamura, a researcher at the National Institute of Advanced Industrial Science and Technology (AIST).  Founded in 2014, MIRAISENS, Inc., a technology transfer startup of the National Institute of Advanced Industrial Science and Technology (AIST), is promoting commercialization of this world-first technology.

This technology eliminates a long-standing problem with virtual reality, the frustration of being unable to touch the things you are seeing, and has created a new trend in the virtual reality industry as a way to provide a greater sense of realism. It is expected to be applied in a wide range of fields, such as industrial robotics, autonomous driving, and telemedicine, and has attracted interest outside Japan as well, especially in Silicon Valley, for the Mecca of innovation.
◆The tour will interview Dr. Nakamura, a developer of the technology, and Mr. Koda, the CEO of MIRAISENS, about the characteristics of 3DHaptics Technology and how it works, as well as having an opportunity to experience and photograph the system.
(6) National Institute for Materials Science (NIMS)
International Center for Materials Nanoarchitectonic, Group Leader Mitsuhiro Ebara(Ph.D)
"A revolution in medical technology with the adaptable new material, smart polymers"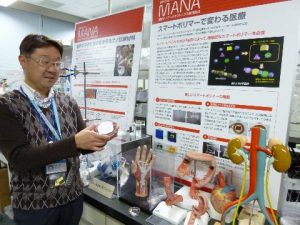 Dr. Ebara National Institute for Materials Science is working passionately to develop materials for medicine which can be used even in areas with limited infrastructure, such as developing countries or disaster-struck areas. Dr. Ebara previously researched regenerative medicine, but after participating in a project to improve medicine in developing countries while he was studying overseas in the US, he was struck by the difficult realization that no matter how advanced medicine may become, it cannot be provided without the proper facilities such as water and refrigeration. He began researching medical applications of smart polymers as a method to deal with illness using the materials themselves.
Smart polymers change their shape in response to factors such as heat, light, water, and magnetic fields, and can have a variety of functions. Taking advantage of these characteristics, Dr. Ebara developed a mesh for cancer treatment (a sheet made of smart polymer fibers with cancer drugs and heat-producing components) that can be applied directly to the area afflicted with cancer, and will provide both chemotherapy and thermotherapy when exposed to a magnetic field for a short time. Tests indicated this mesh eliminated 70% of cancer cells, making it an effective cancer treatment. He has also developed a wristwatch-style filter to eliminate uremic toxins using smart polymers. There are hopes that it will be useful for dialysis treatments in disaster-struck areas and in developing countries.
◆ The tour will visit Dr. Ebara's lab, and hear about his research and its applications. There will then be an opportunity to film and photograph smart polymers changing shape in response to factors such as water and light. The tour will also be able to see the cancer treatment mesh and dialysis device developed by Dr. Ebara.
"Establishing a communications infrastructure network to create a foundation for the use of space"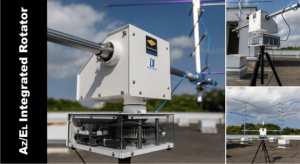 The space industry is expected to grow to a value of seventy trillion yen by 2030.  Recently, the number of small satellites has increased explosively, with the use of space becoming common even by private companies. Working on establishing a communications infrastructure for space business, Warpspace Inc. is a startup company from the University of Tsukuba led by Professor Toshihiro Kameda, who successfully launched two satellites after starting a university satellite project at the university in 2011. Warpspace, established in August 2016, is developing low-cost miniature communications satellites and building and promoting mobile ground stations, and their technology demonstration satellite Warp-01 is planned to be released from the International Space Station soon. The company is also cooperating overseas on space development, in Africa and Southeast Asia.
◆The tour will hear about the university satellite project that led to Warpspace being founded, and initiatives by the company, followed by the opportunity to film and photograph the mobile ground station the company developed to receive satellite transmissions (as seen in the photo above).
——————————————————————————————————————-
[Tour Itinerary]
 1. Dates: Thursday, May 23 to Friday May 24, 2019
2. Schedule:
*The schedule is not yet finalized, and may change without notice.
<Thursday, May 23>
7:20-8:50             Tokyo to Tsukuba (by chartered bus)
9:00-10:30           MIRAISENS, Inc.
11:00-12:15         WARPSPACE Inc.
12:30-13:10         Lunch
13:40-15:10         National Institute for Materials Science
15:45‐17:10     LIGHTz Inc.
17:30                   Okura Frontier Hotel Tsukuba
<Friday, May 24>
9:00                      Leave hotel    
10:00-11:45        PLIMES Inc.(at nursing home)
12:30-13:30          Lunch
14:00-15:00          Ibaraki Governor
16:30-17:50          University of Tsukuba Digital Nature Group
18:00-19:30          Tsukuba to Tokyo (by chartered bus)
3. Qualification: Bearer of Gaimusho Press Registration Card
4. Cost: 10,000 yen per person including transportation, accommodation (breakfast included), and lunches
*The following cancellation fees will apply:
-Cancellation before 3 p.m., Wednesday, May 22: 5,000 yen
-Cancellation after 3 p.m., Wednesday, May 22: 10,000 yen (full amount)
5. Participants: Limited to 10 applicants. (Only one reporter or one photographer from each company, but two participants from each TV team will be acceptable.)
*If the number of applicants exceeds 10, an upper limit may be set on the number of participants from each country/region.
6. FPCJ contacts: Megumi Ishida (Ms.), Junya Sugawara (Mr.)
(Tel: 03-3501-3405, E-mail: ma@fpcjpn.or.jp )
 7. Remarks:
(1) This tour is organized by the Promotion Council for the G20 Ibaraki Tsukuba Ministers Meeting on Trade and Digital Economy, and planned and operated by the FPCJ.
(2) The schedule is subject to change without notice.
(3) This tour will require participants to bear part of the cost, but is not a profit-making venture.
(4) Neither the Promotion Council for the G20 Ibaraki Tsukuba Ministers Meeting on Trade and Digital Economynor FPCJ will be liable for any inconvenience, trouble or accidents that might occur during the tour.
(5) There may be some restrictions on photographing and filming at the tour sites. Please follow the instructions of the staff in charge.
(6) This press tour is intended to provide opportunities for news coverage. We request that all participants send a copy of the content of their coverage (article, video, or audio in the case of radio) to the Promotion Council for the G20 Ibaraki Tsukuba Ministers Meeting on Trade and Digital Economy through the FPCJ after their reports are published or aired. When your report is in a language other than English or Japanese, we also ask you provide a summary in English or Japanese. With receiving your application, we assume that you agree to these conditions.