International Exchange
[Notice] Miyazaki Press Tour: Mecca of Martial Arts / Shochu / Land of Japan's Origin Myths (May 2019)
Miyazaki Press Tour
―A 2020 Olympics and Paralympics Training Camp Site
I. Swordsmithing and Kendo Being Passed on in the "Mecca of Martial Arts" 
II. The Ultimate Eco-Friendly Liquor Production and Electricity Generation with Sweet Potato Waste in the No. 1 Shochu Producing Region in Japan
III. The Land of Japan's Origin Myths


Miyazaki Prefecture, located in the southeast of Kyushu, is third in Japan for average temperature and sunlight hours, and second in Japan for number of clear days, and promotes itself as the "Sunny Place of Japan."  
In the Kojiki, a chronicle of Japan compiled 1300 years ago, Miyazaki is said to be the spot where the grandson of the sun goddess Amaterasu, said to be the ancestor of the imperial family, descended from the heavens, and said, "This is a fine place, where the morning sun shines straight and the setting sun is brilliant."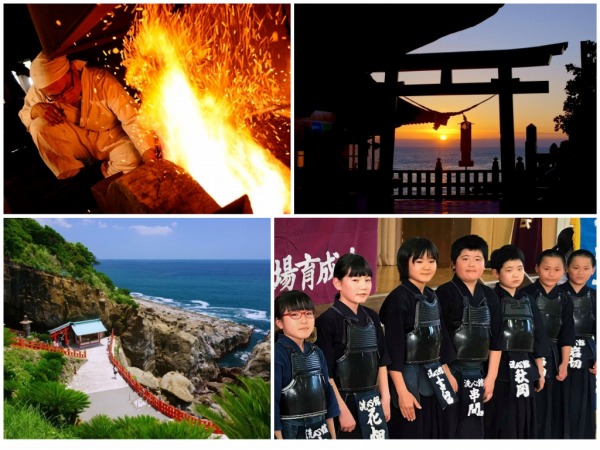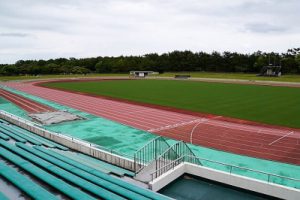 Thanks to its excellent weather, Miyazaki is a popular location for training camps by professional sports teams (including baseball and J.League soccer teams) and Olympic athletes. In addition to its weather, Miyazaki is popular due to its stadiums where official matches can be played and numerous training facilities, with 196,835 people visiting the prefecture for sports training camps in a year.
In addition to the England team holding their training camp in Miyazaki in advance of Rugby World Cup 2019 this year, the German athletics team and Canadian and Great Britain triathlon and paratriathlon teams will be holding training camps there to prepare for the 2020 Olympics and Paralympics in Tokyo. Miyazaki Prefecture sees 2020 as an opportunity to promote its local industries overseas, and is putting more effort than ever into promotion.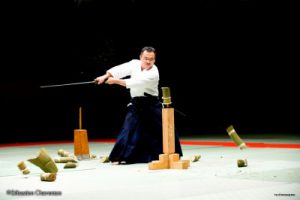 Miyazaki is home to the smithy of one of Japan's top swordsmiths, where the traditional techniques to forge Japanese swords, with their unique beauty, are being passed on to the next generation. Miyazaki is also home to a shrine which is known as the birthplace of swordsmanship, and kendo is popular in the prefecture. There is also a craftsman of kendo equipment, who supported the adoption of kendo outside Japan, and Miyazaki is popular as a mecca of martial arts with martial arts fans from around the world.
Miyazaki also benefits from the high-quality groundwater found in the Kyushu Mountains, and is the largest producer in Japan of shochu, a distilled liquor made using ingredients such as sweet potatoes. While there are distilleries that continue to make shochu using traditional techniques, the largest shochu maker has been using the sweet potato waste from the production process for biogas and generating electricity, to achieve the ultimate in eco-friendly liquor production. With the domestic shochu market shrinking along with population decline, the national government has begun promoting exports of shochu as well as sake. Efforts to that end have been accelerating in Miyazaki as the No. 1 shochu producing region in Japan, in advance of the 2020 Tokyo Olympic and Paralympic Games.
*******************************************************************************************************
This press tour will visit Miyazaki, where training camps will be held for next year's Olympic and Paralympic teams, and in addition to visiting those sports facilities, learn about its status as a martial arts mecca, new initiatives by local businesses making shochu, and its appeal as a setting for myths. The tour will also find out about the prefectural government's and local industries' hopes and preparations for the 2020 Games.
*******************************************************************************************************
*This press tour is sponsored by Miyazaki Prefecture, with planning and operation assistance by the FPCJ.
【Tour Details】
I. Swordsmithing and Kendo Being Passed on in the "Mecca of Martial Arts"
[ 1 ] Top Japanese Swordsmith Passing on His Techniques to the Next Generation
Swordsmith, Mr. Kunimasa Matsuba
(Apprentices, Mr. Masaaki Sugitani and others)
Finding new opportunities in overseas markets
http://www.matsubakunimasa.jp/
Miyazaki is home to one of Japan's top swordsmiths.
Mr. Kunimasa Matsuba (60 years old) has been recognized by the Society for Preservation of Japanese Art Swords as being of the highest rank of swordsmith (able to present swords at exhibitions without needing to be checked by anyone). In his workshop, traditional Japanese swords are made by heating steel to 1300 or 1400 degrees, repeatedly folding and striking the metal to forge resilient blades.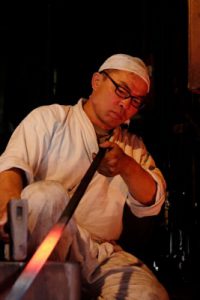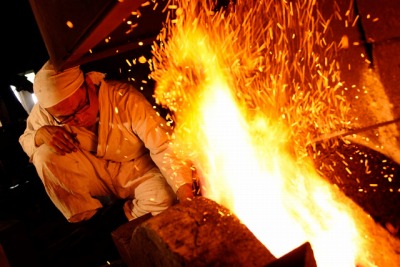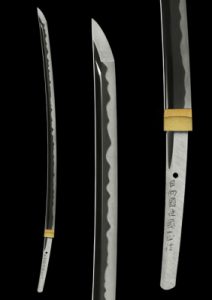 According to Mr. Matsuba, striving for a beautiful blade and viewing it as an art piece is something unique to Japanese swords: "In the 1000 years since the beginning of the warrior class, these swords have grown beyond their meaning as a tool for fighting, and been passed on to the current age."
There are many overseas fans of Mr. Matsuba's swords in the US and Europe, particularly in France and Germany, and over 200 pieces of his are owned by foreign collectors. Mr. Matsuba has travelled overseas to perform martial arts demonstrations with swords, and has worked to spread awareness of the beauty of Japanese swords. "With the population of Japan declining, the market is shrinking further and further. By promoting them overseas, this decline can be made up for. In order for the younger generations of swordsmiths to be able to make a living, the overseas market is important."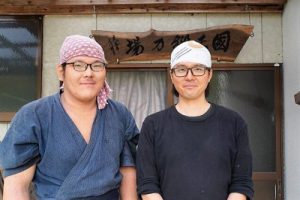 There are three young apprentices who sought the opportunity to train at Mr. Matsuba's workshop. Keiichiro Tomioka (35), after graduating from art school, worked in Tokyo as a web designer, but unable to give up on his desire to become a swordsmith he became Mr. Matsuba's apprentice at the age of 30. Mr. Masaaki Sugitani (22), who became an apprentice only this year, first worked as a caregiver before following his childhood dream of becoming a swordsmith. Mr. Matsuba has accepted these young apprentices and is teaching them his techniques.
◆The tour will visit the workshop of Mr. Kunimasa Matsuba, and be able to see how Japanese swords are made, such as beating steel with a hammer as sparks fly. There will also be an opportunity to speak with the young apprentices who have decided to become swordsmiths. There will also be a demonstration of cutting objects with a Japanese sword by Mr. Matsuba, who is also an accomplished martial artist.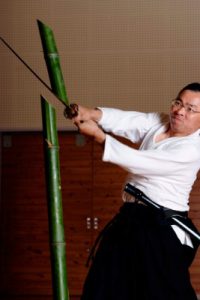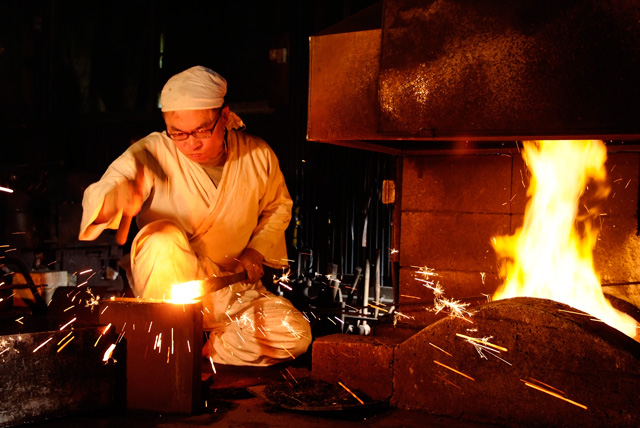 [ 2 ] The Skills of an Armorer Who Helped Kendo Become Popular in Europe
Nippon Budo Miyazaki, Mr. Ryuzo Tada
The "equipment doctor" relied on by top athletes around the world
Kendo is a martial art in which two people wearing protective equipment exchange blows using shinai (bamboo swords).
There are over 192,000 people in Japan who have acquired a kendo rank, but kendo is also growing more popular overseas as well. When the International Kendo Federation was established in 1970, it had 17 affiliate countries, but now that number has increased to 59, and there were 631 participants (from 56 countries and regions) in the 2018 World Kendo Championship, the most ever.
Kendo has long been popular in Kyushu. In the last ten All-Japan Kendo Championships, where the top practitioner of kendo in Japan is decided, the winner has been from Kyushu eight times. There are many kendo dojos in Miyazaki, and it is a center for the production of kendo equipment.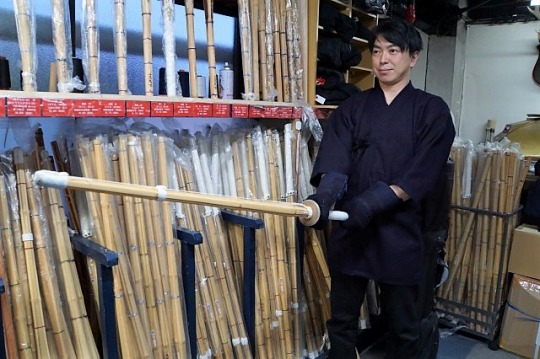 The owner of Nippon Budo Miyazaki, a kendo equipment shop in Miyazaki, Mr. Ryuzo Tada (42) is a seventh-dan practitioner of kendo (with eighth dan being the highest rank), and is also active as an instructor. Since 20 years ago, when he was in Europe while he was a student, he is asked by overseas kendo practitioners to repair their equipment. Few people in Europe had the knowhow to repair their equipment, and so many people were using equipment that was in poor condition. Since his grandfather made kendo equipment, and Mr. Tada had learned from him, he began to carry out equipment repairs and exports of equipment from Japan for kendo practitioners in various countries such as France, which performs well in kendo internationally.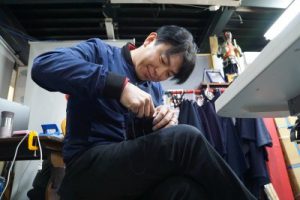 Kendo equipment is said to fit best when it has been worn in, and so is in danger of breaking. This means that top kendo practitioners tend to use the most well-worn equipment, making repairs very important to them, and Mr. Tada is relied on by practitioners from various countries as the "kendo equipment doctor." With clients including members of national teams, Mr. Tada has customers from around the world, including France, Hungary, Indonesia, Italy, Malaysia, Singapore, South Korea, and the UK. Having supported the spread of kendo overseas with his handiwork, Mr. Tada also manufactures made-to-order kote, kendo hand protectors.
Top kendo athletes from around the world visit Mr. Tada's shop in Miyazaki. In 2018, the French Kendo Federation's national team relied on Mr. Tada when they stayed in Miyazaki and carried out a training camp ahead of the world championship. Mr. Tada intends to promote "budo (martial arts) tourism" in Miyazaki, the birthplace of swordsmanship (see section [4]) and a martial arts mecca, allowing foreign tourists to have fun experiencing marital arts.
——————————————————————————————
About Budo Tourism:
Since 2018, the Japan Sports Agency of the Japanese government has been promoting budo tourism, in which foreign tourists are given the opportunity to watch or try martial arts. According to a survey of people in seven different countries/regions who had visited Japan carried out by the Japan Sports Agency on what sports they would like to experience while in Japan, there was high interest in martial arts such as judo, karate, kendo, and aikido from respondents in China (over 50%), Hong Kong, Thailand, and the US (all over 30%).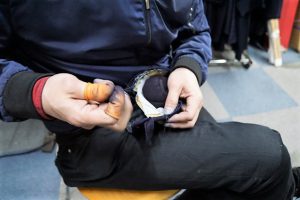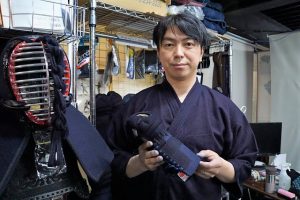 ◆The tour will visit the workshop of Mr. Tada and hear about his interactions with foreign kendo practitioners, as well as seeing him make a kote by hand.
[ 3 ] Passing Kendo on to the Next Generation
Miyazaki Senshinkan Dojo Instructor, Mr. Tatsumi Iwakiri (66)
Twelve elementary school students (7 to 11 years old)
Children learning to respect others through kendo
At the Miyazaki Senshinkan Dojo, a kendo dojo established in 1975, twelve elementary school students from the ages of seven to eleven are learning kendo.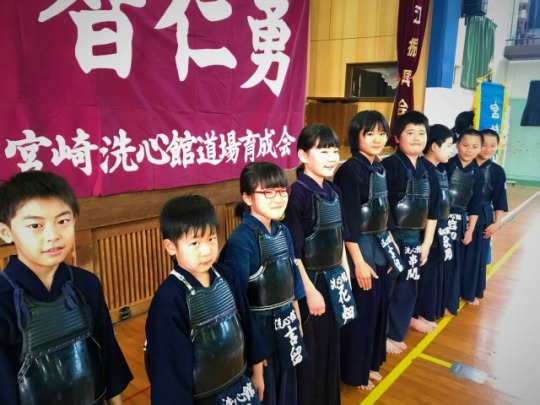 Mr. Tatsumi Iwakiri, a 66-year-old instructor, places an emphasis on the children "learning manners, building character, and valuing their friends" while teaching them kendo, saying that he wants them to inherit the martial arts spirit of respecting your opponent. He also commented that even as the number of students decreases with the declining birthrate, he would like to train his students to practice kendo over the long term, by providing detailed instruction.
The children in Miyazaki, a martial arts mecca, are inheriting the spirit of martial arts.
◆The tour will visit the dojo, and have an opportunity to film and photograph the children practicing. There will also be an interview with Mr. Iwakiri and the children, about how kendo is being passed on to the next generation.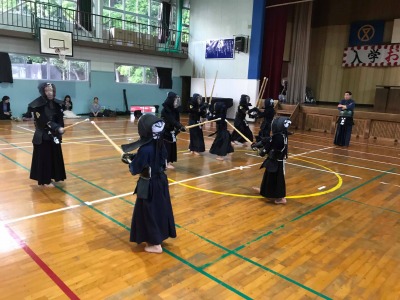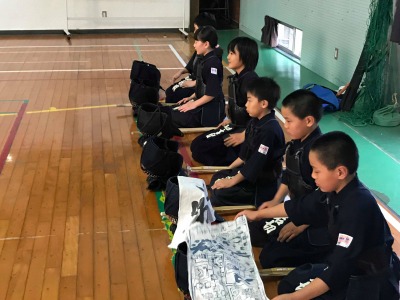 [ 4 ] A Martial Arts Mecca, Known as the Birthplace of Swordsmanship
Udo Jingu
Kage-ryu is one of the original schools of Japanese swordsmanship.
It is said that the shrine Udo Jingu is where Kage-ryu was originally developed, near the end of the 15th century. Iko Aisu, a swordsman who travelled around Japan training, is said to have developed Kage-ryu after receiving a divine revelation at Udo Jingu. Based on this legend, this area has become a mecca for enthusiasts of Japanese martial arts, and has been visited by people from around the world, including the French Kendo Federation national team.

Miyazaki is home to many Japanese origin myths. According to the Kojiki, which contains many legends and myths and was compiled in 712, Ninigi-no-Mikoto, the grandson of the goddess Amaterasu-Omikami, the mythical ancestor of the imperial family, was sent to pacify Japan, bringing with him the three imperial regalia. The spot where he descended from the heavens is said to be in Miyazaki. 
Udo Jingu is said to be where Ninigi-no-Mikoto's son's wife gave birth to a child, and the shrine is still popular as a place to pray for safe births and finding love. 
◆The tour will visit Udo Jingu, and hear about the shrine from a priest along with having the opportunity to film and photograph it.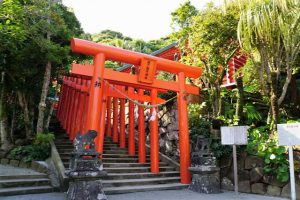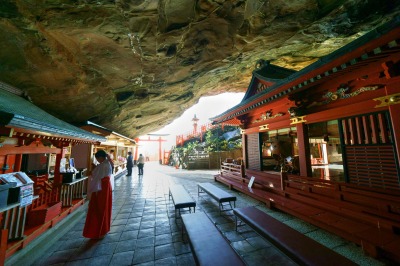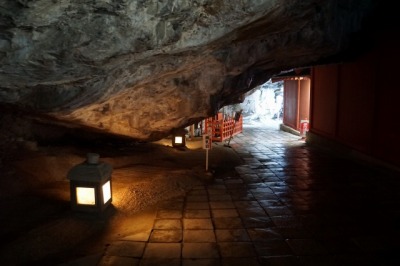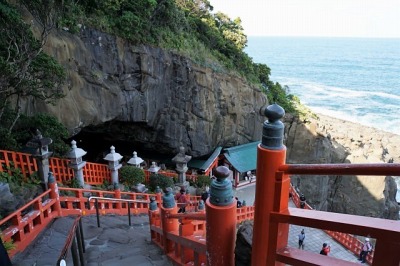 II. The Ultimate Eco-Friendly Liquor Production and Electricity Generation with Sweet Potato Waste in the No. 1 Shochu Producing Region in Japan
[ 1 ] Cyclical Liquor Production and Sweet Potato Electricity Generation Using Waste Products to Create Biogas by Japan's No. 1 Shochu Maker
Kirishima Shuzo

The shochu served at the Academy Awards after-party is the ultimate eco-friendly liquor
http://www.kirishima-global.com/co/en/about/
With the value of sake exports in 2018 rising to 22.2 billion yen, triple what it was ten years ago and its highest level yet, sake continues to be popular overseas. However, shochu ("distilled liquor") is actually drunk more often in Japan than sake ("brewed liquor"). For the fiscal year of 2017, the domestic consumption of sake was 556,000 kiloliters, while the consumption of shochu was nearly 50% more, at 816,000 kiloliters. The government and businesses have been working together to promote exports of shochu in order to follow up on the popularity of sake.
Miyazaki Prefecture is the largest producer of shochu in Japan.
Kirishima Shuzo, with its head office in Miyazaki and known for its shochu made using sweet potatoes (satsuma-imo), is the top shochu maker in Japan, with the highest sales in the country. Kirishima's shochu became known for having been served at the Academy Awards after-party two years in a row, in 2018 and 2019. Kirishima Shuzo carries out the ultimate eco-friendly liquor production, which cannot be seen elsewhere.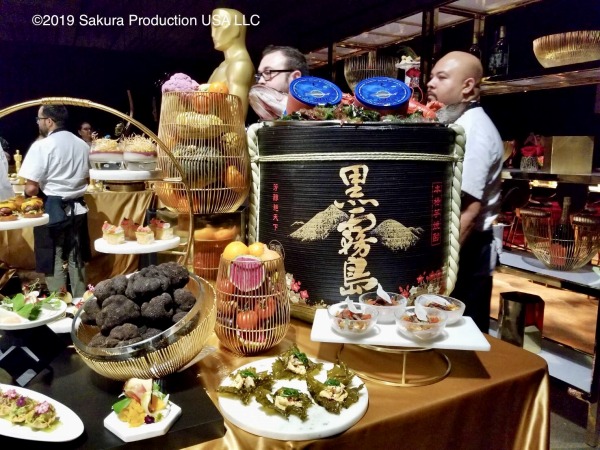 (Photo provided by Kirishima Shuzo) Press preview of the Academy Awards after-party 
Kirishima Shuzo makes 160,000 bottles (each bottle being 1.8 liters) of shochu every day, using 425 tons of sweet potatoes. The potato scraps and shochu lees left over from that process are not discarded, and are instead used to produce biogas through methane fermentation. As a whole, the company produces approximately 34,000 square meters of biogas per day (enough to cover the electricity consumption of 22,000 average households). This biogas is then used to heat the boilers used in the process of making shochu. 
The company also uses the biogas to generate electricity, producing enough for the consumption costs of about 2,400 households per day, and provides that electricity to a power company. The dregs left over after biogas production are made into fertilizer for the fields where the sweet potatoes used to make the shochu are grown. In this way, Kirishima Shuzo has incorporated a resource cycle into their shochu production. They also take in the leftovers from shochu production of other producers in the area to convert into biogas. 
Kirishima Shuzo exports its shochu to the US and Asia, in particular China, but with the attention which will come to Japan with the 2020 Tokyo Olympic and Paralympic Games and considering the shrinking of the domestic market, the company plans to put a greater focus on overseas sales moving forward. 
◆The tour will visit Kirishima Shuzo's plant in Shibita, and after hearing about the biogas production and electricity generation, the tour will see the recycling plant. The tour will also hear about Kirishima Shuzo's plans for overseas sales, with the increased attention Japan will be receiving due to the 2020 Games. (The tour will also eat lunch at a restaurant run by Kirishima Shuzo, with menu items such as bread made using shochu yeast.)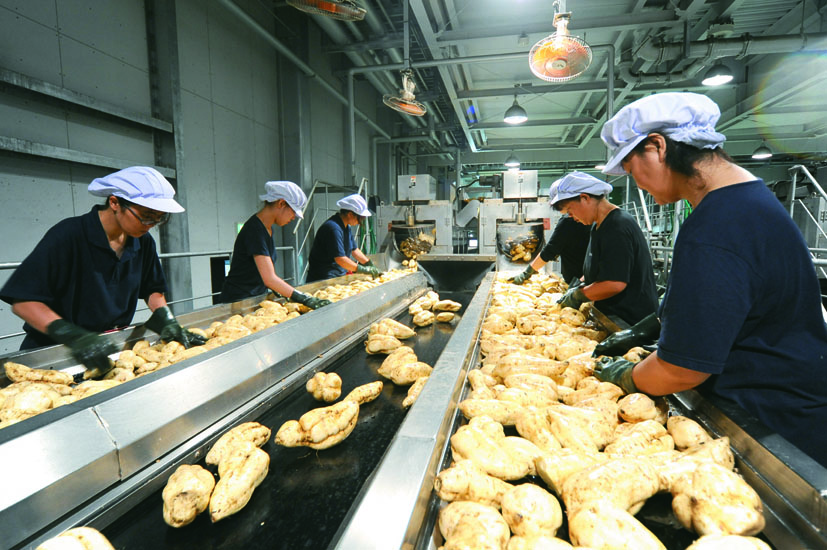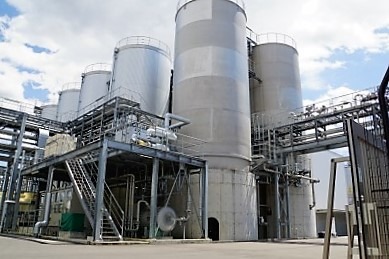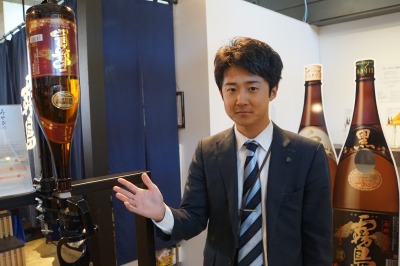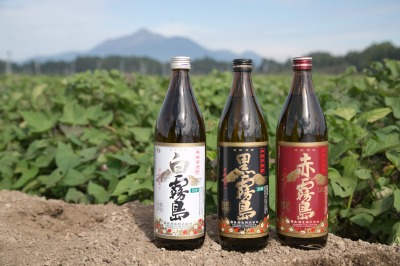 [ 2 ] Displaying Traditional Shochu-making Techniques
Oura Shuzo, President Shin'ichi Oura
https://www.dareyami.jp/brewery/oura/
In Miyazaki, the No. 1 shochu-producing region in Japan, there are a variety of different methods of shochu production, from the largest maker of shochu in Japan producing a huge volume, to small artisanal distilleries preserving traditional techniques. 
Oura Shuzo was founded in 1909, and is a small family-run distillery that uses the traditional method of preparing shochu using ceramic pots. With an annual production volume of only 50,000 bottles, only small amounts are made each time, but by changing the type of sweet potato and yeast used, they create unique flavors used to differentiate their product. In May, they plan to begin selling a limited run of shochu made using sweet potatoes fermented with wine yeast.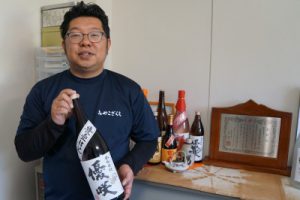 As buying cheaply at high volumes became popular, their sales declined and they temporarily closed, but with the trend shifting to valuing unique shochu with added value made in small volumes, they began making shochu again. Oura Shuzo has found dedicated fans, particularly around the Tokyo area. Mr. Shin'ichi Oura (43), the fourth-generation owner, returned to take over the family business despite having been training as a Buddhist monk at Mt. Koya.
Oura Shuzo is a unique place, where visitors can come to try out making shochu. With a reservation, it is possible to experience the most important part of the process, kneading the koji mold into steamed rice. Since handling the koij mold is vital to the quality of the liquor produced, it is usually not possible for outsiders to even see it. However, wanting to allow as many people as possible to understand the traditional process for making shochu, Oura Shuzo decided to allow visitors to experience the process. 
◆The tour will visit Oura Shuzo, and learn about traditional shochu-making techniques while interviewing Mr. Oura. 
**Since avoiding mold and bacteria is critical to the shochu-making process, press tour participants should avoid eating natto or yogurt starting the day before the tour.
III. The Land of Japan's Origin Myths
[ 1 ] A Mystical Island Protected as the Setting of Myths
Aoshima
https://aoshima-jinja.jp/
http://www.miyazaki-city.tourism.or.jp/en/sightseeing/spcat01/spot01.html
Aoshima is a small island surrounded by unique rock formations known as "oni no sentakuita (devil's washboard)," with a circumference of around 1.5 kilometers. This island is where myths about love and sibling rivalry involving the great-grandson of the sun goddess Amaterasu, said to be the ancestor of the imperial family, are set. People were forbidden to enter the island until 1737, as it was worshipped as a holy place, and so there is a noticeable contrast between the lush foliage and the bright red Aoshima Shrine.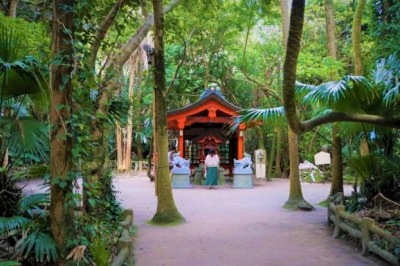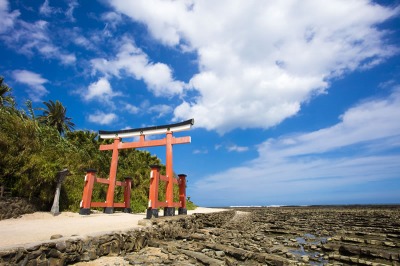 The island is home to a variety of subtropical plants, rare for Japan. Explanations include seeds or plants being carried to the island from the south by the Kuroshio Current, or more likely, that plants which could handle high heat and that were widely distributed up to the Neogene period (23.03 million years ago to 2.58 million years ago) remained on the island due to its warm temperatures even after the climate changed. These plants are designated as Special Natural Monuments by the Japanese government. Aoshima is also ranked as a two-star spot by the Michelin Green Guide Japan. 
Aoshima became an incredibly popular honeymoon destination in the 1960s and 70s, after the daughter of Emperor Hirohito went there on her honeymoon in 1960. As overseas holidays were not common at that time, the subtropical scenery of Aoshima became a top destination. 
◆The tour will visit Aoshima and listen to an explanation from a priest while having the opportunity to film and photograph.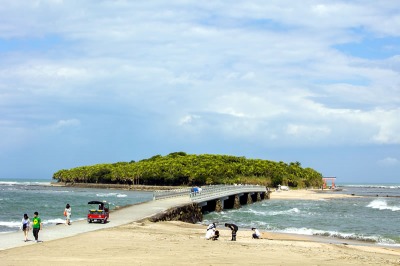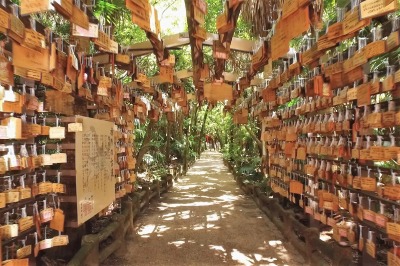 IV. Miyazaki, Site of 2020 Tokyo Olympics and Paralympics Training Camps
[ 1 ] Where Professional and Olympic Athletes Train
Miyazaki Prefectural Comprehensive Sports Park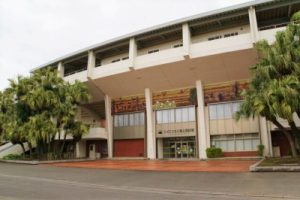 https://www.miyazaki-spokyo.jp/sougou/
https://www.kanko-miyazaki.jp/sports/camp/training_camp/track_and_field.html
Miyazaki is where many of Japan's sports training camps are held. The prefecture has been promoting the Sports Land Miyazaki initiative to encourage teams from outside the prefecture to hold camps there and stimulate the local economy, and has built numerous sports facilities.
In the 2019 spring season, 8 professional baseball teams (including the Fukuoka SoftBank Hawks, who have won the Japan Series two years in a row) and 17 professional soccer teams from Japan and South Korea are holding training camps in Miyazaki.
One of Miyazaki's main sports facilities is the Miyazaki Prefectural Comprehensive Sports Park. With a total area of 154 hectares, the park includes a variety of facilities for both training and competing, including an athletics field, baseball field, soccer field, rugby field, indoor pool, and martial arts facility. 
◆The tour will visit the Miyazaki Prefectural Comprehensive Sports Park and hear an explanation from a Miyazaki Prefecture official, as well as having an opportunity to film and photograph sports such as the athletics field.
【Tour Itinerary】
1. Date : Wednesday, May 29-Thursday, May 30, 2019 (1 night, 2 days)
<Day 1: Wednesday, May 29>
| | |
| --- | --- |
| 7:35 | Depart Haneda Airport |
| 9:20 | Arrive at Miyazaki Airport |
| 10:45~12:45 | Swordsmith, Mr. Kunimasa Matsuba (Production/Cutting demonstration) |
| 12:45~13:30 | Lunch |
| 15:00~16:15 | Mr. Ryuzo Tada, Nippon Budo Miyazaki, Kendo Armorer  (Kote making) |
| 16:30~17:15 | Miyazaki Prefectural Comprehensive Sports Park (Training facilities) |
| 17:30~18:30 | Kendo Dojo (Instructor and students) |
| 19:00 | Arrive at Hotel |
| | Briefing by Miyazaki Pref. Officials/Dinner |
| | Stay Overnight in Miyazaki City |
<Day 2: Thursday, May 30>
| | |
| --- | --- |
| 9:15 | Leave Hotel |
| 10:30~11:30 | Oura Shuzo, Traditional Shochu Manufacturer |
| 11:45~12:45 | Lunch in Kirishima Shuzo's Restaurant |
| 12:45~14:15 | Kirishima Shuzo (Shochu manufacturing/Bio gas production) |
| 15:15~16:30 | Udo Jingu, Martial Arts Mecca, Birthplace of Swordsmanship |
| 17:00~18:00 | Aoshima, Mystical Island Protected as the Setting of Myths |
| 18:00-18:45 | TBD |
| 19:10 | Miyazaki Airport |
| 20:10 | Depart Miyazaki Airport |
| 21:45 | Arrive at Haneda Airport |
2. Qualification: Bearer of Gaimusho Press Registration Card
3. Cost: 15,000 yen per person including transportation accommodation and meal (FPCJ will later inform the participants of methods for payment, cancellation fee, etc.)
*Those who wish to stay at the airport hotel on Thursday night, the cost will be covered by the organizer.
4. Participants: Limited to 10 applicants.
*If the number of applicants exceeds 10, an upper limit may be set on the number of participants from each country/region.
5. FPCJ Contact:  Ms. Chika Yoshida (Tel: 03-3501-5251)
6. Remarks:
(1) There may be some restrictions on photographing and filming at the tour sites. Please follow the instructions of the officials on duty.
(2) Miyazaki Prefecture and FPCJ will not be liable for any inconvenience, trouble or accidents that might occur during the tour.
(3) This press tour will require participants to bear part of the cost, but is not a profit-making venture.