International Exchange
[Notice] Kyushu (Kumamoto/Oita) Press Tour (July 2019)
Kumamoto Prefecture, Working on a "Creative Restoration" from Earthquakes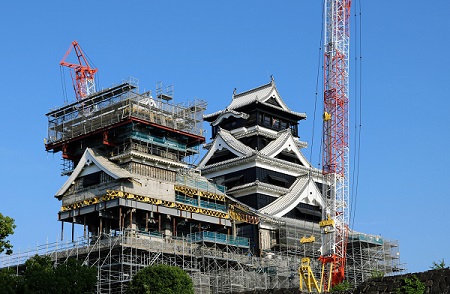 This April marked three years since the 2016 Kumamoto earthquakes which caused significant damage. Kumamoto has called for a "creative restoration," with reconstruction efforts proceeding in a number of areas including people's daily lives, infrastructure, and industry.
Although many of the roof tiles and the shachihoko roof ornaments fell from the 32-meter main tower of Kumamoto Castle during the earthquakes, the restoration of its exterior is almost complete. There are plans to open a route for the public to see the tower up close as a special event in October of this year, so preparations are underway to welcome tourists from around the world who will be visiting Kyushu for the Rugby World Cup starting in late September. Restoration of the castle's stone walls is also underway, using the latest image processing technology to return each stone to its original position. This will be a long-term restoration process, expected to take 20 years for the castle as a whole.
One of Kyushu's greatest attractions is its bountiful nature and the way people live side-by-side with volcanoes. This is best represented by Mount Aso, with one of the largest caldera in the world. Aso Shrine, home to the guardian deity of the volcano, has 2,300 years of history, but its romon (gate) and haiden (worship hall), which are symbols of the shrine, collapsed in the earthquakes three years ago. Restoration of five out of six of the Important Cultural Properties that were damaged has been completed, and work will begin on the romon this summer. While incorporating supporting materials that are also used for modern brick buildings, the original wooden materials of the collapsed structure will be used as much as possible to restore it over the course of five years.
Kyushu accounts for 20% of Japan's agricultural production. Kumamoto in particular has a thriving agriculture industry, and is home to a brewery who hopes to export "Made in Kumamoto" beer brewed with local products. He began brewing beer after the Kumamoto earthquakes, and decided to try brewing beers with local products thanks to a collaborative project to stimulate agriculture between Koshi City (where agriculture is plentiful), the agricultural corporation of a renewable energy company, and local businesses.
Through this project, Kyushu craft beer made using local specialties has been gaining attention, such as Halo Kumamoto Beer, made using the licorice Koshi is known for.
Kyushu's Famous Hita Gion Festival (UNESCO Intangible Cultural Heritage) Lighting the Night Sky with Gorgeous Floats (Hita, Oita)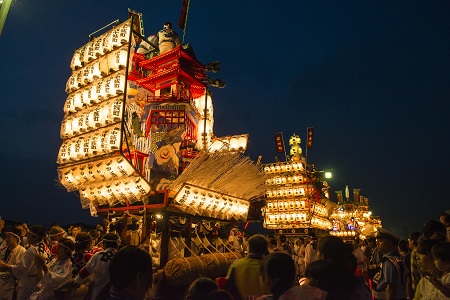 Although the bountiful nature in Kyushu provides many benefits, it has also brought many disasters to the area. The Hita Gion Festival in Hita, Oita has been held for over 300 years in order to pray for protection from disasters and disease. In the Edo period (1603-1868), Hita was a transport hub and prospered as an area under direct control of the shogunate, and the gorgeously decorated 10-meter tall floats (yamaboko) used in the Hita Gion Festival show that influence. It was one of 33 festivals throughout Japan added in 2016 to the UNESCO Intangible Cultural Heritage List as "Yama, Hoko, Yatai, float festivals in Japan." There will be ten matches held in three of Kyushu's prefectures during the Rugby World Cup starting in September this year, and at the end of September, an event called Festival Island Kyushu is also planned in which 41 festivals from throughout Kyushu, including the Hita Gion Festival, will all gather together in Kumamoto City.
This tour will visit Kumamoto and Oita. In Kumamoto, in addition to an interview with Governor Kabashima, who is leading the prefecture's creative restoration, the tour will visit sites undergoing reconstruction such as Kumamoto Castle and Aso Shrine and see how Cultural Properties are being repaired while incorporating the latest technology. The tour will also learn about the production of a local craft beer using ingredients grown in Kumamoto, which has a large agriculture industry, and a new project to revitalize agriculture in the region through the development of renewable energy. In Oita, the tour will visit Hita, speak with the locals who support the Hita Gion Festival, and see the impressive sight of all the decorate floats gathered together in one spot.
Tour Details
---
―Kumamoto Working on "Creative Restoration" from Earthquakes―
1. Interview with Kumamoto Governor Ikuo Kabashima
There was significant damage from the 2016 Kumamoto earthquakes, including over 40,000 homes being badly damaged or destroyed, and the 205-meter long and 8-meter wide Aso Ohashi Bridge collapsing due to a major landslide. Governor Kabashima has described three rules for reconstruction: 1) Minimizing the pain of people affected by disaster, 2) Creative restoration to "build back better," and 3) Connecting reconstruction to the further development of Kumamoto. Following these rules, he has been working to rebuild homes, restore access routes to Aso, and prepare an entryway connecting to the world (connecting Aso Kumamoto Airport seamlessly to domestic and international routes, making Yatsushiro into a main port for cruises).
Governor Kabashima will speak about the state of the creative restoration and his vision for the development of Kumamoto.
2. Kumamoto Castle and Aso Shrine, Applying New Technology to Repair Cultural Properties Using the Original Materials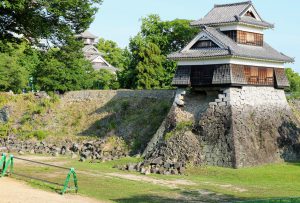 Approximately 30% of the 79,000 square meters of stone wall in Kumamoto Castle was damaged in the earthquakes, with 100,000 stones falling or being damaged. Since the original materials should be used when possible for the restoration of Cultural Properties, the fallen stones must be returned to their original position. This work is being sped up by a system to identify where stones were used in the wall. Toppan Printing Co., Ltd. collected data of the stone walls when creating a virtual reality video of Kumamoto Castle, and combined with Kumamoto University's image processing technology it is possible to automatically determine where a stone was located in the wall using a picture of that fallen stone. The accuracy of this system has already been tested with the restoration of the stone walls of the castle's Iidamaru Gokai Yagura tower, and its identification of the positions of about 90% of the 471 stones which had fallen there agreed with the positions determined by Kumamoto City workers. It also identified the correct positions for 60 stones which the human workers were unable to do by sight.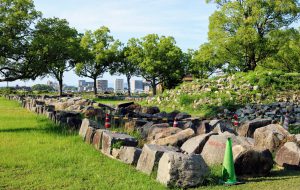 According to Kumamoto University, which developed this system, they have been contacted about restoring the stone walls of the Imperial Palace as well. With the fire at the Notre-Dame Cathedral in France this April, they expect interest in the preservation and restoration of cultural properties will continue to increase, and the university's research team stated their hope that this system could become a case study referenced around the world.
Using a three-dimensional model of Kumamoto Castle, there will be an explanation of the damage such as where stone walls and roof tiles fell, and collapsed towers, as well as an overview of the restoration work. Guided by staff from the Kumamoto Castle General Office, the tour will be able to film and photograph the reconstruction work being down on stone walls and the main tower. Professor Masashi Toda of the Kumamoto University Center for Management of Information Technologies will explain the stone identification system.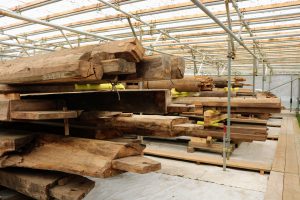 Aso Shrine suffered significant damage from the earthquakes, with the worship hall collapsing, as did the two-story, 18-meter high romon (one of Japan's Three Great Romon), as well as damage to other structures. Restoration of the other five Important Cultural Properties at the shrine was completed by the end of March this year, and the five-year project to restore the romon will begin this August. Although some of the materials used in the romon were broken or badly damaged, by using aramid rods, rods which are used for reinforcement in brick construction, in a new method for construction pieces of wood can be joined together, enabling about 70% of the original material to be reused. The restoration of all the Important Cultural Properties at the shrine will require a huge sum of money, with approximately 1.36 billion yen in government aid to be provided. The shrine will have to pay itself to repair the worship hall and other structures not designated as Cultural Properties, and so far have collected 800 million yen in donations.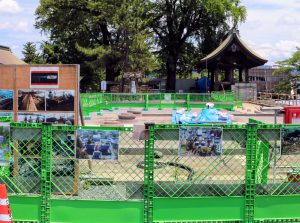 The tour will visit Aso Shrine, and hear from Mr. Hidetaka Ikeura, a priest, about the damage and the state of reconstruction. Mr. Hirofumi Okawabata from the Japanese Association for Conservation of Architectural Monuments, who is managing the restoration work, will explain how new methods are being used to restore cultural properties. There will also be an opportunity to film and photograph the materials to be used in the restoration of the romon.
3. A New Brand starting from Kyushu Combining Renewable Energy and Agriculture
Craft Beer Made Using Agricultural Products Grown in Kumamoto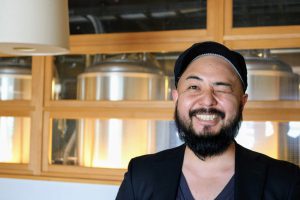 After the Kumamoto earthquakes, Mr. Yusaku Kashima (37), president of Diamond Brewing, decided to start making craft beer using local agricultural products. Having traveled to 30 countries around the world during his twenties, Mr. Kashima was entranced by "how people could overcome barriers of nationality and language and connect through beer," and ran a restaurant in Kumamoto City where people could enjoy beer from around the world. After the earthquakes, he helped provide meals for victims of the disaster and was impressed by the variety of agricultural products being sent from around Kumamoto, encouraging him to start on his long-held dream of making his own original beer using Kumamoto agricultural products. He received his brewing license in 2018, and made a small brewery in a corner of his restaurant with three 250 liter tanks.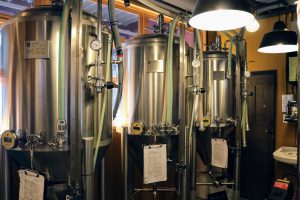 So far, he has made craft beer using between 40 and 50 additional ingredients such as cucumber and burdock root, and recently has even begun to receive brewing requests from outside the prefecture. In exchange for ingredients, he will brew the beer for free, and bottles the finished beer by hand. Although there is almost no profit from individual beer sales, the company views it as advertising, and hopes to make its 100th variety of craft beer this year. After collecting over 6.6 million yen through crowdfunding, he will open a new restaurant in July with double the seating of the current one. With exporting as a consideration, he also plans to build a factory to make canned beer within three years. Working towards his dream of a beer made 100% in Kumamoto, he has also recently finished deciding on a place to grow hops, a key ingredient in beer that he has had to import until now.
The first request Mr. Kashima received to brew beer was several months after the earthquakes. Shizen Energy, an energy company which specializes in renewable energy, asked him to make a beer using products grown in Koshi, Kumamoto. Since he did not yet have his own facilities at the time, Mr. Kashima used the one-million-yen recipe development fee he received to rent brewing facilities from another company and test recipes using ingredients such as mango and watermelon. Eventually, he completed a beer using licorice, a specialty of Koshi. The recipe development fee came from a fund contributed to by the Shizen Energy Group's agricultural company Shizen Energy Farm, Kumamoto Flour Milling Co., Ltd., and the City of Koshi.
Shizen Energy and the Koshi Agriculture Vitality Project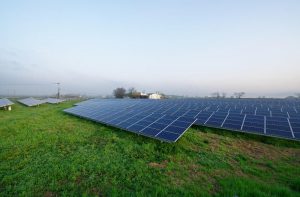 Shizen Energy was established in 2011, and is involved in solar, wind, and hydro power projects throughout Japan, with all the projects they are involved in having reached a total output of one gigawatt (equivalent to the output of a nuclear power plant) in January 2019. To ensure the power stations the company has developed have roots in the community, they have created a project to return profits to the community by supporting local industry.
A key example of this is the Koshi Agriculture Vitality Project. The City of Koshi, Shizen Energy Farm, and Kumamoto Flour Milling (a company located in Koshi and the owner of Shizen Energy's Mega Solar No. 1) formed a limited liability company, which built and runs the Koshi Agriculture Vitality Project Solar Power Station. Some of the dividends and proceeds from electricity sales are provided to help support agriculture in Koshi. As "defensive agriculture," 5% (about two million yen) of electricity sales are used for infrastructure maintenance and improvement. As "offensive agriculture," some of the dividends received by the three members of the limited liability companies involved in the Koshi Agriculture Vitality Fund (total about five million yen) is provided as support for new challenges in the agriculture industry. This project won the Solar Power of the Year award at the Asian Power Awards 2015, as a project demonstrating a cutting edge example for the energy industry in Asia.
Koshi has a population of 62,000. The city collaborated with private companies to build a power station and sell power for 20 years, a long-term project. With Kikuyo located to its southeast and Kumamoto City to its south, Koshi's population has been growing due to being alongside these two centers of development, and it has the highest population growth rate in the prefecture, at 1.64%. Koshi ranked No. 1 as the easiest place to live in Kyushu in 2015, 2016, 2017, and 2019 (ranking by Toyo Keizai), and with 18% of its population aged between 0 and 14 (2017), this is higher than the national average of 12.2% (2018). The main industry in the city is agriculture, and it has been gaining popularity in recent years as a "convenient rural town."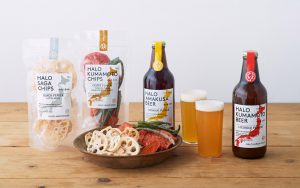 After developing the craft beer using Koshi licorice, Mr. Kashima also developed a beer using bankan, a type of citrus, grown in Amakusa, Kumamoto. These were released last fall as the first original products of the Halo Japan Food brand, a brand by Shizen Energy Farm with the motto of "renewable energy and agriculture." They were popular enough to sell out immediately at retailers within the prefecture. The brand has also released chips made using Koshi vegetables and lotus root from Saga Prefecture.
The tour will visit the Koshi Agriculture Vitality Project Solar Power Plant and be able to film and photograph solar panels which can generate up to one megawatt of power.
The tour will then visit Brewery Kaen, the restaurant run by Mr. Kashima in Kumamoto City, and be able to film and photograph the facilities used to make craft beer using local agricultural products. This will be followed by a group interview with Mr. Kashima, Shizen Energy's Solar Development Dept. General Manager Takayuki Kasama and Mr. Kota Takao (in charge of the project to return profits to the community), and Koshi Vice-Mayor Yoshinari Hamada.
―Kyushu's Famous Hita Gion Festival (UNESCO Intangible Cultural Heritage) Lighting the Night Sky with Gorgeous Floats (Hita, Oita)―
The Impressive Sight of Nine Floats All Gathered in One Place
The Hita Gion festival is said to be based on ceremonies held since over four or five hundred years ago at the Gion Shrine, where a deity said to stop epidemics is worshipped. Approximately 300 years ago, a small float was made, and the locals walked through the town playing drums and small gongs. Nowadays, a total of nine floats, including one float from each of the eight neighborhoods in the city, and a ten-meter-tall "Heisei float," are taken through the streets during the festival. This Heisei float was built to be used to represent Hita Gion in events outside the prefecture as well, and has participated in a festival held in Hawaii as well. On July 25, before the Hita Gion Festival is held on July 27 and 28, an event is held where all the floats are gathered in one place, lined up in front of Hita Station. With the impressive sight of the nine floats and traditional hayashi music, the event is popular with tourists every year.
People Supporting a Tradition Over 300 Years Old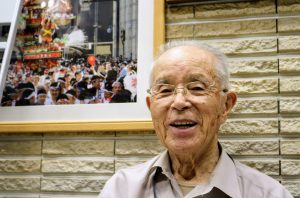 Mr. Toshio Goto, 98 years old this year, has been a key figure in the Hita Gion Festival for almost 30 years as the chair of the Hita Gion Float Promotion Society. Every year, he tells the participants to avoid any accidents, and watches over the festival. Hita has a population of 65,000, with about 33% of the population being at least 65 years old, higher than the national average of 28% (2018). In some areas of Japan, the declining and aging population means festivals' continued existence is at risk, but Mr. Goto is not worried, stating, "The Hita Gion is not getting any smaller." His grandchildren and great-grandchildren also participate in the festival. The children of Hita dream of standing at the front of the beam called bohana used to steer the floats, the stars of the Hita Gion, and pulling one of the four-ton floats. According to Mr. Goto, "That dream is helping to pass this tradition on to later generations." Remembering when he played that role himself, he laughed: "I'd like to hurry and pass the position of chair to my successor."
The floats are decorated by hand in each town, with women making flowers and the like, and men coloring the floats while considering the overall look. To finish the floats, dolls based on kabuki plays are added, making the floats even more splendid. The dolls are made by Hita's only doll maker, Mr. Shizuo Nagashima, and what kabuki scene will be used as the theme is kept secret until right before the festival every year.
The Edo Period Townscape of Mameda and Parading a Float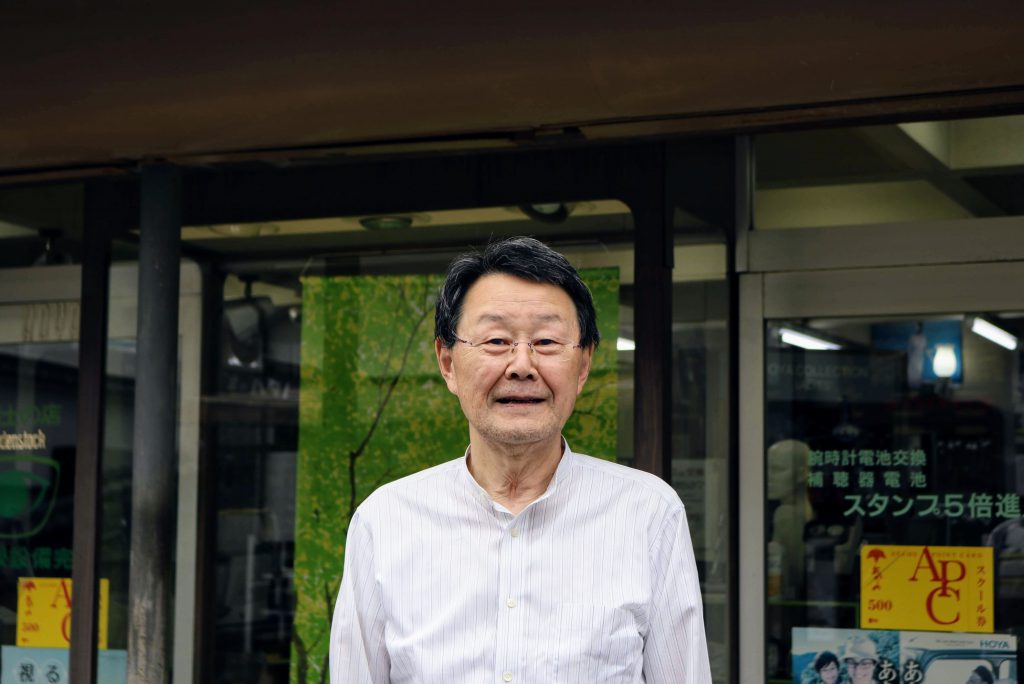 One of the eight towns that make floats for the festival, Mameda still has many buildings remaining from the late Edo and early Meiji periods, and so has been designated as an Important Preservation District for Groups of Traditional Buildings by the national government. It is called the "Little Kyoto of Kyushu." Mameda Uwamachi and Mameda Shitamachi each have a float in the festival, and with Mameda Shitamachi only beginning to participate about 30 years ago due to popular demand from residents, it is a relative newcomer to the festival. Since that time, Mr. Hitoshi Hatano (73), chair of the Mameda Shitamachi Hita Gion Float Promotion Society, has played a leading role. With a population of only around 120, Mameda Shitamachi has the smallest population of the eight participating towns, and with the effect of an aging population as well, it calls for people from as far away as Fukuoka to help pull the float. The exterior of the float was redone last year, with keyaki (Japanese elm) grown in Kyushu. Approximately 50 people are expected to participate in the group showing of the floats.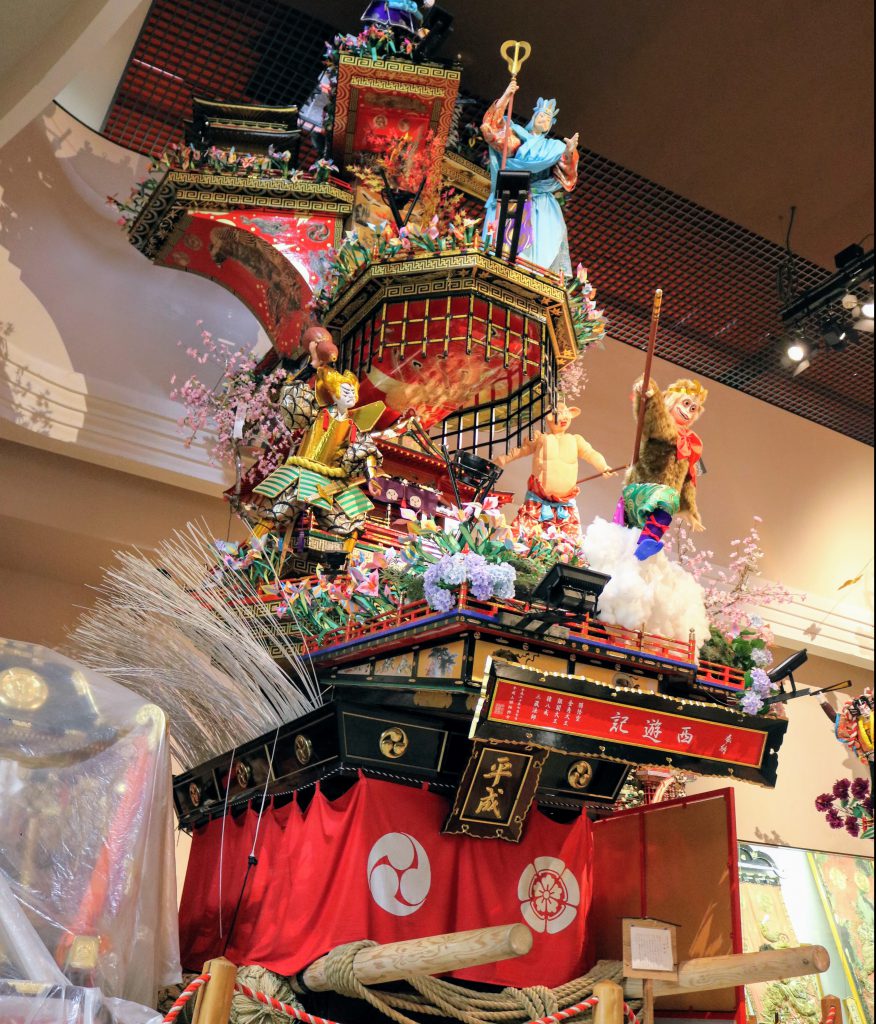 The tour will visit the Hita Gion Yamaboko Kaikan to learn about the Hita Gion Festival and film and photograph the Heisei float. Mr. Goto will speak about his feelings toward the Hita Gion Festival, and Mr. Nagashima, the doll maker, will explain this year's dolls.
The tour will then visit Mameda Shitamachi, and interview Mr. Hatano and the people pulling the float, including youths and children, before it is taken to the location for the group showing. The group will then be able to film and photograph the seven-meter-tall float as it is tilted around corners while being pulled along streets with traditional Japanese buildings.
At the location of the group float display, it will be possible to film and photograph all nine floats, and traditional hayashi performances.
[Tour Itinerary]
---
Schedule
Day 1: July 25 (Thu)
| | |
| --- | --- |
| 8:30- 10:15 | Haneda Airport-Fukuoka Airport |
| 11:50-14:00 | Hita Gion Yamaboko Kaikan |
| 14:30-16:30 | Mameda |
| 18:00-21:00 | The group float display of Hita Gion Festival |
| | Stay at Hita City |
Day 2: July 26(Fri)
| | |
| --- | --- |
| 8:30-9:30 | Aso Shrine |
| 10:40-12:15 | Kumamoto Castle |
| 13:30-14:10 | Interview with Kumamoto Governnor |
| 14:50-15:20 | Koshi Agriculture Vitality Project Solar Power Station |
| 16:00-17:50 | Brewery Kaen |
| 17:50-18:50 | Dinner |
| 20:25-22:20 | Aso Kumamot Airport- Haneda Airprt |
Qualification: Bearer of Gaimusho Press Registration Card
Cost: 15,000 Yen per person including transportation, accommodation and meals *Dinner for Day 2 excluded.
 *Information on payment and cancellation fee will be provided to participants.
Participants: Limited to 10 applicants.
(Only one reporter or one photographer from each company, but two participants from each TV team will be acceptable.)
*If the number of applicants exceeds 10, an upper limit may be set on the number of participants from each country/region.
FPCJ Contact: Ayako Sato and Misaki Omiya (Tel: 03-3501-5251 | E-mail: sc@fpcjpn.or.jp)
Remarks:
(1)This tour is organized by the Kyushu Tourism Promotion Organization and planned and operated by the FPCJ.
(2)The schedule is subject to change without notice.
(3)This tour will require participants to bear part of the cost, but is not a profit-making venture.
(4)Neither the organizer nor FPCJ will be liable for any inconvenience, trouble or accidents that might occur during the tour.
(5)There may be some restrictions on photographing and filming at the tour sites. Please follow the instructions of the staff in charge.
*The following photos are provided by the owners.*
– "Kyushu's Famous Hita Gion Festival (UNESCO Intangible Cultural Heritage) Lighting the Night Sky with Gorgeous Floats (Hita, Oita)" of the top: Oita Prefecture
– "Shizen Energy and the Koshi Agriculture Vitality Project": Shizen Energy Inc.
-"HALO JAPAN FOOD": Shizen Energy Farm Inc.