International Exchange
[Report] Tokyo Nerima Press Tour—A Town with Living Agriculture (July 2019)
With its fusion of urban and farmland while located in the metropolis of Tokyo, Nerima is a leader in urban agriculture in Japan, and from November 29 to December 1, 2019, the Urban Agriculture World Summit will be held there. The summit will invite government staff and researchers from Jakarta, London, New York, Seoul, and Toronto to discuss the role and value of urban agriculture. Ahead of the summit, this press tour covered the unique features and appeal of Nerima's urban agriculture, and the new relationship between agriculture and urban residents. Seven journalists participated in the tour, from China, France, Hong Kong/Macau, Indonesia, and South Korea.
*This press tour was sponsored by Nerima Ward, and planned and operated by Foreign Press Center Japan.
*Click here for tour details.
[Tour Summary]
<Briefing on Urban Agriculture in Nerima>
The journalists received a data-based briefing from Mr. Hisashi Kezuka, head of Nerima's Urban Agriculture Section and in charge of preparations for the Urban Agriculture World Summit. He explained how Nerima's farmland accounted for approximately 40% of the farmland in Tokyo's 23 wards, how Nerima was the largest cabbage producer in Tokyo, how there were many fruit farms including ones where visitors can pick their own fruit, and how there are many agricultural experience farms, which started in Nerima. He also explained about the Urban Agriculture World Summit. The journalists asked questions about the tax system for farmland and support for agricultural workers, measures to deal with the increasing age of farmers, the scale of the Urban Agriculture World Summit and how participating cities were selected.
<Asami Farm, a "Casual Farm" Orchard>
The tour visited Asami Farm, nearby to a subway station and surrounded by apartments in a residential area. Mr. Kiyoshi Asami, the owner of the farm, switched from growing flowers to running a blueberry picking farm. He spoke with the journalists about carefully growing chrysanthemums which were used in the opening ceremony for the 1964 Tokyo Olympics, while showing pictures. The journalists asked questions including how long the Asami family had been in agriculture, what inspired Mr. Asami to begin growing blueberries and what future plans he had, and the pros and cons of running a farm in a residential area. The group was impressed by the foresight and work ethic of Mr. Asami, who is 78 this year and has begun learning about how to grow mikan (satsuma mandarin) in preparation for when growing blueberries becomes too difficult to him.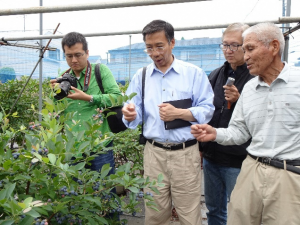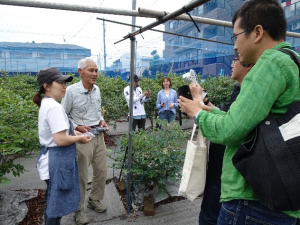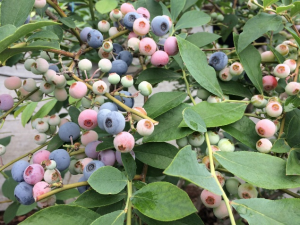 <Nishigai Farm>
The tour visited Nishigai Farm, which grows small amounts of a large variety of seasonal crops such as tomatoes, cucumbers, and edamame, along with colorful vegetables such as yellow zucchini, korinki squash, and white corn you can even eat raw. Mr. Nobuo Nishigai took over the farm, which began in the Edo period, from his father-in-law and began agriculture ten years ago, and spoke with the journalists about the appeal and value of performing agriculture in a city, and his efforts to find restaurants to sell to. The journalists asked a variety of questions, including about switching careers from an office worker to a farm owner, issues in performing agriculture in a residential area, and how he learned to farm. They were touched when Mr. Nishigai, who has five children and actively pursues new challenges, commented, "I have been able to enjoy myself doing agriculture, so I hope to pass it on to my children as well."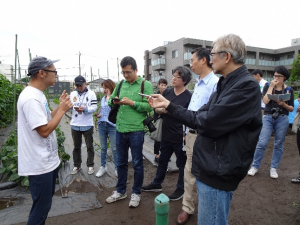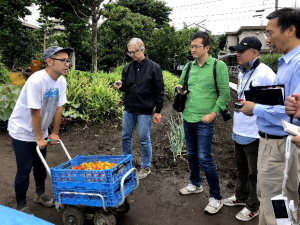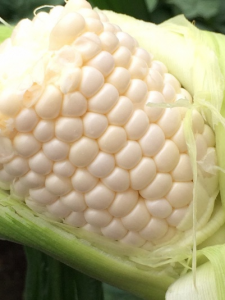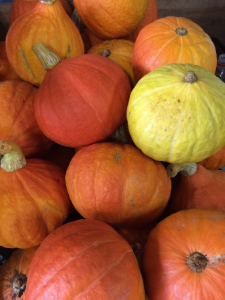 At the bistro Boncourage, which prides itself on using plenty of Nerima vegetables in its dishes, the tour ate a lunch made using a variety of fresh ingredients made in Nerima, including vegetables from Nishigai Farm and handmade miso from the local miso maker, the next stop on the tour. While enjoying delicious Nerima cuisine, the journalists heard from Boncourage's owner and vegetable sommelier, Mr. Yoshio Okoshi, about why Nerima vegetables taste so good and his cooperation with Mr. Nishigai, Boncourage's contracted farm. The group was impressed with the potential of Nerima vegetables and the efforts of this young person in the food industry.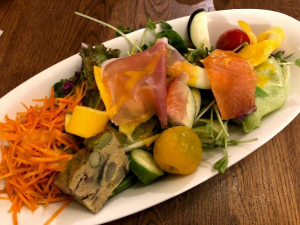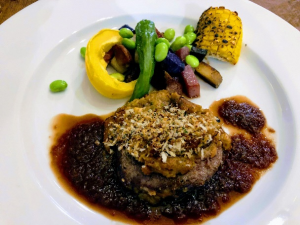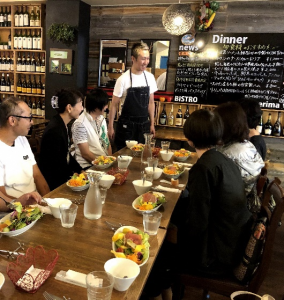 Based in Nerima since 1939, Kojiya Saburoemon is the only miso maker in Tokyo, and makes handmade miso. Mr. Masahiro Tsujita, the seventh-generation owner, described the history of miso in Japan and in Tokyo, and about the traditional handmade process for making miso. The journalists intently took pictures of the large wooden barrels that are over 100 years old, and the miso being aged within them. When asked about the meaning in continuing to be the only miso maker in Tokyo, Mr. Tsujita commented, "With the brand power of being 'the only one in Tokyo,' and the presence of wealthy consumers pursuing high quality products, the conditions are right to try new things."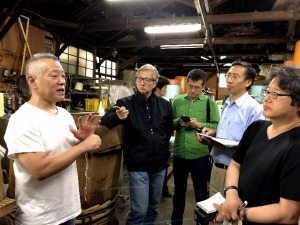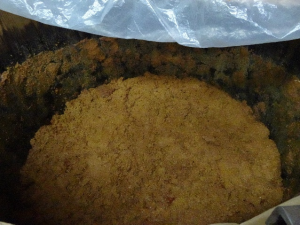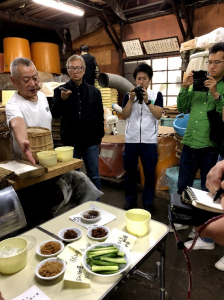 The tour visited Suzushiro Farm, run by Mr. Tadao Yoshida and his son, and covered the vegetable stand with coin-operated lockers they set up right by their field. They place vegetables harvested that day in the lockers each morning. These fresh vegetables that can be easily bought in coin lockers are popular with the locals, and many people came by looking for eggplants, tomatoes, and cucumbers while the journalists were filming and photographing the stand. The journalists asked what led to starting the coin-locker vegetable stand and what daily sales were like, while intently taking pictures of the strange sight of people buying vegetables from lockers.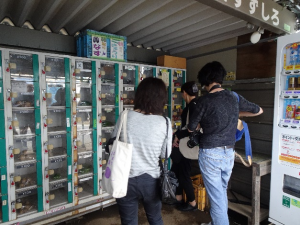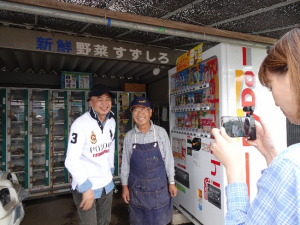 <Eco Farm Yoshida>
Using fertilizer made from manure he receives from the equestrian clubs of universities in Tokyo mixed with vegetable waste to grow vegetables while reducing the amount of chemical fertilizer used as much as possible, Eco Farm Yoshida is run by Mr. Shigeo Yoshida. He explained to the tour how he contributes to the local community by providing vegetables for school lunches and allowing classes to visit his farm. The journalists were also able to hear from local residents visiting the farm that day, who made comments such as "My child who hated vegetables would gladly eat Mr. Yoshida's vegetables. Thanks to that, now he is able to eat vegetables," and, "Thanks to the classes on the farm, now my child can tell what plant something is, such as a potato, just by looking at the sprout." The journalists asked questions about the challenges of providing vegetables for school lunches, and filmed and photographed tomatoes and edamame being grown in Mr. Yoshida's farm.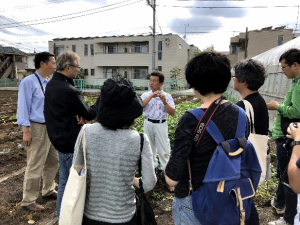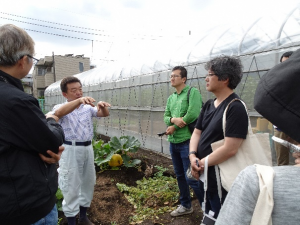 <Interview with Nerima Mayor Akio Maekawa>
In a greenhouse on Eco Farm Yoshida, the tour interviewed Nerima Mayor Akio Maekawa, hearing from him about the appeal of and future plans for urban agriculture in Nerima, laws and taxation measures necessary for farmland to continue existing in cities, issues with a lack of successors to take over urban farms, and the Urban Agriculture World Summit to be held November 29 to December 1. Speaking about the potential of Nerima's agriculture, Mr. Maekawa commented, "Agriculture in the 23 wards, along with the trend towards cities that coexist with nature, has been changing the lives of ward residents. Urban agriculture workers are passionate about expanding agriculture, and working on creative efforts and training personnel. The national government has also indicated a direction for urban agriculture to continue existing, and to that end Nerima has worked together with other local governments to revise the legal and tax systems. Nerima's agriculture is beneficial to Tokyo residents. I would like to use it as a tourism resource, and share it with other countries."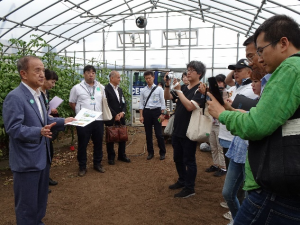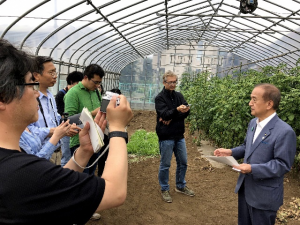 ◆Below are some of the articles and programs produced by the journalists based on this press tour.
Tribunnews.com (Indonesia/WEB)
July 9, 2019「Jagung Putih Hasil Pertanian di Kota Nerima Jepang Bisa Dikonsumsi Tanpa Dimasak」
July 9, 2019「Wali Kota Nerimaku Jepang Gelar UAWS, Berharap Bisa Tukar Pendapat dengan Indonesia」
July 11, 2019「Popularitas Pertanian Blueberry Asami Jepang Dimulai dari Nerimaku Tokyo」
July 11, 2019「Kedelai Dengan Iklim di Indonesia Dinilai Bagus untuk Membuat Miso Jepang」
July 11, 2019「Petani di Jepang Mulai Gunakan Mesin Vending Jual Sayuran Hasil Perkebunan」
World News (South Korea/Newspaper)
July 26, 2019「아침에 딴 토마토, 아이들 점심 급식으로… 도시농업의 '마법' [농어촌이 미래다-그린 라이프] – 세계일보」
July 26, 2019「뉴욕·런던 등 5개 도시 참여… 11월 세계도시농업서밋 [농어촌이 미래다-그린 라이프]」
Economic Daily (China/Newspaper)
July 29, 2019「东京城市农业花样多」
Think Hong Kong(Hong Kong/WEB)
August 26, 2019「東京觀察/城市農業可創造富裕的生活」
August 26, 2019「東京觀察:返璞歸真—農業為道!」
People's Daily(China/Newspaper)
November 19, 2019「都市农业深受民众欢迎」