International Exchange
[Notice] Tokyo University of Science Press Tour: complex disasters & biofuel cells (Sep. 2019)
*Revealing the Mechanisms of Complex Disasters
*A Smart Society Through the Development of Biofuel Cells
Few other countries suffer from as many natural disasters as Japan. There is an estimated 70% chance of a Nankai Trough earthquake and an earthquake directly underneath Tokyo occurring within the next 30 years, which would likely paralyze city functions with transportation and communication infrastructure cut off. At the same time, bigger typhoons are becoming more frequent due to climate change, as is flooding from long periods of heavy rain, and so there are concerns about complex disasters in which both earthquakes and flooding occur one after the other. In fact, two months after the April 2016 Kumamoto earthquakes the prefecture was hit by torrential rains, and the embankments along the Kiyama River burst, with subsidence from the earthquakes considered a factor. Since tsunami occur after major earthquakes, complex disasters caused by earthquakes and tsunami occurred in the 2011 Great East Japan Earthquake. The June 2018 earthquake in northern Osaka Prefecture and September 2018 Hokkaido Eastern Iburi earthquake also both involved typhoons and earthquakes in close succession, with infrastructure and communication networks severely damaged, and so determining the nature of complex disasters and how to respond to them is a priority.
<Development of Biofuel Cells>
In today's modern society, the Internet of Things has led to various objects having internet connectivity. As the adoption of IoT devices speeds up, the development of wearable devices has been rapidly advancing in recent years. However, one of the barriers to adoption for devices such as smartwatches and smart glasses is the need to frequently charge them or change cells. One hope to deal with this issue is ambient power generation or energy harvesting, converting energy sources in the area such as light, vibrations, heat, and wind into electricity. As it generates its own electricity, ambient power is said to be the ultimate in energy saving technology, and technology that is receiving particular attention for potential to encourage adoption of wearable devices which consume minimal power are biofuel cells generating power from bodily fluids such as human sweat and urine.
This Tokyo University of Science press tour will cover the frontlines of research, including some experiments being carried out, with a focus on research to bring about a safe society: 1) Disaster prevention and revealing the mechanisms of complex disasters, and 2) Development of biofuel cells, a form of ambient power.
1. Earthquakes and Flooding/Tsunami, Working Against Continuous Natural Disasters: Revealing the Mechanisms of Complex Disasters at the First Large Scale Experimental Facility in Japanese Universities
At the Hydraulics Laboratory of the Department of Civil Engineering of the Tokyo University of Science, they are carrying out experiments to replicate complex disasters involving earthquakes and flooding or tsunami at a scale that was not possible before, using the first authentic experimental waterway (33 meters long, 1 meter high, and 0.6 meters wide) at a Japanese university, which was completed on the Noda Campus in June 2017.
Facilities where they can carry out experiments simulating the conditions of the types of complex disasters unique to Japan are rare. For the experiments, a 50-centimeter-tall model of an embankment is made using dirt in the waterway, with asphalt pavement covering the top. By applying strong seismic motion of approximately 800 gals, equivalent to the 1995 Kobe earthquake, causing the earth embankment to subside, followed by simulating flooding, they were able to confirm the results of subsidence and damage from earthquakes, and the reduced resilience of the embankment. There are hopes that the experiments carried out here will contribute to future disaster prevention through the development of stronger river embankments and seawalls that are more resistant to earthquakes, floods, and tsunami, providing more time to evacuate.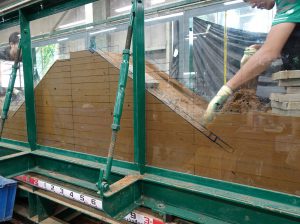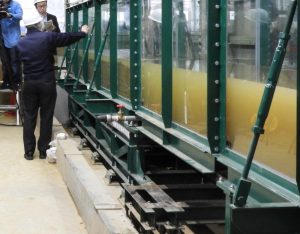 The press tour will hear from Professor Yasuo Nihei about experiments simulating complex disasters including earthquakes and floods or tsunami, and have an opportunity to film and photograph an experiment.
*The experiment will take place in two parts, with the seismic motion induced first, followed by swapping the waterway to carry out the flooding/tsunami experiment.
2. Wearable Devices Using Biofuel Cells, the Ultimate in Saving Energy: As Measures to Fight Heat Exhaustion and Reduce the Burden of Nursing Care Workers
Tokyo University of Science Faculty of Science and Technology lecturer Dr. Isao Shitanda is working on developing self-powered wearable devices. Using biofuel cells which generate power electricity from lactic acid, glucose and other elements in sweat and urine as a power source, a small, thin wearable sensor calculates the lactic acid and glucose levels in the body in real time, and sends the results wirelessly. This device acts as both a power source and a sensor, and could be used to help prevent heat exhaustion in athletes and construction workers, as well as having uses in nursing care and various other situations.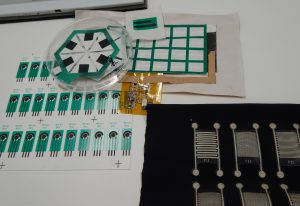 For example, a wearable biofuel battery Dr. Shitanda developed that is made of paper and generates electricity using urine sugars could be combined with simple circuits and put in underwear in order to act as a sensor sending a message wirelessly when urine is detected. This would make it possible, for example, to monitor whether the residents of a nursing care facility have wet themselves or not, and could help reduce the burden on nursing care and hospital workers. Since it is a simple setup using bodily fluids to generate electricity, it has an extremely small environmental cost. With the cells being small, light, and made of paper, the greater part of them can be printed, thus reducing manufacturing costs.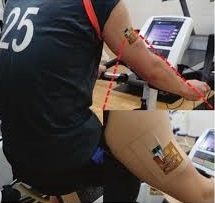 Dr. Shitanda is also developing a self-powered wearable device including a biofuel battery which uses the lactic acid found in sweat as fuel. By combining this device with a printable wearable ion sensor, in the future it will be a self-powered device which can measure the concentration of salt and lactic acids in bodily fluids. This device could detect the risk of heat exhaustion based on the salt concentration in sweat, which could help prevent heat exhaustion among construction workers during the summer, along with other applications such as monitoring fatigue in athletes and early detection of illnesses.
The press tour will hear from Dr. Shitanda about the development of wearable devices with biofuel cells, and be able to see how the salt concentration in sweat is monitored using a wearable ion sensor on the arm and an exercise bike.
[Tour Details]
1. Schedule
Friday, September 20
Place: Tokyo University of Science Noda Campus
 7:45
Meet at Nippon Press Center Building
 7:55-8:50
Travel by bus from Nippon Press Center Building to Tokyo University of Science Noda Campus
 9:00-10:15

Hydraulics Laboratory 1

-Introduction of research by Professor Yasuo Nihei (complex disasters combining earthquakes and floods, development of technology to strengthen river embankments), Q&A

-Seismic motion experiment (filming and photographing allowed)

 10:30-11:45

Dr. Shitanda's Laboratory

-Explanation by Dr. Isao Shitanda of his research on a thin sensor that will detect the risk of heat exhaustion

-Explanation of research and outlook for practical availability, Q&A session

 11:45-12:45
Lunch at Ueshima Coffee House (on Noda Campus)
 13:00-14:00

Hydraulics Laboratory 2

-Flooding experiment (filming and photographing allowed)

 15:00
Arrive at Nippon Press Center Building
2. Qualification: Bearer of Gaimusho Press Registration Card

3. Cost:Free of charge

4. Participants: Limited to 10 applicants.
(Only one reporter or one photographer from each company, but two participants from each TV team will be acceptable.)
*If the number of applicants exceeds 10, an upper limit may be set on the number of participants from each country/region.

5. FPCJ Contact:Nozomi Suzuki and Takako Nakano (Tel: 03-3501-5251 | E-mail: sc@fpcjpn.or.jp)
6. Remarks:
This tour is organized by the Tokyo University of Science and planned and operated by the FPCJ.
The schedule is subject to change without notice.
Neither the organizer nor FPCJ will be liable for any inconvenience, trouble or accidents that might occur during the tour.
There may be some restrictions on photographing and filming at the tour sites. Please follow the instructions of the staff in charge.