International Exchange
[Notice] Tokyo SMEs Press Tour (Sep. 2019)
Brave Management Towards 100 Years
—The Future of Tokyo SMEs
<Tour Topics>
-Unorthodox ideas and innovation to break through difficult situations
-Management protecting employees, training staff, and pioneering new business approaches in the face of adversity
-Strategy to become a company lasting (over) 100 years, maintaining the established brand with technological prowess and solid human resource programs
There are approximately 450,000 SMEs spread throughout Tokyo, accounting for 99% of the companies there. These SMEs have cleverly responded to changing needs and times, supporting Japan's economic growth. They have also continued to innovate while looking to the future, and developed quality products which are sent around the world.
However, with the collapse of the economic bubble, the 2008 global financial crisis, and the shift of manufacturing to mainland Asia, the business environment grew harsher. With many business operators growing older, combined with the declining birthrate, even profitable businesses sometimes have no choice but to shut down or be sold off if there is no one to take them over, making business continuity a critical issue. In order to prevent the skills and knowhow that have been cultivated over time from being lost, there is an urgent need to restructure management systems to pass these skills on to the next generation regardless of age, gender, or nationality.
In these circumstances, there are still many businesses working to overcome these difficulties by using their advanced skills and working together with their employees, not firing anyone even when the going is rough. With the high ideals and willpower of the business owner as a foundation, long-running SMEs are gathering skilled artisans and bravely working to create new value.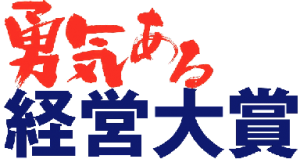 This tour will visit SMEs in Tokyo which have received various Brave Management Awards from the Tokyo Chamber of Commerce and Industry, covering the management and innovative efforts of businesses aiming for 100 years from their founding, strategies for surviving in the age of globalization and digitization, and their hints for business continuity and resilience.
<Tour Details>
1.Tokyo Chamber of Commerce and Industry
~Supporting management improvement, growth, and development of SMEs~
The basic philosophy of the Tokyo Chamber of Commerce and Industry (TCCI)'s activities is to fulfill three missions: prosperity for its member companies, development in Tokyo, and socioeconomic development in Japan. Since 2003 the TCCI has held the Brave Management Awards, awarding SMEs or groups which carry out brave challenges: innovating without being bound by tradition or accepted practice, facing difficult barriers and pursuing lofty ideals. The Awards closely follow the basic philosophy of the TCCI's first chairman, Eiichi Shibusawa, "If the private sector is not strong enough, Japan cannot be prosperous." As part of their action program for the 2020 Tokyo Olympics and Paralympics, the TCCI plans to "promote the strength of SMEs to the world," and has been working towards the success of the Games.
The tour will hear an explanation from a representative of the Tokyo Chamber of Commerce and Industry, the sponsor of this tour, about the significance of SMEs in Tokyo, the roles they play, the structural changes they are faced with, and the reasons behind there being so many long-lasting companies. Afterwards, the group will see the Tokyo 2020 PR Station exhibition booth in the first floor of the building.
2. Harada Sakan (Bunkyo Ward) 
~The future of traditional industry—Young and women artisans working with sakan techniques and innovation~
At their peak in 1975, there were around 300,000 sakan plasterers throughout Japan, but currently that number has dropped to around 70,000, and 60% of them are over the age of 60. With Japan's high heat and humidity, plaster was considered optimal, but in the postwar period vinyl wallpaper and exteriors have become more popular, and sakan are slowly vanishing.
Harada Sakan was founded in 1949. Third-generation company president Muneaki Harada, who at the age of 38 took over the company following in his father's footsteps, is building the future of the sakan industry with a business philosophy of "dreams and romanticism." He is working to expand the range of sakan work done, increase the number of young people and women in the industry, and ensure they find joy and meaning in their work and have a stable livelihood, with a company that will last long into the future. As a first step, he created the showroom on the first floor of the company's head office which displays a paper catalog and a variety of samples of different plasters, for proposal-type sales which are rare in the sakan industry. The number of large business clients has increased, with commercial facilities incorporating the unique trowel finish of sakan into their interiors and exteriors.  He has also been developing various stylish plasters, mixing in coffee powder or lipstick into white plaster to achieve different colors, introducing fresh ideas from young plasterers.
Despite the tradition of "learning by observing" still being dominant in the sakan industry, Harada Sakan has introduced "modeling training", in which rookies can watch example videos by veterans to learn their plastering techniques. This makes it possible for rookies to begin working onsite more quickly, and also improves their skills. The company also began training women plasterers during the time of the previous company president, and currently 10 of 49 employees are women, including some with over 30 years of experience, and many who worked in other industries previously. During the Heisei period (1989­–2019), a Harada Sakan Ladies team was created which carried out everything from planning to sales and on-site work themselves, and some of the women met with Prime Minister Abe and taught him how to use a trowel.
【Photos provided by Harada Sakan】
Mr. Harada will speak about the innovative initiatives implemented to change the traditional sakan industry into a place where young people and women could excel, and the tour will see the showroom and training space, along with other creative efforts to train the staff.
3. AIOI-SYSTEMS CO.,LTD. (Ota Ward) 
~Eliminating paper from global logistics—Developing an advanced system used in over 50 countries worldwide~
Aioi Systems was founded in 1984 with the goal of designing and manufacturing computer hardware and software, and is now a fabless manufacturer (a business with no factory which outsources its production) involved in the design, development, manufacture, and sales of electronic equipment. The company's primary product, the Digital Picking System (DPS), was based on communications technology, and digitized logistics and production to help improve efficiency. Four million units are now in use in over 5,000 sites throughout the world, such as logistics centers, warehouses, and factories in over 50 countries in Asia, Central and South America, and Europe, accounting for 70% of the global market share. The DPS uses lights and displays attached to shelves where products and goods are stored, and the worker just has to pick the quantity of the item indicated on the display. This enables even inexperienced workers to be able to pick accurately, decreasing the amount of time necessary and the number of mistakes compared to when using paper lists.
【Photo (right) provided by Aioi-Systems】
The president and founder of Aioi Systems, Kiyoshi Tada, explained, "The logistics market is proportional to the population. It was already clear 20 to 30 years ago that the population of Japan would decline in the future, so I went into foreign markets without hesitation." While expanding the company's Japanese base, Aioi Systems also established an American subsidiary in San Jose in 1997, a joint venture in Spain to act as a sales base for Europe and South America in 2002, and a Chinese subsidiary for sales and manufacturing in China in 2004. Recently, the company also set up a base in Singapore in anticipation of expanding their business into countries such as India, Indonesia, and Thailand.
The company was deep in the red for two years following the global financial crisis, but saying, "It would be a waste to let go of these employees which we have trained up until now. They might as well use this time with less work to develop something," using grants the company was able to develop in only half a year the first RFID smart tag system in the world, contributing to paperless logistics, and sold a total of 190,000 units in the next two years. Recently, the company has released the Projection Picking System to the market, further improving efficiency and accuracy by using projection mapping technology, and it is in use in areas such as medicine storage in pharmacies.
【Photos (President Tada and "smart tag") provided by Aioi-Systems】
The tour will experience a paperless reception system using smart cards, and after hearing from Executive Director Masako Tada about the company's history and how the logistics industry has changed over the years, the tour will see a demonstration of the Digital Picking System and of the Projection Picking System. President and CEO Kiyoshi Tada will also speak about how he chose to protect his employees and have them focus on development, and about managing an overseas business which he began due to foreseeing demographic change in Japan.
4. Nishio Glass Mirror Co., Ltd. (Ota Ward) 
~Solar thermal energy generation with mirrors—Carrying on a brand backed by technology, moving towards a 100-year company~
Nishio Glass Mirror Co., Ltd. was established as a mirror manufacturer in 1932, when current Representative Director Tomoyuki Nishio's grandfather went independent from a glass manufacturer in Asakusa, Tokyo. Now, the company manufactures showcases made of frameless pieces of glass fitted together with expert skill, using a combination of digital and analog techniques to achieve precision measurements. Their technique for attaching glass edges (after the glass has been cut) at a 45-degree angle without any bubbles made Nishio known for its skill at attaching glass, and their showcases are also used by famous overseas fashion brands and jewelry stores.
Mr. Nishio, who took over as the third-generation head of the company at the age of 33, was able to pull through a difficult business environment, in which clients were going bankrupt with the collapse of the economic bubble, thanks to the redevelopment rush in Tokyo. After the global financial crisis, the company was in the red for a few years in a row and he considered shutting down, but everyone in the company joined together and decided, "Let's do work that other companies avoid because it's difficult." Finding other demand to respond to, the company got back on its feet by accepting orders for showcases from famous overseas brands, and is now considered the top in the industry when it comes to glass showcases. In 2008, the company joined a solar thermal energy generation project with its mirrors. Working to develop mirrors for exterior use, the next year they achieved an industry first by delivering 1,400 collector mirrors for use in the desert around Abu Dhabi in the UAE.
A 100-year calendar from 2001 to 2100 hangs on the wall of Nishio Glass Mirror's office. With the company reaching its centennial anniversary since founding in 13 years, Mr. Nishio is focusing on training employees, saying, "Continuity is vital to sustain our skills and brand." The company has adopted a system of ensuring three people know each skill, and to that end has veteran staff teaching their skills to younger employees.
The tour will hear from Mr. Nishio about establishing the Nishio brand and his thoughts on entering into the field of renewable energy as a mirror manufacturer, and have the chance to see the factory, where a combination of digital and analog is being used to work on glass.
5. Chinya (Taito Ward)
~Sukiyaki, known around the world–Presenting true flavor over the centuries and breaking with the excessive trend  towards expensive meat~
Located near Kaminarimon in Asakusa, Taito Ward, which is full of tourists from both Japan and abroad, Chinya serves authentic sukiyaki made using seasonal ingredients and first opened 139 years ago. Before becoming a restaurant in 1880, the business supplied daimyo and merchants with pets such as Pekingese (chin) dogs, and also provided veterinary services. It retained the name Chinya after becoming a restaurant, and in 1903 became a sukiyaki restaurant as it is today.
Chinya carefully selects the meat it provides to give the taste of the age of "civilization and enlightenment" (the years after 1868) today, and in 2017 sixth-generation company president Fumihiko Sumiyoshi made the "Tekisashi Declaration." Sashi refers to marbled fat in red meat, and teki means appropriate, so tekisashi meat is meat from female wagyu cattle over 30 months old which has an appropriate amount of fat without being excessive. This Tekisashi Declaration was a challenge to provide meat appropriate to sukiyaki, regardless of its grade or rank, shifting from pursuing the best-looking meat to competing by taste. The motivation for this declaration was a concern about the excessive popularity of shimofuri (marbled) meat. With the liberalization of beef and other exports in the 1990s, in order to differentiate Japanese beef from American beef, which tends to be lean, A5 and other high-rank beef trended towards shimofuri. The Tekisashi Declaration questioned the belief that "high-rank=tasty," causing a stir in the worship of shimofuri.
In March 2019, Chinya also made its Meat 48 Declaration, stating that they would not buy any cows with a dressed weight of over 480 kilograms. This was done to attempt to use Chinya's position as a buyer to avoid an excessive pursuit of size over flavor.
The tour will hear from President Sumiyoshi about the management philosophy of Chinya as a long-standing business, Japan's food culture, and efforts to reduce food loss such as introducing a menu with smaller portions, as well as eating a sukiyaki lunch made using tekisashi meat.
****************************************
[Tour Details]
1. Schedule
*The schedule is not yet finalized, and may change without notice.
<September 27 (Fri.)>
8:15          Meet at Tokyo Chamber of Commerce and Industry (First floor)
8:20-9:25      Briefing about SMEs in Tokyo
10:00-11:30   Harada Sakan
12:00-13:20   Lunch at Chinya 
14:00-15:30   Aioi-Systems Co., Ltd.
16:00-17:30   Nishio Glass Mirror Co., Ltd.
17:30         Arrive at Ohmori Station (JR Keihin-Tohoku Line)
2. Qualification: Bearer of Gaimusho Press Registration Card
3. Cost: 3,000 Yen per person including transportation in Tokyo and lunch.
*Information on payment and cancellation fee will be provided to participants.
*You are responsible for round-trip fare.
*Participants will be required to pay their own transportation costs to the meeting place before the tour, and after the tour ends.
4. Participants: Limited to 10 applicants.
(Only one reporter or one photographer from each company, but two participants from each TV team will be acceptable.)
*If the number of applicants exceeds 10, an upper limit may be set on the number of participants from each country/region.
5. FPCJ Contact: Yamada (Ms.), Koizumi (Ms.)
 (Tel: 03-3501-3405 | E-mail: ma@fpcjpn.or.jp)