International Exchange
[Notice] Oita Press Tour (Dec. 2022)
Oita Press Tour
<Tour Dates: Thursday, December 8-Friday, December 9, 2022>
 [Tour Topics]
●Increasing usage of geothermal energy in Oita, the No. 1 hot springs prefecture in Japan
   —A frontrunner in Japan for geothermal resources
●The culture developed from Oita's history and climate, on the world stage
 Oita, with the most hot spring sources and the highest volume of hot spring water in Japan, has unique local food cultures throughout the prefecture due to access to both the ocean and the mountains, and has many famous historical sites and places of natural beauty. With increasing numbers of overseas tourists and workers, Oita was one of the first in Japan to begin regional globalization initiatives, and became more well known in Japan and around the world as one of the host cities for the 2002 FIFA World Cup jointly held Japan and South Korea, and for the 2019 Rugby World Cup in Japan.
 Although the COVID-19 pandemic had a devastating impact on tourism sites in Oita, with Beppu, one of the most famous onsen towns in Japan, only receiving around half the tourists in 2020 that it did in the previous year, the industry has begun to rebound, with foreign tourists once again becoming a common sight. DRUM TAO, entertainment taiko (Japanese drum) group based out of Oita was temporarily forced to cancel concerts, but as of this year they have once again begun touring around Japan and the world.
 For 2022, Oita Prefecture was designated as a Culture City of East Asia along with Jinan and Wenzhou in China and Gyeongju in South Korea, and a variety of cultural and art events are held throughout the year, along with exchange between the cities. In November 2021, Usuki, a city with diverse food cultures with over 400 years of history, including fermentation and brewing, became the second city in Japan to be designated as a UNESCO Creative City of Gastronomy. With its large numbers of hot springs, Oita also has high potential as a center for geothermal power, and it currently produces the most geothermal power of any prefecture in Japan, as well as being second in the country for renewable energy self-sufficiency at 50.0%. With increased attention on geothermal power as a type of clean energy, a project is underway to create and supply green hydrogen using geothermal power, the first initiative of its kind in Japan and part of efforts for a carbon-free society.
 This tour will follow the latest movements in Oita Prefecture working towards revitalization in major areas with an eye to shifting from living with COVID-19 to post-COVID-19, and experience the varied attractions of Oita.
【Tour Details】
1. Oita, Japan's No. 1 Onsen Prefecture
(1) Hot Springs Town in the Mountains: Myoban Onsen (Beppu)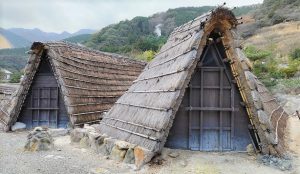 Myoban Onsen is the most elevated of the eight onsen areas known as the Beppu Hachiyu. Since the Edo period, this area prospered due to having alum (myoban) and as a place for therapeutic bathing, and it is home to thatch huts with triangular roofs made without using nails, known as Yunohanagoya.
Yunohana, a natural medicinal powder added to baths, is a popular health and beauty product made by condensing the elements found in onsen emissions. Having been made using the same method for the past 300 years, the only powder like this in the world made using huts, the technique for making Yunohana powder was designated as an Important Intangible Folk Cultural Property by the Japanese government in 2006.
Myoban Yunosato is a compact facility gathering the highlights of Myoban Onsen, such as Yunohanagoya, and is operated by Myoban Yunosato Co., Ltd. Founded in 1725, the company manufactures and sells Yunohana and related products such as cosmetics, and in 2016 was given the 100 Year Company Award, an award for excellent regional companies.
◆ The tour will visit Myoban Yunosato, see Yunohanagoya, and learn about their history and techniques, while hearing from President Satomi IIkura about the characteristics of the thatch huts and production methods.
(2) Cooking with geothermal power: Jigoku mushi cuisine (Beppu)
 Kannawa, one of the Beppu Hatto, Is home to jigoku mushi cuisine, a traditional cooking method which has existed since the Edo period using the natural hot steam rising from the depths to cook food. Food placed on trays or in pans is simply set inside pots which have steam at around 100°C piped inside, before covering with a lid. Since the food is steamed so quickly by the onsen steam, the food retains its original flavor and finishes with vibrant colors, making for dishes that are good for both the environment and health.
◆The tour will get to sample the unique onsen cuisine of jigoku mushi from Hyotan Onsen, a famous day-trip onsen facility in Kannawa and the only onsen in Japan to receive a three star rating from the Michelin Guide seven times in a row, and hear from Hyotan Onsen President Hitoshi Tanaka about the facility.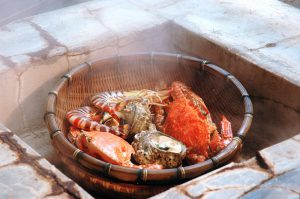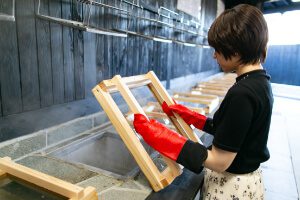 【Right picture: Courtesy of Hyotan Onsen homepage】
(3) Designed by Architect Shigeru Ban: Kur Park Nagayu (Taketa)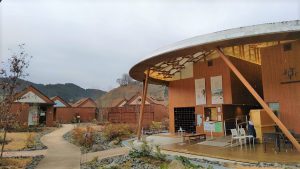 Completed in 2019, Kur Park Nagayu is a health improvement facility using the unique naturally carbonated water of Nagayu Onsen. Kur is German, and refers to a stay somewhere to rest and recover. World-famous architect Shigeru Ban designed this entire complex, including the two-story Kur House with an exercise pool on the second floor you can enter while wearing a swimsuit, the cottage-style accommodations, and the restaurant.
◆The tour will have lunch, including local ingredients, at the facility's restaurant, and hear an overview of the facility from Manager Kosei Kamata. 
2.  The potential of geothermal energy as a renewable energy source in the hot springs prefecture of Oita
(1) Kyushu Electric Power Company's Hatchobaru Geothermal Power Plant: Japan's largest geothermal power plant (Kokonoemachi)
 As one of the countries with the most volcanoes in the world, Japan has the third largest amount of geothermal resources (23.47 million kilowatts) after the US and Indonesia, but the actual capacity of its geothermal generation facilities is only 610,000 kilowatts, putting it eighth in the world. However, in order for Japan to become a carbon neutral society by 2050, it will be necessary to take greater advantage of the potential of geothermal energy, and the Japanese government has encouraged adoption by setting a target of increasing geothermal generation by 2.5 times to 1.48 million kilowatts by 2030.
 The largest geothermal power plants in Japan are found in Oita, with the prefecture being No .1 in Japan for geothermal power generation (at around 40% of the national total). In particular, the Kyushu Electric Power Company's Hatchobaru Geothermal Power Plant (located in Kokonoemachi) is the largest geothermal power plant in Japan, with a total output of 110,000 kilowatts, equivalent to the power used by around 37,000 average households. Unit 1 was built in 1977, and Unit 2 was finished in 1990. The first in the world to implement a "double flash" system, which separates steam and hot water before once again extracting steam from the separated hot water, it achieved approximately 20% greater power generation than existing plants. Using steam wells in which the heat and pressure of the steam had dropped to unusable levels, in 2006 they were the first in Japan to implement binary cycle generation, using a medium with a low boiling point to create steam, allowing the vast resources underground to be used over the long term.
◆ The tour will visit Hatchobaru Geothermal Power Plant, and hear from Kyushu Electric Power Company staff about their geothermal generation business before touring the plant.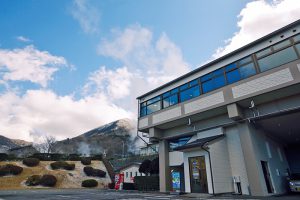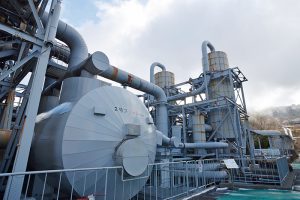 【Pictures: Courtesy of Kyushu Electric Power Company homepage】
(2) Obayashi Corporation green hydrogen production plant using geothermal power: Hydrogen produced and consumed locally in Kyushu (Kokonoemachi)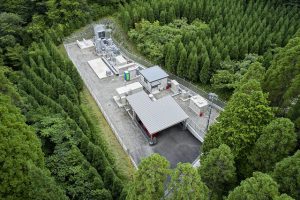 One of Japan's largest construction companies, Obayashi Corporation built a test plant for producing green hydrogen using geothermal energy in Kokonoemachi, which began operating in July 2021. Introducing a delivery system meeting the needs of different areas in Kyushu, this is the first trial in Japan for the whole process from manufacture to supply of green hydrogen made using electricity from geothermal generation to electrolyze water. Operations will continue until March 2024. The geothermal generator has an output of 125 kilowatts, and by weight, about one kilogram of green hydrogen which has no carbon dioxide emissions in its manufacturing process can be produced per hour, enough for a fuel-cell vehicle to drive for approximately 130 kilometers. The green hydrogen produced is stored in canisters and provided to users throughout Kyushu, including local hydrogen fuel stations, Toyota hydrogen engine vehicles, and test runs of Yanmar Power Technology Co., Ltd. fuel cell ships.
【Photo provided by Oita Prefecture】
◆The tour will an overview of the facility, the trial project, and future initiatives for locally produced green hydrogen from Obayashi Corporation staff, as well as viewing the hydrogen production plant.
3. Traditional Culture Cultivated by Oita's History and Climate 
(1) Tao Nature Theatre, an outdoor theatre used as the home base for a Japanese drum group which performs worldwide (Taketa)
 In September 2020, the outdoor concert venue TAO no Oka opened in Aso-Kuju National Park, which straddles Oita and Kumamoto Prefectures. This is the main venue for DRUM TAO, a Japanese drum entertainment group which is active worldwide, and includes a "stage under the sky" with an elevation of 1,036 meters from which the nature of the park can be seen. Based out of Kuju, Taketa, the members of TAO are chosen by audition, and gather here from around Japan. Currently around 40 members live together at their TAO no Sato headquarters, practicing and engaging in creative activities.
 DRUM TAO was established in 1993, with the goal of creating entertainment shows that would be popular around the world using Japanese drums as a means of expression. They have performed throughout Japan and around the world, performing in 500 cities and 26 countries, in front of over nine million people. For the 2019 Rugby World Cup, DRUM TAO were designated as special host city supporters. As part of the 2022 Culture City of East Asia project, they performed special collaboration concerts with Chinese and Korean musicians and dancers at TAO no Oka. They are gaining recognition as an entertainment group that helps promote Japanese culture.
◆ The tour will visit TAO no Oka, and hear from Ms. Maki Morifuji, senior executive of the TAO Cultural Foundation and a former DRUM TAO member, about this facility, the foundation, and her time as a member, as well as TAO's new sustainable activities and initiatives during the pandemic. The tour will also see a performance by the six members who joined the group this year.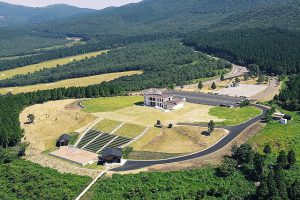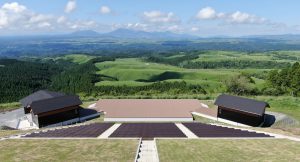 【Photo provided by Oita Prefecture】
(2) The castle town of Usuki: A beautiful city chosen as one of the 100 most scenic in Japan
  Usuki has a population of around 35,000 people, and prospered during the Warring States period by engaging in trade with Europe under the rule of the Christian daimyo Otomo Sorin, becoming known as the "Rome of Bungo" as a base for Christian missionaries. In the Edo period, the ruling Inaba clan renovated the castle town, and the Nioza district, located at the base of Usuki Castle, still has many of the characteristics of a castle town. Its narrow, sloped cobblestone streets are lined with buke yashiki (samurai residences) and temples, and in 1993 the beautiful town was selected by the national government as one of the 100 most scenic towns in Japan.
◆ The tour will visit Nioza, which even today retains the scenery of a castle town, guided by Ms. Miwa Koya, a Usuki Townscape Tour Guide.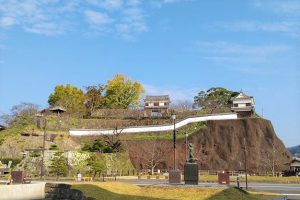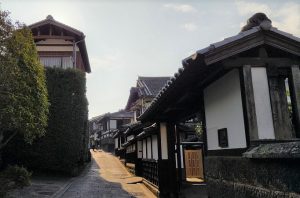 (3) Usuki, a UNESCO Creative City of Gastronomy: Global recognition for a diverse food culture
 A unique food culture has developed in Usuki, with soy sauce and miso made through fermentation since over 400 years ago, and unique local dishes made to be frugal when the domain faced financial difficulties in the Edo period. In November 2021, the diverse food culture which Usuki has carefully developed received recognition, and Usuki was designated as a UNESCO Creative City of Gastronomy.
 Kani Shoyu, established in 1600, the roots of Usuki's fermentation culture, and is the oldest miso and soy sauce business of its kind in Kyushu. The current president, Mr. Ai'ichiro Kani, is the 12th-generation owner, taking over the company in 2007 and working together with his wife to help the family business, which had not been doing well, recover. In hopes of growing demand by targeting tourists, he renovated what had been the office into storefront, began carrying souvenirs in the store, and established a café space, while also working on developing new products using miso and soy sauce. Now, many tourists visit the Kani Shoyu store, which is also a national Registered Tangible Cultural Property, and their miso soft ice cream has become a famous Usuki treat.
 Kotegawa Shuzo is a sake and shochu brewery founded in 1855, and still uses the original building since founding for brewing, which is now a Registered Tangible Cultural Property. They still prepare their shochu by hand, and use wooden barrel stills, of which there are said to be only a few remaining in Kyushu, before aging the shochu in large clay pots. They do not add new shochu to the older pots, with each year's batch being aged separately, and some batches are as much as 30 years old.
◆ The tour will visit Kani Shoyu and Kotegawa Shuzo, seeing the store and brewery while hearing from people with each company about their businesses, their products, and the fermentation and brewing culture of Usuki.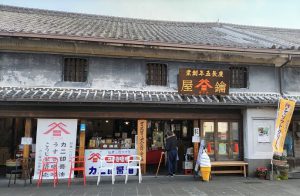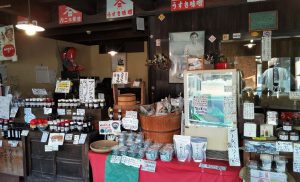 (Kani Shoyu)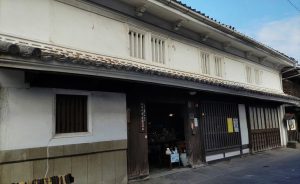 (Kotegawa Shuzo)
(4)  Usukiyaki Lab: A lost pottery style revived after 200 years
 Many types of art and culture were created in Usuki in the Edo period. One such art was Usukiyaki, the official style of pottery of the Usuki Domain around 200 years ago in the late Edo period. It grew in popularity for over a decade but vanished for a time, becoming known as a "lost pottery style."
 Mr. Hiroyuki Usami, president of Usukiyaki Lab, a pottery workshop located in Usuki, is among those who have revived the lost art of Usukiyaki after 200 years, and intends to use it to help promote the town. Both a potter and a cook, in 2015 Mr. Usami and other local potters started a project to revive Usukiyaki and make it into a local brand. Using what limited information that remained, they strove to find a new style of Usukiyaki fitting modern styles and needs, and at last were able to complete their modern Usukiyaki. With a soft white color and simple design, called "USUKI blanc," the handmade aesthetic not possible through mass production grew popular, with growing numbers of not only domestic orders but also international orders from places such as France, Singapore, South Korea, and Hong Kong. Mr. Usami hopes to spread the name of Usuki overseas together with Usukiyaki. He also puts effort into teaching other potters, using division of labor to make it easier for inexperienced people to work and learn skills that would normally take years.
◆ The tour will hear from Lab's staff about the revival of Usukiyaki and his vision for the future, as well as seeing the workshop.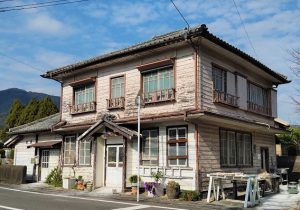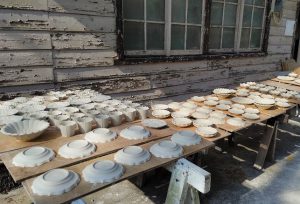 4. Mr. Katsusada Hirose, Governor of Oita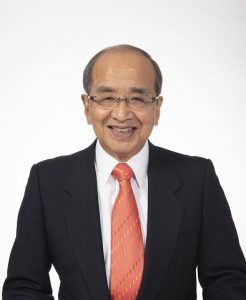 The world is moving toward decarbonization, and hydrogen is positioned as an indispensable energy source for the future. Oita Prefecture is blessed with energy resources such as geothermal energy, which boasts the largest power generation capacity in Japan, and is an advantageous environment for hydrogen production using renewable energy, and various initiatives for hydrogen production and utilization are already underway. Oita will continue to take on the challenge of industrializing hydrogen energy while encouraging technological development and verification tests.
  As a Culture City of East Asia for 2022, which successfully ended in November after a year of cultural exchange between Japan, China, and South Korea, Oita Prefecture aims to increase its international presence and carry out sustainable promotion of arts, culture, and tourism.
【Photo provided by Oita Prefecture】
◆ The tour will hear from Mr. Katsusada Hirose, who has been governor of Oita since 2003, about the legacy of the 2019 Rugby World Cup, the revitalization of the tourism industry after the pandemic, the creation of space business, and initiatives for carbon neutrality, Oita Prefecture's main initiatives looking toward the post-COVID-19 era.
5. Legacy of the Passion and Excitement of the 2019 Rugby World Cup: Lionman, Rugby Statue
  In the fall of 2019, all of Japan was caught up in the excitement of the Rugby World Cup, and five matches were held in Oita Prefecture. Many Oita residents and visitors from overseas attended the matches live or at public viewings to witness the highest level of play in the world. Oita Prefecture made a monument to preserve the memory of this competition, and it was revealed in April 2021.
Named Lionman, this statue represents the rugby players' impressive physique and speed, so people seeing the monument can understand the excitement of the 2019 Rugby World Cup.
◆ By the monument, the tour will hear from an Oita Prefecture official who has involved in Oita hosting the RWC2019 matches and the production of the monument.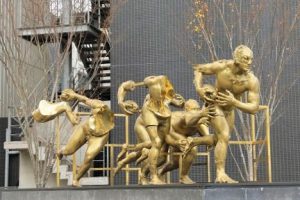 [Tour Itinerary]
1. Dates:
Thursday, December 8 and Friday, December 9, 2022
2. Schedule
*The schedule may change without notice due to weather or other reasons. Please be aware that depending on the state of the COVID-19 pandemic, the tour may be delayed or cancelled.
[Thursday, 8 December]
07:50-09:35   Haneda Airport→Oita Airport (ANA791)
10:40-11:30   Myoban Onsen (Yunohanagoya)
11:40-12:20   Lunch (Hyotan Onsen)
13:00-13:15   Oita Prefecture briefing
13:15-14:00       Interview with Oita Prefecture Governor, Mr. Katsusada Hirose
14:10-14:30     Rugby World Cup monument
15:10-16:10   USUKIYAKI Lab.
16:20-16:50     Nioza
17:00-18:00         Kani Shoyu, Kodegawa Shuzo
18:50         Arrive at hotel
 (Stay overnight in Oita)
[Friday, 9 December]
08:00         Leave hotel
09:30-11:00     TAO no Oka
11:25-12:15     Lunch (Kur Park Nagayu)
13:00-14:30         Hatchobaru Geothermal Power Station 
15:30-16:20         Green Hydrogen Production Plant using geothermal power
19:40-21:10    Oita Airport→Haneda Airport (ANA2498)
2. Qualification: Bearer of Gaimusho Press Registration Card
3. Cost: 15,000 yen per person, including transportation, accommodation (breakfast included) and lunch on both days 
4. Participants: Limited to 10 applicants.
(Only one reporter or one photographer from each company, but two participants from each TV team will be acceptable.)
*If the number of applicants exceeds ten, an upper limit may be set on the number of participants from each country/region.
5. FPCJ Contact: Yamada, Watanabe
 (E-mail: ma@fpcjpn.or.jp)
6. Measures for COVID-19
Please follow the directions of the staff, such as taking temperatures before the tour, wearing masks during the tour, washing hands, and using disinfectant.
7. Remarks:
(1) This tour is sponsored by Oita Prefecture and operated by the FPCJ.
(2) This tour will require participants to bear a part of the cost, but is not a profit-making venture.
(3) Oita Prefecture and the FPCJ take no responsibility for any accidents, injuries, illness, or other problems which occur during the tour. 
(4) There may be some restrictions on photographing and filming at the tour sites. Please follow the instructions of the staff in charge.
(5) Please be aware that videos and photos of the tour, and articles about it, may be posted by Oita Prefecture and the FPCJ on their websites or social media.