International Exchange
[Report] Saitama/Chichibu Press Tour (Nov. 2022)
Located next to Tokyo, Saitama Prefecture not only has the functions of a large city, but also diverse tourism resources such as ample nature, history, clothing, food, accommodations, and entertainment, and more than 650,000 foreign tourists visited in 2019, before the pandemic. This press tour, which took place one month after the Japanese government significantly eased its border control measures, visited the Chichibu region in Saitama, approximately two hours from central Tokyo by car, and covered the tourism appeal from its nature, history, and culture, and local hopes for the return of inbound tourists supported by the recent weak yen.
Eleven journalists participated in this tour, from media based out of Canada, China, Hong Kong, the Philippines, Portugal, Singapore, South Korea, and Turkey.
*This press tour was sponsored by Saitama Prefecture and organized and operated by Foreign Press Center Japan.*For details on the tour stops, see the press tour notice.
---
Chichibu Meisenkan (Chichibu Meisen Museum)
   Chichibu Meisen is a silk fabric born in Chichibu, where silk farming has flourished since the Edo period. At the industry's peak, there were over 500 local producers, but now there are only nine. As members of the Chichibu Meisen Cooperative Association, they operate the Chichibu Meisenkan, passing on the production process and traditional techniques used for Chichibu Meisen while promoting its appeal.
   The tour was guided by Mr. Hideo Terauchi, a traditional craftsman recognized by Saitama Prefecture and president of Terauchi Orimono Co. ( a company established in Chichibu over 100 years ago), and saw how Chichibu Meisen is made while hearing about its history and traditional techniques.
   The journalists took many photos and videos when Mr. Terauchi demonstrated the weaving process, and asked questions about topics such as passing on Chichibu Meisen to the next generation. Mr. Terauchi spoke about new developments in the traditional Meisen culture, such as groups of women who learned weaving and dyeing at the Meisenkan selling their own products at workshops and online, and becoming popular.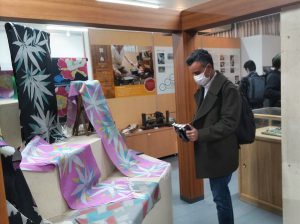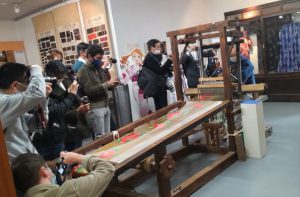 Chichibu Meisen Rental Shop, Irohatori
   The tour then visited Irohatori, a Chichibu Meisen rental shop run by Ms. Asako Sekikawa. Ms. Sekikawa moved from Tokyo to Chichibu after she turned 30, wanting to become involved in traditional regional crafts. She is striving to revive the culture of Chichibu Meisen, which women used to frequently wear as casual fashion.
   After taking a flurry of photos and videos of Ms. Sekikawa in her beautiful Chichibu Meisen, the journalists asked about the appeal of Meisen and prospects for the rental business. Ms. Sekikawa commented, "Meisen matches the climate of Chichibu, and is very comfortable. Instead of just having it stuck in a closet, I would like to bring back the local culture of wearing Meisen everyday as casual clothing."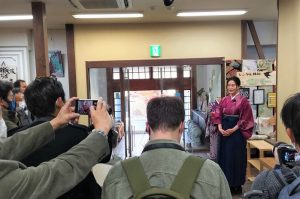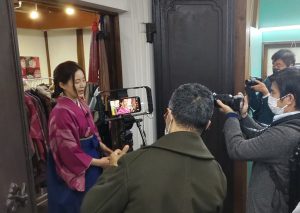 Hotel and Restaurant NIPPONIA Chichibu Monzenmachi, Located in Traditional Buildings
   The tour visited NIPPONIA Chichibu Monzenmachi, a decentralized hotel which has revitalized three traditional buildings built over 100 years ago (between the first year of Meiji (1868) and the early Showa period (1920s)) into eight guest rooms and a café and restaurant. It opened in August this year.
   Mr. Masayuki Inoue, executive director of the Chichibu Omotenashi Tourism Organization, explained the appeal of tourism in Chichibu and the effects of the COVID-19 pandemic, before Mr. Noritomo Takeuchi, director of the Chichibu Machizukuri Corporation, which operates NIPPONIA Chichibu Monzenmachi, gave a tour of the hotel. The journalists intently filmed and took photos of the different buildings, each with their own style demonstrating their history, such as the warehouse built over one hundred years ago which has been renovated into a guesthouse. They then had lunch at the restaurant, serving original French cuisine made using fresh Chichibu ingredients.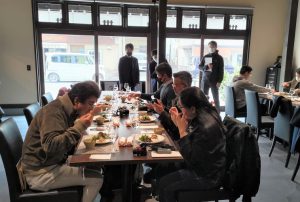 Venture Whisky Ltd. Chichibu Distillery
   The tour visited Chichibu Distillery of Venture Whisky Ltd., producers of the popular Ichiro's Malt whisky brand which bears the name of company founder Mr. Ichiro Akuto. Guided by brand ambassador Ms. Yumi Yoshikawa, the group saw the interior of the distillery and their barrel workshop.
   Ms. Yoshikawa explained how the large difference in temperature between summer and winter made Chichibu's climate suited to aging whisky, and that including Venture Whisky's, there were only five workshops in Japan making the barrels necessary for that aging. The journalists asked questions such as what had led to Japanese whisky being so well-regarded globally. The tour also included tasting the Ichiro's Malt series which has become beloved by enthusiasts worldwide. Journalists commented, "I was able to gather even more material than I expected," and, "This is the third time I've visited Chichibu Distillery, but it was the first time I saw the barrel workshop, and it made quite an impression."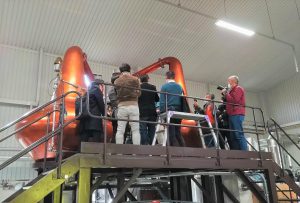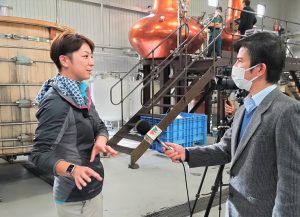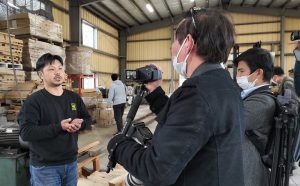 Ogano Kabuki has been passed down in the town of Ogano, with a population of around 10,000, since the Edo period. With local residents performing all the jobs, from actors to backstage production, kabuki is a part of the local lifestyle to the extent that it is said the whole town are actors. In addition to six regular performances annually as part of local festivals, they also perform throughout Japan, and in 2018 performed overseas for the first time in Vladivostok, Russia.
   The tour visited the Shikachu Kabuki Troupe, in which Ogano Junior High School students fill every role from acting to playing the shamisen (three-stringed Japanese instrument) to makeup, and heard from Mr. Takahiro Koenuma, head of the Ogano Town Board of Education, and Ms. Akira Yoshioka, principal of Ogano Junior High School, about Ogano Kabuki and efforts by the school to pass it on to future generations.
   The journalists then watched a rehearsal for the Ogano Local Performing Arts Festival two days later, and interviewed the students. TV stations from Vietnam and Portugal held individual interviews with a student who participated in the Vladivostok performance and a student whose entire family is involved in kabuki.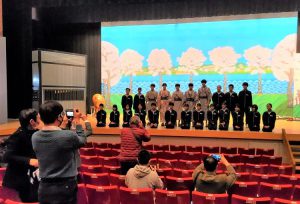 As a final stop, the tour visited Tsuki no Ishi Momiji Park (in Nagatoro), a famous spot for autumn foliage, and the journalists took photos and video of the beautiful leaves which were lit up.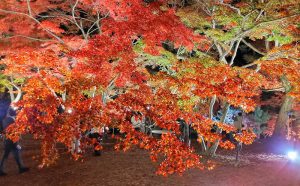 ---
◆Below are some of the reporting based on this tour.
Chosun Online (ROK)
"[특파원 리포트] "인구 감소"에 운 日 시골 소녀" (November 28)
Vietnam TV (Vietnam)
VTV1 Channel (09:54~12:50/November 30)
Le Journal de Montréal (Canada)
"Des traditions en péril par manque de relève" (January 28, 2023)
Filipino-Japanese Journal (Philippines)
"Discovering the Charms of Chichibu" (February 3, 2023)