International Exchange
[Notice] Miyazaki Press Tour (Jan. 2023)
[Tour Topic]
Tour Topic: Protecting Japanese Agriculture and Food—Efforts by Miyazaki, the Agricultural Prefecture
In the wake of the climate crisis and soaring grain prices in the international market due to Russia's invasion of Ukraine, interest in food security and agricultural sustainability has been growing worldwide. In Japan, which relies on imports for approximately 60% of its food supply, there are growing calls for stronger food security. However, Japanese agriculture is facing increasing difficulties such as an aging population, a shortage of agricultural workers, and increased production costs due to the weak yen.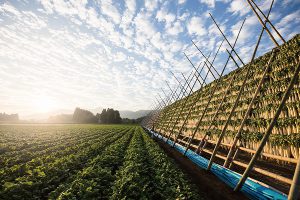 Miyazaki Prefecture, the venue for the G7 Agriculture Ministers' Meeting in April 2023, is one of the nation's leading food producers, with the 6th highest agricultural output in Japan (in FY2020). As the business environment becomes increasingly severe, farmers in the prefecture are taking on new challenges to continue their agricultural production, such as the introduction of advanced technologies for automation and cost reduction. Meanwhile, the role of rural agriculture has been changing, as the values of mass production, mass consumption, and higher efficiency are being questioned, and the era of "Local To Global" has arrived, in which rural areas can be directly connected to the rest of the world, bypassing Tokyo. By attracting new workers and customers, local agriculture is set to revitalize itself as a sustainable industry, stimulating local communities.
This tour will visit Miyazaki Prefecture to cover its unique agricultural strengths passed down from generation to generation, and the people who are taking on challenges to make it sustainable during this time of transition.
【Picture: Courtesy of Tano-Kiyotake Area Japan Agricultural Heritage Promotion Council, Digital Art Studio Tsuji】
I. World Agricultural Heritage Site: Takachihogo and Shiibayama
– Passing on a sustainable agriculture and forestry system to the next generation
The Takachihogo-Shiibayama area in northern Miyazaki Prefecture was designated a Globally Important Agricultural Heritage System (GIAHS) site in December 2015, in recognition of its traditional agriculture, forestry, and culture. In a woodland environment with sparse flat lands, the people have made a living through conifer timber, shiitake mushrooms cultivated using broadleaf trees, high-grade wagyu beef, tea leaves, and terraced rice fields. The canal that was constructed for providing water throughout the mountainous area spans 500 km. Not only does it serve the purpose of irrigation, it drains rainwater and protects the local communities from natural disasters.
(1) The Tochimata Tanada Terraced Rice Fields (Takachiho Town)
– A community working together to protect terraced rice paddies, a local treasure
The Tochimata Tanada in the Nakakawanobori district of Takachiho Town is a terraced rice field of approximately 24 hectares, certified as Tsunagu Tanada Heritage (a designation for excellent rice terraces in Japan) by the Ministry of Agriculture, Forestry and Fisheries. As the number of abandoned rice paddies increases due to a shrinking workforce, the community is working together to preserve the scenery of terraced rice paddies by mowing the grass around farmland and canals, and by making effective use of idle farmland.
In 2013, 14 farmers established an agricultural cooperative corporation, doing work on commission for farmers having difficulties in sustaining operations, and also producing and selling miso and tofu made from locally grown rice and soybeans. The cooperative also helps bring in new farmers, through methods such as lending out jointly-purchased farm machinery. Ms. HAMAYAMA Konami, originally from Miyazaki City, moved to Nakakawanobori by herself in 2014, attracted by the district's community ties and support of new farmers. She now grows paddy rice and cucumbers in the summer and buttercups in a greenhouse in the winter, while also instructing new farmers in order to support the community which is suffering from a serious shortage of young people.
The tour will see the mountainside irrigation canals and terraced rice paddies that have supported people's lives in this area, and hear from local residents about the Nakakawanobori community's efforts to preserve the terraced rice paddy landscape. We will also interview Ms. HAMAYAMA in her buttercup greenhouse in the midst of harvest season.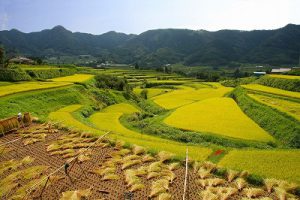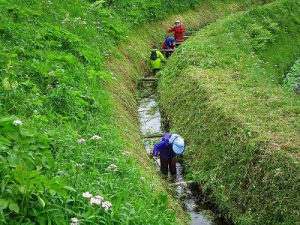 【Picture: Courtesy of Miyazaki Prefecture】
(2) Sugimoto Co., Ltd. (Takachiho Town)
– Protecting shiitake mushroom cultivation in mountainous area by expanding the overseas market
In the Takachiho area, shiitake mushroom cultivation using logs from sawtooth oak, native to the Kyushu Mountains, is popular. Sugimoto Co., Ltd. purchases dried shiitake mushrooms directly from approximately 650 local growers and sells them throughout Japan. In view of the declining domestic demand, the company began exporting in 2016 and is stepping up e-commerce through Amazon warehouses overseas. Shiitake mushrooms grown on sawtooth oak logs have a rich umami flavor and chewy texture, often described as "the abalone of the mountains," and have won the hearts of vegans outside Japan, resulting in growing exports to Europe and the United States. The company now has customers in about 20 countries. In order to enable aging farmers to continue production, the company is taking on the work of cutting down the sawtooth oak trees, a difficult task for elderly workers, and is also introducing power-assisted suits. Since 2018, the company has been partially outsourcing the work of "hammering" shiitake mushroom plugs into logs to a nearby facility for people with disabilities, reducing the burden on growers and allowing them to engage in cultivation for longer, while increasing the income of those people with disabilities.
After visiting a shiitake cultivation site (called a hodaba) in a natural forest, the tour will see the sorting and packing of dried shiitake mushrooms in the factory and hear from Sugimoto Co., Ltd. president Mr. SUGIMOTO Kazuhide.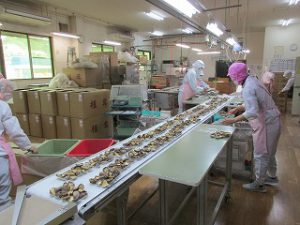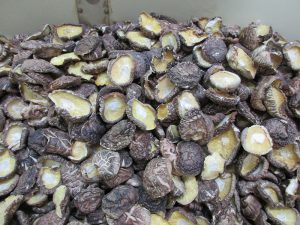 (3) Miyazaki Sabo Co., Ltd. (Gokase Town)
– Production of the rare tea kamairicha brings youths from across the country
In Gokase Town, tea fields are spread out at altitudes of 600 to 750 meters, and tea has long been produced through the kamairi (pot-roasting) technique. Miyazaki Sabo produces organic tea without using pesticides or chemical fertilizers, from kamairicha tea to oolong tea. As more and more farmers become unable to maintain their tea fields due to the lack of successors and an aging workforce, Miyazaki Sabo is proactively taking over unused farmland. The company now has more than 140 tea fields scattered in the mountains, with a total area of about 14 hectares. While the domestic market is expected to shrink due to the declining population, the company exports one ton of tea to Germany and other countries annually, and about 10% of its total sales comes from overseas markets. Most staff members are in their 20s, 30s, or 40s with a variety of backgrounds, with some coming from out of the prefecture due to an interest in producing tea without using pesticides or chemical fertilizers. In addition, during the peak season of tea production, young people who travel from one harvesting area to another come from across the country to Miyazaki Sabo by word-of-mouth. There have been cases of such youths settling in Gokase and starting families. The company is bringing liveliness to the community by attracting young people.
After seeing tea fields and a demonstration of making kamairicha, the tour will hear from Miyazaki Sabo Co., Ltd. president Mr. MIYAZAKI Akira.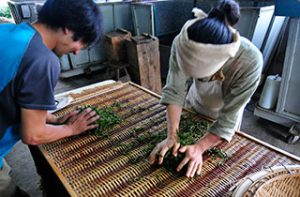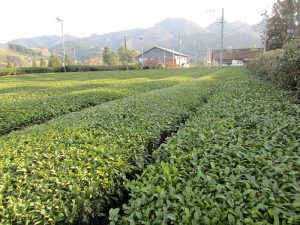 【Left Picture: Courtesy of Miyazaki Sabo Co., Ltd.】
(4) Takachiho Kagura (Takachiho Town)
– Inheriting the traditional Shinto rituals of the mountainous region
Kagura, a cultural tradition in the region, is a Shinto ritual dance performed to pray for good harvest. Most local communities still perform kagura, and it is passed on as a means for people to pray for a stable life in the tough, mountainous area. Kagura dancers are usually normal people who make their living from work in agriculture or forestry, but they take pride in inheriting the tradition of kagura and practice the dances enthusiastically to pass them on to future generations.
The tour will watch a kagura performance and hear from performers, who make their living from agriculture, forestry, or other work, about their pride in carrying on the tradition of kagura.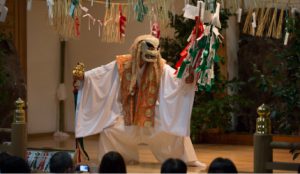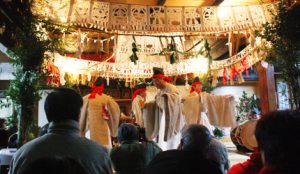 【Pictures: Courtesy of Miyazaki Prefecture】
(5) Forestopia Learning Forest: Miyazaki Prefectural Gokase Secondary School (Gokase Town)
– Community-based exploratory learning activities taking advantage of the mountainous area
Gokase Secondary School, opened in 1994, is the first public integrated junior high and high school in Japan, with 40 students per grade, from all over Miyazaki Prefecture. Since its opening, the school has been using the rich natural environment of the mountainous regions to learn in, and students have been independently exploring local issues through hands-on learning rooted in the region, such as rice planting and making waraji (traditional straw sandals), in comprehensive classes named "Forestopia Study." Currently, the school is providing Global Forestopia Study, which aims to nurture global citizens who have an international perspective and can innovate for the future on their own initiative.

After a brief explanation of the curriculum for Global Forestopia Study by the teacher in charge, the tour will hear from some students about the local issues they are exploring.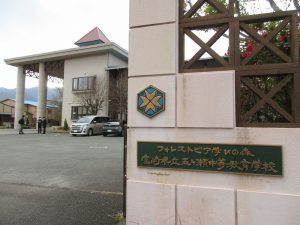 II. Japanese Agricultural Heritage: Daikon Yagura Radish Towers (Miyazaki City)
– Tradition of drying radish brings about a sustainable local economy
In the Tano and Kiyotake areas of Miyazaki City, about 300 daikon yagura, which literally means radish towers, packed with tight rows of daikon radishes harvested in the fields, stand from December to February. The yagura towers are about 6 meters high and wide, and 50 to 150 meters long. Daikon radishes are left to dry naturally on yagura for about two weeks before being processed into takuan (pickled radish) at pickle factories. Open field farming is popular in this area, with various crops grown throughout the year, including sweet potatoes and leaf tobacco in the summer and daikon radish in the winter. Dried vegetables have been produced in the area since the Edo period (1603-1868), taking advantage of the sunshine and the cold winds blowing down from the mountains in the winter. The production of dried daikon using yagura spread in the 1960s, when pickle factories were established in the town. In this area, there is a growing number of young farmers, attracted by the stable income due to the advanced land use and the "sixth industrialization", which integrates production, processing, and sales to achieve added value, and also by a relatively relaxed tempo of life outside of the harvest season. In 2021, the Ministry of Agriculture, Forestry, and Fisheries recognized the region's field farming system, symbolized by dried daikon and daikon yagura towers, as a Japanese Agricultural Heritage traditional farming method that should be handed down to future generations in Japan.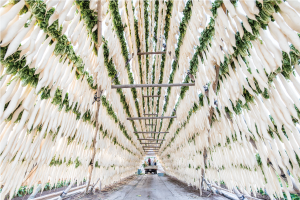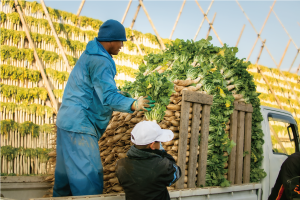 【Pictures: Courtesy of Tano-Kiyotake Area Japan Agricultural Heritage Promotion Council, Digital Art Studio Tsuji】
Michimoto Foods Co., Ltd. (Tano Town) is the only manufacturer in Japan specializing in dried takuan, using sun-dried daikon radish from Miyazaki Prefecture made with traditional production methods. The company directly contracts with about 40 farmers who produce daikon for dried takuan, and accepts about 1,700 tons of dried daikon per year. While the average age of farmers nationwide is approaching 70, the average age of the company's contracted farmers is only about 55, with the generational change of producers proceeding smoothly. As the domestic pickles market continues to shrink, the company has been focusing on developing sales channels to protect the tradition of dried takuan and local farmers. In 2013, after three years of development, the company succeeded in commercializing Japan's first canned takuan. The company has also developed products for overseas consumers, such as gluten-free takuan, and currently exports to 22 countries and regions. Direct sales on Amazon.com in the U.S. are also doing well.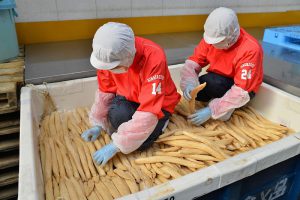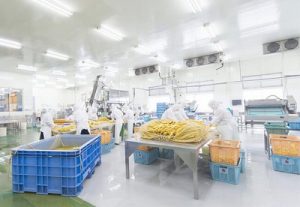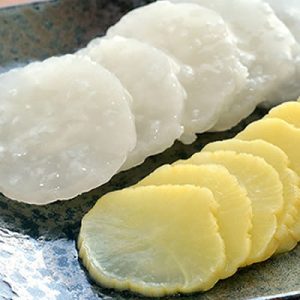 【Pictures: Courtesy of Michimoto Foods Co., Ltd. 】
The tour will see the sun-drying of daikon radishes in a daikon yagura, and hear from a local official and a farmer about the tradition of dried daikon and how it is passed down to the next generation. At Michimoto Foods Co., Ltd., the tour will see the preparation of dried takuan, which can only be seen during this season, and interview company president Mr. MICHIMOTO Hideyuki.
III. Honbu Farm (Shintomi Town)
– The use of technology for sustainable dairy farming
Honbu Farm, which raises approximately 250 dairy cows, is working on smart livestock farming utilizing ICT technology, under the slogan of "cow-friendly dairy farming". Summer heat causes milk production to decline. Their next-generation barn, newly built in 2019, automatically controls temperature, humidity, and more with sensors and fans. Sensor tags on the cows' necks allow each cow's behavior to be automatically recorded and analyzed 24 hours a day, allowing each individual cow's estrus status and other information to be monitored. A milking robot, which automatically milks cows when their udders are full and they go to the robot on their own, and an automatic feeder, which brings feed within reach of the cows, have also been introduced. The cows can eat whenever they want, and roam freely, with this stress-free environment leading them to produce high quality milk. Through the use of ICT and the introduction of robots, the amount of labor required by employees has been reduced to about one-quarter of what it used to be. They can devote the saved time to caring for their cattle and expanding the production of corn and grass for feed, helping to mitigate the impact of rising feed prices.
Honbu Farm installed a biogas plant in 2020 to improve efficiency and save labor in cattle manure treatment operations. Methane gas generated from cattle manure is used to power a generator, and the electricity generated is sold to an electric power company. In the past, cattle manure was processed by composting, but heavy labor and processing costs was an issue. By reusing the remaining liquid after extracting the gas as high-quality organic fertilizer for corn and grass fields, and the remaining solids as "bedding" for barns, respectively, the farm has achieved a significant cost reduction and implemented sustainable agriculture.
The tour will look around the next-generation cattle barn using ICT technology and the biogas plant, led by Honbu Farm president Mr. HONBU Hirohisa.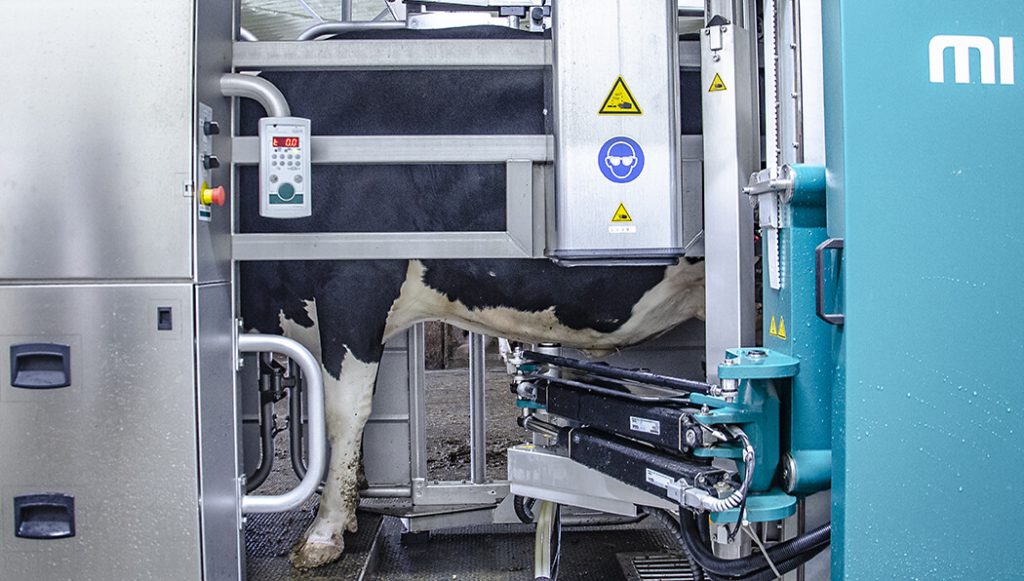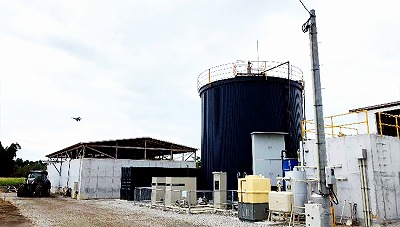 【Pictures: Courtesy of Honbu Farm】
[Tour Itinerary]
1. Dates: Tuesday, January 24 to Wednesday, January 25, 2023
2.Schedule
[Tuesday, 24 January]
07:50-09:40 Haneda Airport – Miyazaki Airport (ANA603)
10:30-11:30 Daikon Yagura
11:40-13:25 Michimoto Foods Co., Ltd. (lunch included)
14:20-16:05 Honbu Farm
18:15-20:10 Briefing on World Agricultural Heritage, Takachiho Kagura (dinner included)
20:15 Arrive at hotel (overnight in Takachiho)
[Wednesday, 25 January]
08:15        Departure from hotel
08:25-08:45 Takachiho Gorge
09:00-10:25 Tochimata Tanada
10:40-12:40 Sugimoto Co., Ltd.
13:10-14:00 Lunch
14:15-15:40 Miyazaki Sabo Co., Ltd.
16:00-17:00 Gokase Secondary School
20:25-22:00 Miyazaki Airport – Haneda Airport (ANA618)
3. Qualification: Bearer of Gaimusho Press Registration Card
4. Cost: 15,000 yen per person, including transportation, accommodation (breakfast included), lunches (for both days), and dinner (for Day 1)
5. Participants: Limited to 10 applicants.
(Only one reporter or one photographer from each company, but two participants from each TV team will be acceptable.)
* If there are more applicants than positions available, the tour organizer may make arrangements.
6. FPCJ Contact: Sugawara(Mr.), Watanabe(Ms.)
 (Tel: 03-3501-3405, E-mail: ma@fpcjpn.or.jp)
7. Remarks:
(1) This tour is sponsored by Promotion Council for the G7 Agriculture Ministers' Meeting in Miyazaki and run by the FPCJ.
(2) The schedule is subject to change without notice.
(3) This tour will require participants to bear a part of the cost, but is not a profit-making venture.
(4) Promotion Council for the G7 Agriculture Ministers' Meeting in Miyazaki and the FPCJ take no responsibility for any accidents, injuries, illness, or other problems which occur during the tour.
(5) There may be some restrictions on photographing and filming at the tour sites. Please follow the instructions of the staff in charge.
(6) Please be aware that videos and photos of the tour, and articles about it, may be posted by Miyazaki Prefecture and the FPCJ on their websites or social media.