International Exchange
[Notice] Hiroshima Press Tour (Feb. 2023)
[Tour Topic]
Tradition, Innovation, and a Desire for Peace Represented in Craftsmanship
In May 2023, the G7 summit will be held in Hiroshima. Hiroshima, which experienced unprecedented suffering from the first atomic bombing in human history, succeeded at reconstruction due to the indomitable will of its people, and the manufacturing industry, which was a core industry since before the war, played a central role in that reconstruction. Now, there are many companies in the prefecture with unique technology or large market shares in Japan or worldwide, and tradition, innovation, and Hiroshima's desire for peace can be found in them.
A company which made traditional Japanese kasuri fabrics since the end of the 19th century began producing denim during the Vietnam War, when youths around the world had begun to wear jeans as a symbol of peace, and became a top-class global denim manufacturer. A sneaker company which has collaborated with global fashion brands has recycled the origami cranes donated to Hiroshima as prayers for peace from countries around the world into sneakers, passing on those prayers for peace. Sadako Sasaki became sick due to radiation from the atomic bombing, which happened when she was two years old, and continued folding origami cranes while wishing to recover from her illness. She is the model for the Children's Peace Monument in the Peace Memorial Park. A precision casting parts manufacturer used its technical skills to make metal replicas of the last origami crane folded by Sadako so that these cranes could be sent to people from around the world.
One business in Hiroshima Prefecture invented the first powered rice mill in Japan, as well as developing a rice mill for breweries that led to the creation of Ginjo sake, and is now the top manufacturer of rice mills globally, with 70% of global market share. At a port town on the Seto Inland Sea, a woman master brewer is protecting the traditions of a long-standing sake brewery, while bringing new life to sake by taking advantage of Hiroshima's cutting-edge rice milling technology. She was selected as one of the BBC 100 Women 2020. On an island in the Seto Inland Sea, to help create a decarbonized society, research has begun on cultivating algae using the CO2 from power plants, and using it to make aviation biofuel.
This tour will visit Hiroshima Prefecture, and cover the craftsmanship of "Made in Hiroshima" brands protecting nature and the environment while passing on traditional techniques to the future.
[Tour Details]
1.Spingle Company (Fuchu)
­–From a small factory in Hiroshima to the world. A Hiroshima sneaker brand using veteran skills to create the ideal fit.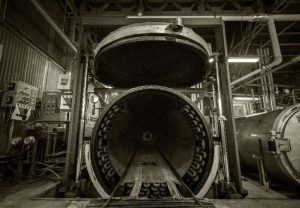 Spingle Company is a shoe manufacturer with its head office in Fuchu. With a long history as a rubber manufacturer, the company designs, manufactures and sells Spingle Move sneakers, with everything from the production of the material for the rubber soles to putting the shoes together carried out domestically for a completely Made in Japan product.
The defining characteristic of the sneakers is using a vulcanization process to bond the rubber sole with sulfur added to it to the main body of the shoe, applying heat and pressure for over an hour in a cylindrical kiln. Compared to shoes molded with glue, the sole curves more flexibly and is more durable. Due to the inefficiency of this manufacturing process, even in Japan only a few companies use it, but in the Spingle factory in Hiroshima artisans continue to make pairs of shoes by hand one at a time, leading to shoes that fit the foot well, prevent tiredness, and feel excellent. The high quality and unique designs of these shoes, in particular their wave/makiage soles, have received attention overseas as well, and they have been worn at Paris Fashion Week and Milan Fashion Week.
As part of their efforts to make products matching current needs, last year Spingle made a new shoe (SPM-1005) upcycling the origami cranes donated to Hiroshima. As one of the cities that was atomic bombed, Hiroshima receives around 10 million origami cranes (around 10 tonnes) folded in prayers for peace from countries around the world every year. Spingle developed canvas fabric incorporating recycled fibers made from these stored cranes, and used that fabric to make sneakers. The colorful design of the top of the tongue and insole uses the vibrant colors of the origami cranes as a motif, and the shoes also share the same prayer for peace. With the upper of the shoe made using recycled origami crane fibers and the lining using recycled polyester, these shoes focus on sustainability, and there are plans to refresh part of the design and rerelease them in April this year.
The tour will see where Spingle manufactures their shoes, and hear from Mr. Naoki Kunihara, who was in charge of developing the origami crane upcycled sneakers, about the company's initiatives for the SDGs, environmental conservation, and peace.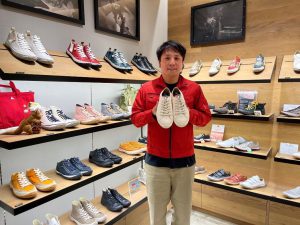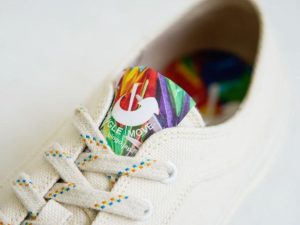 [Photographs courtesy of Spingle Company]
2.Kaihara Corporation (Fukuyama)
–Kaihara Denim, a top global brand with a fusion of old and new techniques.
Kaihara, with its head office in Fukuyama, is the denim manufacturer with the highest market share in Japan. Fukuyama prospered as the home of Bingo kasuri made with traditional aizome (indigo dyeing) techniques, and when Kaihara was originally established in 1893 it was a small business making hand-woven aizome kasuri. As youth around the world began to wear jeans as a symbol of peace and anti-war protest in the late 1960s and early 1970s, Kaihara used kasuri techniques to make Japan's first rope dyeing machine in 1970, and succeeded in making the first domestically produced denim in Japan. Having shifted to manufacturing denim in anticipation of an increase in demand for jeans, and creating a denim factory with an eye on the global market, Kaihara's consistent quality was well-regarded, and in 1973 the world's largest jeans brand, Levi's, used Kaihara denim as well. Kaihara then established an integrated production system for every step of the process from spinning, dyeing, and weaving to finishing, and now exports denim to around 30 countries in Asia, North America, and Europe, providing fabric to international brands such as Levi's, Edwin, and Uniqlo. From the hills of Hiroshima, they have grown to become one of the top denim manufacturers in the world.
Kaihara is seeking new possibilities for denim based on traditional Japanese kasuri techniques. One of these is their efforts for traditional "vintage" denim, introducing the latest facilities but still using old-fashioned shuttle looms which skilled artisans operate to create the uneven texture of vintage denim. The company also puts effort into developing revolutionary functional denims, having created the fabric for numerous popular products in their collaboration with Uniqlo which began in 1998, including stretchy selvedge denim and HeatTech denim.
In recent years, Kaihara has been receiving attention from both within and outside the denim industry for its focus on making sustainable and ethical products, implementing environmentally friendly denim manufacturing by reducing water usage and purifying its waste water, and reusing scrap fabric and threads made during the manufacturing process.
The tour will be shown the head office's factory by company president Mr. Mamoru Kaihara, seeing spinning and rope-dyeing machines. Afterwards, Mr. Kaihara will discuss how Kaihara became a global denim manufacturer and its current efforts.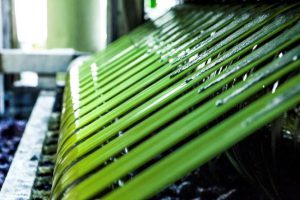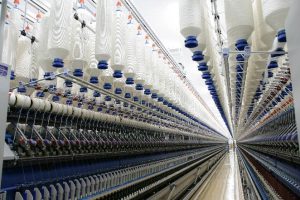 [Photographs courtesy of Kaihara Corporation]
3.Castem Co., Ltd. (Fukuyama)
–A precision casting manufacturer with out of the box thinking. With its improved workplace conditions, it has countless applicants.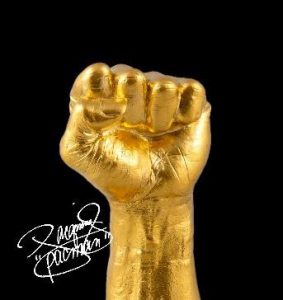 Castem was established in Fukuyama in 1948 as a confectionery business. It now uses casting techniques including lost wax casting and metal injection molding (MIM), as well as digital modeling using 3D printing. For lost wax casting, they have the highest share in Japan for manufacturing general industry parts, and manufacture precision metal parts for a variety of industries, with those parts used in medical devices, semiconductors, industrial equipment, and rockets.
In addition to manufacturing parts, the company challenges itself to avoid being limited by traditional ideas, and plans, produces, and sells products targeted at individual customers, continuing to produce creative products daily while continuing technological innovation in order torespond to any potential need. Castem has also started new businesses in a wide variety of areas, such as running a tomato farm in Miyakojima and a strawberry farm in Jinsekikogen and developing medical devices. Uniquely, the ideas for these businesses come from the employees themselves, and this culture respecting the creativity of engineers and importance of ideas has remained intact since the establishment of the company.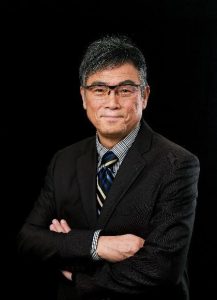 One of these projects is History Maker, a brand based on the concept of preserving the current moment of a person in a permanent form, which makes replicas of famous people, either their whole body or just one part. Taking advantage of the company's capabilities for creating precision metalwork with complex shapes using a variety of materials, the brand has released a number of products such as a trophy of the left first of international boxing star Manny Pacquiao. In 2021, based on the idea of "Is there something we can do with origami cranes, the symbol of peace, considering our company's head office is in Hiroshima Prefecture?", Castem used 3D technology and 50 years of precision casting experience to perfectly replicate the last origami crane Sadako folded in her life, down to the folds and texture of the paper, and mass produced them using stainless steel.
Castem had a high turnover rate in the past, and in order to improve this situation the entire company made efforts to improve the work environment and benefits. With the temperature near the casting equipment reaching over 50°C in the summer, the company opened their own cafeteria where employees can eat as much inexpensive and delicious food as they want for 190 yen, in order to support employee health starting from their diet. The company also implemented reforms such as making it more pleasant for women to work on the manufacturing floor with "5S" initiatives, and encouraging employees to use their paid time off by cross-training people in multiple skills. As a result, while regional manufacturing business in general are struggling to hire employees, Castem has around ten times as many applicants as before, along with a significant increase in women applying.
The tour will see the head office guided by company president Mr. Takuo Toda, the Guinness World Record holder for longest flying paper aircraft by duration, who carries out activities to show how making things is fun, such as holding classes on how to make paper airplanes. Mr. Toda will speak about using ideas as the impetus for creation and how the company improved the work environment to help retain employees. Employees involved will discuss product development for the History Maker brand, which includes the Sadako origami cranes made of metal.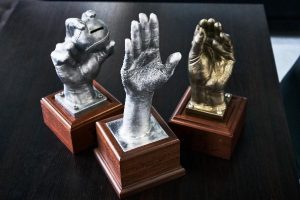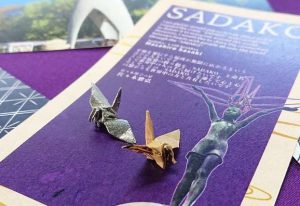 [Photographs courtesy of Castem Co., Ltd.]
4.Imada Sake Brewing Co., Ltd. (Akitsu, Higashihiroshima)
–A woman master brewer creating new possibilities for sake, driven by Hiroshima's climate and technology
The BBC announces its 100 Women every year, of inspiring and inspirational women, and in 2020 the president and master brewer of Imada Sake Brewing, Ms. Miho Imada, was the only Japanese woman selected for the list. With the 100 Women 2020 "highlighting those who are leading change," Ms. Imada is making sake well-regarded around the world from Akitsu, Higashihiroshima as one of the few women master brewers in the sake industry, which previously forbid women.
Ms. Imada has said, "I want people to feel the climate of Akitsu, which is surrounded by mountains and the ocean and blessed with a warm climate, creating the flavors of the sake." Akitsu is a small port town in the south of Higashihiroshima. With pleasant scenery similar to an island, it has long been known as a town of Hiroshima's sake brewers. In the Edo period, rice was shipped from the port, and sake brewing in Hiroshima developed by turning this rice into profitable sake and distributing it. Due to the soft water in the area, it was not suitable for brewing sake. However, with the soft water brewing method developed by brewer Senzaburo Miura in the Meiji period and the rice milling technology of Satake, which developed the first powered rice mill in Japan, Hiroshima Ginjo sake was born, creating a new boom in the sake industry as the birthplace of Ginjo sake.
One hundred and twenty years later, Satake's new rice mill caused another technological revolution. Instead of milling the rice into a spherical shape like previous mills, Satake created rice mills that mill the rice into a shape close to the original grain (Genkei), as well as mills that lightly polish the rice (Henpei). This changed the existing wisdom behind how much milled rice to use in Ginjo sake, and led to new sake enhanced by the shape of the milled rice. Imada Sake Brewing used this new Satake technology to create sake for a new age, Fukucho Hattanso Satake Series Genkei and Henpei.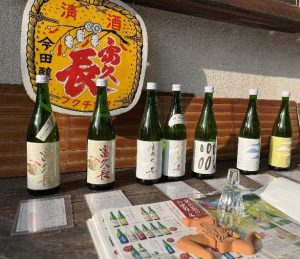 The tour will hear from Imada Sake Brewing president and master brewer Ms. Miho Imada about tradition and innovation in sake brewing, see the brewery, and have the opportunity to try both the Fukucho Hattanso Satake Series Genkei and Henpei.
[Photographs courtesy of Imada Sake Brewing (©Kosuke Mae)]
5.Satake Corporation (Saijo, Higashihiroshima)
–Revolutionizing the sake industry with the world's top rice milling technology
For over 120 years since inventing Japan's first powered rice mill in 1896, Satake has been one of the world's top developers and manufacturers of food processing equipment, particularly for the three global staple foods of rice, wheat, and corn. Providing grain-processing equipment and technology to around 150 countries worldwide, Satake has the highest global market share when it comes to rice milling. The rice mill they developed is now the standard for rice mills around the world, and Satake currently has over 70% of the market share globally for large scale rice milling plants.
In 2021, Satake developed the next-generation rice-milling concept plant Milsta. In recent years, rice-milling plants have been facing difficulties such as labor shortages and shorter worker hours, as well as there being demand for higher quality rice for processed and restaurant food, leading to more difficult business environment. The Milsta has fully automated units which can process 15 tonnes in one hour, eliminating the need for human workers. The rice mills have automated devices which check and control how white the rice is, enabling consistent quality in the rice milled, and the Long-Life Rice Process (LLRP) eliminates insects and eggs, making it possible to store the rice at room temperature for long periods of time and allowing for extended transport when exporting overseas. The waste water from the "no-wash rice" production equipment called the Multi Path Rinse Free Processing (MPRP) can be used as liquid feed for livestock, providing new usage value and reducing the environmental burden.
As the top manufacturer of rice milling equipment, Satake is also closely involved with the development of sake production in Japan. Ginjo sake, which is now very popular, is sake made using rice which has had at least 40% of the rice grain milled away, and was first made thanks to the rice mill for sake brewers developed by Satake's founder, Riichi Satake, in 1904. Satake brought about another major revolution in the sake industry in the 21st century, when they developed their Henpei milling technology in 2018. After four years of development, including running computer simulations on the movement of rice inside milling equipment, they succeeded in commercializing Henpei milling. They named this new method "Shingin." It efficiently eliminates the proteins which lead to unwanted flavors in sake, and allows for brewing clearer, crisper sake, making it a revolutionary development for the sake industry. With Imada Sake Brewing taking the lead, breweries have begun making sake using this Shingin rice.
The tour will cover Satake's innovative technology, seeing the rice-milling concept plant Milsta as well as the Sorting & Processing Integrated Center, which carries out tests with the latest sorting and processing equipment for materials in a variety of fields, including grains and food.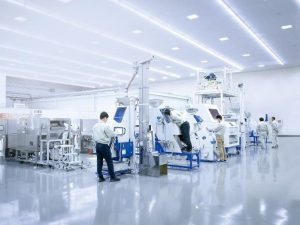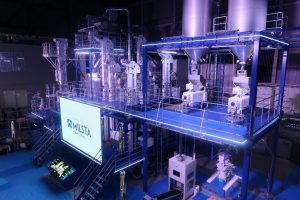 [Photographs courtesy of Satake Corporation]
6.R&D and Demonstration Base for Carbon Recycling (Osakikamijima)
–A dream technology from Hiroshima: Turning CO2 into a resource
With the reduction of CO2 emissions having become a global issue, carbon recycling has been gaining attention as a way of preventing CO2's release into the atmosphere by using it as a resource, separating it, capturing it, and turning it into a variety of products including concrete, chemicals, and fuel. The field is expected to see around 17% market growth by 2030, but currently most technologies have not reached the level where they can be generally implemented, and there is a global race in research and development in order to capture market share. Playing a central role in Japan's R&D is the R&D and Demonstration Base for Carbon Recycling on the island of Osakikamijima, located in the Seto Inland Sea and part of Hiroshima Prefecture. The base officially began operations in May 2022, conducting focused, interdisciplinary technological development and demonstration research for the practical implementation of carbon recycling. The base is composed of three areas: the Demonstration Research Area, the Algae Research Area, and the Basic Research Area. Using CO2 separated and captured at the neighboring Osaki CoolGen (an integrated coal gasification fuel cell combined cycle (IGFC) demonstration plant), the base is carrying out demonstration research on ten themes, including manufacturing fuel, chemicals, and minerals.
For example, in the Demonstration Research Area, institutions such as Hiroshima University are working on developing technology to produce high value-added lipids which can be used as ingredients in cosmetics and health foods, using the fermentation capabilities of microorganisms to produce the lipids from hydrogen and CO2. In the Algae Research Area, the Institute of Microalgal Technology, Japan (IMAT) is developing a process to cultivate microalgae on a large scale using CO2, then make aviation biofuel from lipids extracted from the microalgae. In the Basic Research Area, institutions such as the Tokai National Higher Education and Research System are researching using atmospheric-pressure plasma to decompose CO2 and create materials for use in fuels and medicines.
The tour will see the R&D and Demonstration Base for Carbon Recycling, where revolutionary research is being conducted, and hear from the researchers.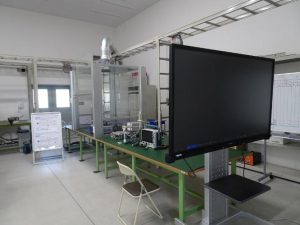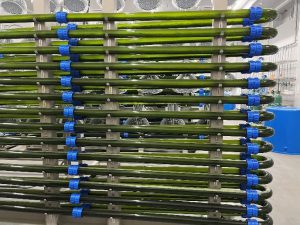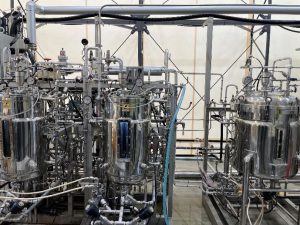 [Photographs courtesy of Japan Coal Frontier Organization (JCOAL)]
 [Tour Itinerary]
1.Dates: Tuesday, 7 February to Wednesday, 8 February, 2023
2.Schedule
[Tuesday, 7 February]
8:20-9:50 Haneda Airport-Hiroshima Airport (ANA673)
11:10-12:40 Spingle Company
12:50-13:30 Lunch
13:50-15:20 Kaihara Corporation
16:00-17:30 Castem Co., Ltd.
19:00 Arrive at hotel (overnight at Takehara)
[Wednesday, 8 February]
7:35 Depart from hotel
9:00-10:45 R&D and Demonstration Base for Carbon Recycling
12:15-13:00 Lunch
13:20-14:40 Imada Sake Brewing Co., Ltd.
15:30-17:00 Satake Corporation
18:55-20:15 Hiroshima Airport-Haneda Airport (ANA684)
3.Qualification: Bearer of Gaimusho Press Registration Card
4.Cost: 15,000 yen per person, including transportation, accommodation (breakfast included), and lunches (for both days).
5.Participants: Limited to 10 applicants.
(Only one reporter or one photographer from each company, but two participants from each TV team will be acceptable.)
* If there are more applicants than positions available, the tour organizer may make arrangements.
6.FPCJ Contact: Hayashi(Ms.), Ishikado(Ms.)
 (Tel: 03-3501-3405, E-mail: ma@fpcjpn.or.jp)
7.Remarks:
(1) This tour is sponsored by Citizens Council for the Hiroshima Summit and run by the FPCJ.
(2) The schedule is subject to change without notice.
(3) This tour will require participants to bear a part of the cost, but is not a profit-making venture.
(4) Citizens Council for the Hiroshima Summit and the FPCJ take no responsibility for any accidents, injuries, illness, or other problems which occur during the tour.
(5) There may be some restrictions on photographing and filming at the tour sites. Please follow the instructions of the staff in charge.
(6) Please be aware that videos and photos of the tour, and articles about it, may be posted by Citizens Council for the Hiroshima Summit and the FPCJ on their websites or social media.